PSVR's Farpoint: On target to be its FPS killer app
If you're a PSVR owner, keep your sights set on Farpoint.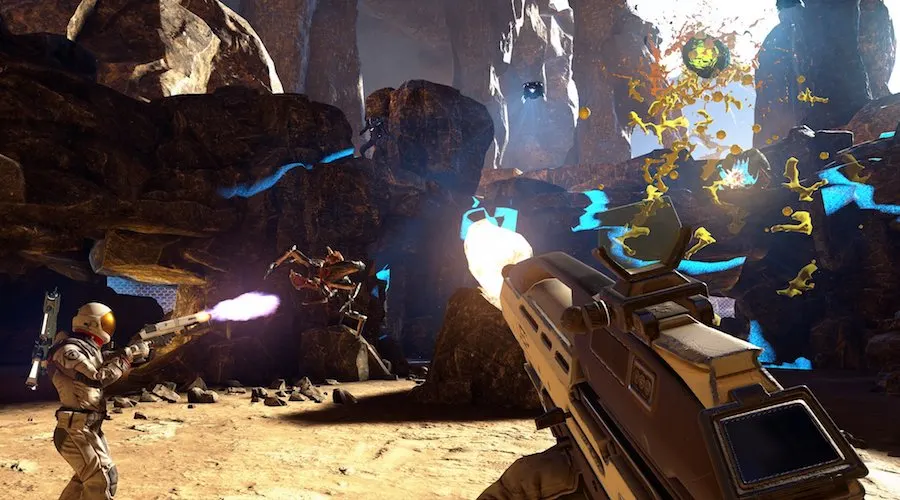 We're reader-supported and may be paid when you visit links to partner sites. We don't compare all products in the market, but we're working on it!
If you own a PSVR - or are curiously watching it with a smouldering wallet that's giving your butt third-degree burns - you're probably nursing an unfulfilled need. Where IS that narrative-driven first-person shooter for VR? Because hey, for Sony to not have one of gaming's most popular genres represented on its expensive bit of kit (and in a form that doesn't make the user want to evacuate everything they ate) is a problem. After getting heads-on with Farpoint, I can confidently tell you now; we have us a spew-free solution that's reaching for the stars.
A bit of background before we begin. Individual tolerance for PSVR-induced motion sickness varies wildly. Personally speaking, decades of exposure shooters has shredded any semblance of empathy I should have for my fellow man, but the upshot is I also seem to be immune to the wooziness phenomenon that plagues some PSVR users.
I do marathon sessions of DriveClub VR like a champion, can RIGS till the cows come home, and I didn't need my sealegs to play Farpoint standing up. However, in the interest of science, I roped in a mate who did experience mild issues with the two aforementioned launch titles. To our surprise, he had no issue playing Farpoint at all, either. Game on.
Farpoint differs from on-rails experiences like the Move-enabled Until Dawn: Rush of Blood, and DualShock controlled titles like RIGS: Mechanised Combat League. It centres around the as yet unreleased PlayStation VR Aim Controller, a bloody awful-looking thing, which, unlike the PS3's svelte sharpshooter peripheral, bears zero resemblance to any firearm. Not even overly-imaginative children who regularly accept bent sticks as Desert Eagles could imagine this as a cool gun. It looks like a bored plumber's apprentice tried to make a rhombus out of a few offcuts of PVC piping. I hate it, is what I'm trying to get across here.
Fortunately, this dislike is only aesthetics-deep; when this thing is held in two hands, it's quite a functional piece of gaming equipment (and with a PSVR on your head, you needn't gaze at its hideous form). Twisting it about in full 1:1 movement (provided by the Move controller inserted into its barrel) this Aim Controller becomes a bad-ass sci-fi assault rifle. When creepy spiderling aliens burrow out of the canyon floor, I instinctively hip-fire hot tracer rounds into them without a second thought. A glance at the holographic ammo counter on the back of my boomstick tells me I have a few rounds left, so I gleefully spray them into my shadow and the space boots of my fully-rendered avatar. I'm there, man.
When it comes time to move forward, I gird my stomach and push up on the analogue stick located on the rear stock of the controller. Technically speaking, there's another located on the under-barrel, near my other thumb, but Farpoint ignores this. Whichever direction I'm facing is the way "up" on the stick is going to propel me. Left and right handle strafing quite well too, but the walking-paced nature of things means I won't be circle-strafing about like Doomguy on red cordial anytime soon. I'm so immediately comfortable with it all, I find myself blindly experimenting with the other buttons, looking for a run function.
As the demo progresses, I'm ambushed by groups of five to six spiderlings who sometimes manage to leap at me like the horny headcrabs from Half-life. I instinctively duck beneath these romantic advances, wheel about and turn my suitors into Dolmio paste before they can land a few metres behind me. Complacency soon sets in, allowing large acid spitting enemies to lob their payloads far too close to me. As I'm burning from their surprisingly wide area of effect, I physically sight down the Aim Controller to sync up the fore and back sights of a holo-scope. A quick snipe later, and they're reduced to puddles of goop.
The demo continues with a few moments of vertigo (the idea is to cling to a narrow path around a cliff face, but, ever the experimenter, I pitch myself off). Later still I find a shotgun resting on some cargo boxes, and to scoop it up I mime placing my existing gun on top of it. Once I line these two weapons up, I'm given access to a secondary gun that can be switched to at anytime by lifting the Aim controller over my shoulder, like I'm making a lazy attempt to scratch my back.
The shotgun that swaps in is a beast of a thing. Unleashing a shot from it feels like it's asking for 100% of the haptic feedback motors in the Aim Controller. I also physically crouch down around corners to effectively blind-fire larger insectoid creatures. To do this stuff, you're really going to need a big playspace. Get spring-cleaning now.
My demo ends soon enough, but not before I locate ammunition for the underslung rocket launcher of my assault rifle. There's a button near the front of the controller that's dedicated to their use, and to my joy they're fly-by-wire. I dumb fire one out at a distant sniper-spitter, and when the bastard scurries off to the left, I scope in on his new position. The spent ordinance makes a 45 degree turn in mid-air, zips into its new destination and turns Flanky McTactics into chunky kibbles.
And just like that, I'm pretty much sold on Farpoint.
The biggest hurdle for the production, a sensible control scheme that delivers satisfying violence with no after affects, has been achieved. If developer Impulse Gear can marry it to a decent narrative and a broader array of creatures to shoot in the face in space, man, this could finally be the first true must-own FPS of PSVR. Keep it in your sights at all costs.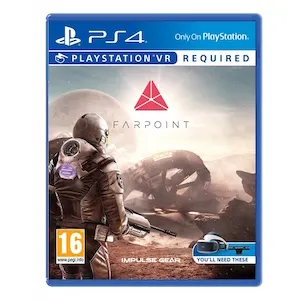 Farpoint $25.99
from ozgameshop.com
Master an arsenal of primary and secondary weapons as you freely explore your surroundings, uncovering secrets of the strange Anomaly which marooned you.
View details
More guides on Finder