What is property styling and is it worth it?
Will property styling help you get a better price when you sell your home, or is it just a waste of money?
We're reader-supported and may be paid when you visit links to partner sites. We don't compare all products in the market, but we're working on it!

When you're selling your home, the first impression the property makes on potential buyers is crucial. Get it right and you'll hopefully be inundated with offers well above what you had hoped to receive, but get it wrong and you might struggle to receive any reasonable offers at all.
One weapon sellers can use to increase their home's appeal to buyers is property styling. Also known as home staging, this involves using a range of presentation techniques to make your home as attractive as possible to potential buyers. And in the right circumstances, property styling can provide a substantial boost to the value of your home.
What is property styling?
Property styling involves the use of a wide range of presentation and design techniques to improve the appeal of your home and help it "put on its best face" for potential buyers. Property styling is provided by professional property stylists or home stagers – a quick Google search should let you know whether there is anyone offering this service in your local area – who hire furniture and accessories to fill your home. You can DIY if you wish but if you don't know what you're doing, this could do more harm than good to the appeal of your property.
The scale of property styling employed depends on the property and what the seller wants to achieve. In some cases it might be just minor cosmetic alterations, such as a few tasteful artworks or some soft furnishings to add colour. In properties that are completely empty, property styling includes everything from small accessories and decorative pieces through to large furniture items.
Property stylists will also take other steps to enhance your home's ambience and practicality. This could include rearranging furniture or removing certain items, as well as decluttering spaces to make them more open and welcoming.
The aim of property styling is to improve the look and appeal of your home and therefore increase its sale price. By putting the expertise of a professional stylist to work when selling your home, you could gain an edge in a competitive market and maximise your profits.
Read our tips on how to sell a property online
What are the benefits of property styling?
Property styling has many potential benefits for home sellers, including:
Expert selections. Using a property styling service allows you to fill your home with furniture, accessories and decor that have been selected by an interior expert. Not only will these items fit the home perfectly and make the most of the available space but they will also create the look and atmosphere you want. Property stylists know how to get the best out of an interior and have experience in what it takes to attract more buyers.
Appeal to a target demographic. Property stylists can use their expert knowledge to help you create a look and feel in your property that will appeal to a specific type of buyer. For example, if you want to attract a young family or maybe a professional couple in their twenties, the stylist can choose furniture and decorative items that will help create an appealing and attractive environment for your target buyer.
Fill an empty home. Selling a property without furniture in it can be hard. Property styling allows you to add warmth and character, helping buyers see the potential for a welcoming home – far preferable to the empty shell they would otherwise see.
Create a great first impression. First impressions are critical when you want to entice buyers to put in an offer for your home. Buying a home is an emotional decision for many people, so if you can create a stunning impression in the first 30 seconds after someone walks through the door they are much more likely to be hooked.
Stand out from the crowd. When there's an abundance of similar properties on the market, property styling can help your home stand above the rest.
Attract more potential buyers. Property styling not only has a positive impact on buyers who are physically inspecting your property but also on people browsing real estate listings online. Beautiful photos of an expertly styled property will attract more interested buyers, which means more people through the door at an open house and a more competitive bidding market.
Boost your sale price. The end goal of all the other benefits of property styling is to help you sell your home for a higher price than you would fetch otherwise. A survey of the top real estate agents in LJ Hooker's Australian network revealed that styling your home could boost the final sale price by between 7.5% and 12.5%. In the same survey, 87% of agents said you would earn a higher price by property styling, while 48% thought styling would lead to an increase in offers.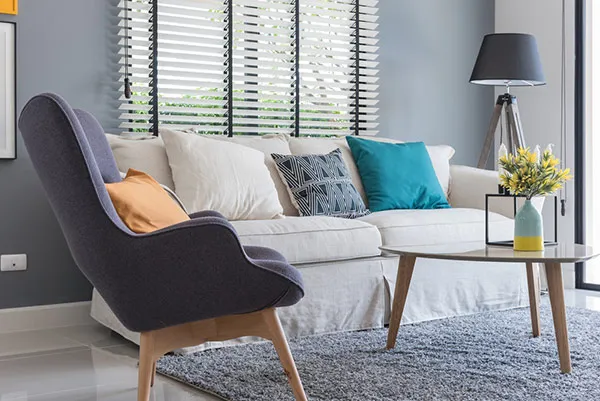 Disadvantages of property styling
The main drawback of property styling is that it doesn't come cheap. Remember that you need to pay not only for the stylist's services but also any furniture you hire, so you'll need to factor this expense into your budget.
The cost will vary depending on the stylist you choose and the level to which you want your home to be made over, but prices start from around $1,500 for a basic staging. For a complete styling job with luxury furniture and decor for an entire home, expect to fork out $10,000 or more. You'll hopefully make all the money you spend back and then some thanks to the higher sales price you achieve, but there's no guarantee of that occurring.
One option for sellers on a tighter budget is digital furniture styling. This virtual version of property styling allows a photographer to populate the images of empty rooms of your home with realistic pieces of virtual furniture. This obviously only helps for digital listings, not during open house inspections, but may be worth considering if you're trying to sell an empty home.
When to use property styling
When property styling first arrived on the scene, it was typically used only in premium and boutique homes expected to fetch a high price. It's still an excellent option for luxury homes today, where a stylist's expert eye can make the most of a spectacular location, beautiful water views or the architectural features of a home.
Engaging the services of a property stylist can also work wonders if you're trying to sell an empty home, or if your home is cluttered, tired or poorly decorated. You might love the comfy old couch that's lost all its stuffing and has a tapestry of stains, or the garishly coloured artwork that hangs above your bed – but a property stylist will be able to tell you what works and what doesn't, hopefully helping you boost your sale price in the process.
When not to use property styling
Despite its benefits, there are specific circumstances when property styling is not worth the trouble. If you're trying to sell an inexpensive property, for example, a small one-bedroom unit in the suburbs, could you really justify spending a few thousand dollars on staging? The sales price you are likely to achieve probably won't be enough to provide a sufficient return on your investment, so it may simply not be worth the expense.
There are benefits and drawbacks to property styling, and whether or not you use it is entirely up to you and whether or not you think it will be worth the extra investment. The most important thing to remember if you choose not to engage a property stylist is that there's still plenty you can do to improve the appeal of your home. Repair any obvious problems, clean up as much as possible, and always remember to declutter and depersonalise every space so that potential buyers can see themselves turning your home into their own.
Images: Shutterstock
More guides on Finder