Free Privacy Policy templates (Australia)
Protect your business and its customers with a simple document.
We're reader-supported and may be paid when you visit links to partner sites. We don't compare all products in the market, but we're working on it!
With so many templates on the market and plenty of legal help at hand, putting together a Privacy Policy isn't quite as complicated as you might think.
We've put together a guide on everything you need to know to get that Privacy Policy off your to-do list.
What is a Privacy Policy?
A Privacy Policy is a legally-binding document that outlines exactly what a business does with the personal information that it collects from its customers. It addresses how the data is collected and used, along with how it will be stored and managed.
A Privacy Policy is also known as a Responsible Use of Data or Use of Private and Confidential Information Policy.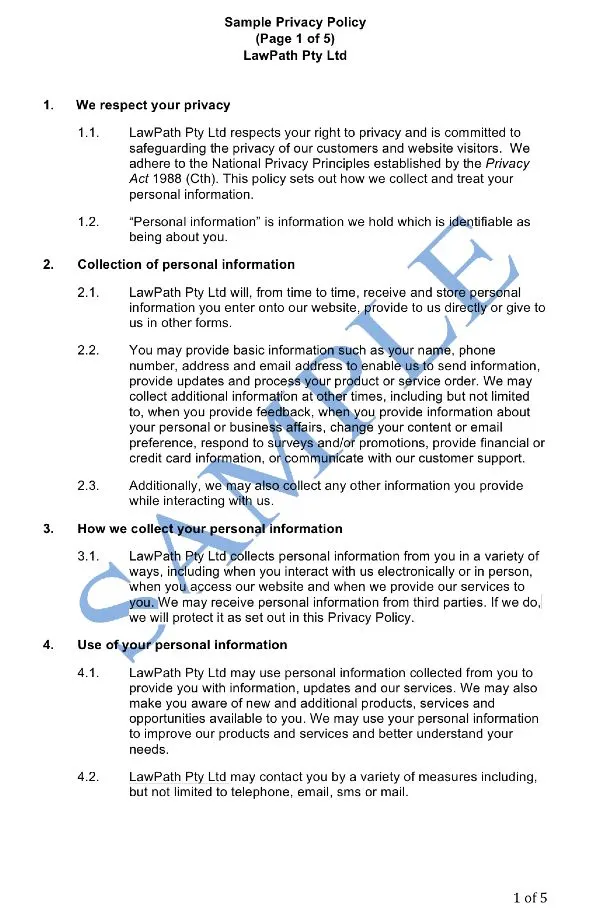 Download this template at Lawpath
When should I use a Privacy Policy?
According to Australian and international law, you must put together a Privacy Policy if your business collects personal data from customers, either online or in person. Personal data covers everything from email addresses to family names, billing addresses to credit card information.
The Privacy Act 1988 sets out the criteria in which a business is required by law to provide a Privacy Policy. This includes businesses that:
Act as a health service provider
Trade in personal information
Operate residential tenancy databases
Register as a credit reporting body
To check if your small business falls under the Privacy Act 1988, check out this information and questionnaire put together by The Office of the Australian Information Commissioner (OAIC).
Privacy Policy vs Terms and Conditions
A Privacy Policy and a Terms of Conditions do contain similar information. The latter, however, is a much broader overview of a user's rights when it comes to using a business' products or services.
A Privacy Policy focuses only on the use of personal information. In contrast, a Terms and Conditions agreement will specify the general rules and regulations around using a businesses' product or service. This can include things such as copyright protection, liability disclaimers, usage restrictions and regulations around the termination of an account.
What does a Privacy Policy include?
A Privacy Policy must address the following points regarding personal data collection:
How your business collects personal data
How your business uses personal data
If your business will disclose personal information to third parties
A customer's rights when it comes to personal data
How personal data will be stored securely
If personal data will be used in cookies and on third party websites
How effective is a Privacy Policy?
A Privacy Policy isn't just a legal requirement. It's also a great way to build a trusting relationship with your users, suggesting that you're a company that cares about keeping their customers safe. Some businesses choose to use a Privacy Policy even if they aren't required to do so for this very reason.
Do I need a lawyer for a Privacy Policy?
While you're not legally obliged to have a lawyer look over your Privacy Policy, it is highly advisable to have a legal professional look over your document. Failing to adhere to certain laws can land your business with expensive fines. A lawyer will make sure that your Privacy Policy follows all relevant state and national legislation.
Get access to customisable Privacy Policy templates online
Does your company belong in this list?
How do I write a Privacy Policy?
A Privacy Policy should be no longer than five pages long, and include the following sections:
Personal Data Collection. The first section of your Privacy Policy needs to specify exactly what type of information your business will collect from users and how it will be collected. This can be written as a clause or in a list to make sure it's clear for readers.
Using Personal Data. Use this section to explain why you're collecting personal data and how you'll use it. This is the perfect place to address why data collection is useful for both the business and the user.
Third-Party Disclosure. If your business shares any personal data with other entities, you should outline exactly how in this section. Address precisely what type of data your business will share with third parties, and when this will happen, along with why you need to do this.
Personal Data Protection. Customers want to make sure their personal data is safe, so take a moment to explain how you intend to store and use their data safely. This section only needs to be a few paragraphs long, and it should aim to reassure users that your business can be trusted with their personal information.
Rights of Users. It's important to highlight that users have the right to change or delete the personal data that they provide by outlining their rights.
Notifications of Changes. A short but very convenient section allows you to inform your users of any recent changes to your Privacy Policy.
Contact Information. Providing contact details allows users to reach out with any concerns they may have about the use of their personal information.
Once you've written your Privacy Policy, it's essential to display it somewhere that is easily accessible on your website.
Where to get free legal documents and templates like a Privacy Policy
A Privacy Policy is an important document to get right for your business. If you don't want to pay for professional legal help upfront, a free Private Policy template can be helpful. Here's where to find one.
Lawpath. An online legal resource featuring plenty of free legal templates. You can browse their Privacy Policy template for Australia for free, but you'll need to pay to customise it.
LegalVision. Users can access unlimited legal templates, including a Privacy Policy, for a monthly membership fee.
Wonder.Legal. Browse through hundreds of legal templates on Wonder Legal and download a Privacy Policy template completely free.
More guides on Finder