Prince's 50 biggest hits worldwide
We've combined chart positions across the world to identify Prince's most successful songs.
In his almost-40-year recording career, Prince created many legendary tracks. But which ones were the most successful globally? We've crunched the numbers to find out.
Some of the results are surprising. While tracks from 1984's Purple Rain have dominated the discussion in the days following Prince's unexpected death, his biggest global hit was 1986's "Kiss". And who would have guessed that "Thieves in the Temple" would rank higher than "Let's Go Crazy"?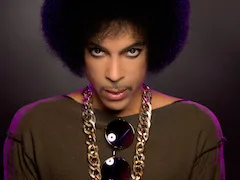 Prince on iTunes
from iTunes Store
Check out Prince's back catalogue on iTunes.
View details
We've assigned points based on the chart positions on the main sales charts for the USA, UK, Germany and Australia, which are the world's biggest music markets. (It's effectively impossible to get accurate sales figures for songs globally, so chart positions, while imperfect, are the best metric we have. Japan is also a major market but doesn't have reliable national chart figures for much of Prince's active period.)
A #1 hit scores 100 points, a #2 hit scores 99, and so on through to #100, which scores 1 point. We ignored the handful of chart positions for Prince tracks below 100. The higher the total score, the bigger the hit was worldwide.
We've included commercial single releases, whether those were as Prince, Prince And The Revolution, Prince And The New Power Generation or The Artist Formerly Known As Prince. We haven't included tracks written by Prince but performed by others, such as Chaka Khan's "I Feel For You" or Sinead O'Connor's "Nothing Compares 2 U". Re-releases while Prince was alive get included as separate entries for each time they were hits, but we haven't included the resurgence of his songs onto the charts following his death.
| Rank | Song | Year | Points |
| --- | --- | --- | --- |
| 1 | "Kiss" | 1986 | 391 |
| 2 | "The Most Beautiful Girl in the World" | 1994 | 390 |
| 3 | "Batdance" | 1989 | 389 |
| 4 | "When Doves Cry" | 1984 | 382 |
| 5 | "Cream" | 1991 | 365 |
| 6 | "Gett Off" | 1991 | 358 |
| 7 | "Thieves in the Temple" | 1990 | 354 |
| 8 | "Alphabet St." | 1988 | 349 |
| 9 | "Purple Rain" | 1984 | 348 |
| 10 | "Diamonds and Pearls" | 1991 | 335 |
| 11 | "My Name Is Prince" | 1992 | 333 |
| 12 | "Raspberry Beret" | 1985 | 329 |
| 13 | "Sign o' the Times" | 1987 | 327 |
| 14 | "Sexy MF" | 1992 | 318 |
| 15 | "Partyman" | 1989 | 302 |
| 16 | "Money Don't Matter 2 Night" | 1992 | 296 |
| =17 | "1999" | 1982 | 287 |
| =17 | "Little Red Corvette" | 1983 | 287 |
| 19 | "Let's Go Crazy" | 1984 | 285 |
| 20 | "Betcha by Golly Wow!" | 1996 | 282 |
| 21 | "I Hate U" | 1995 | 277 |
| 22 | "Letitgo" | 1994 | 276 |
| 23 | "7" | 1992 | 268 |
| 24 | "Mountains" | 1986 | 259 |
| 25 | "U Got the Look" (with Sheena Easton) | 1987 | 240 |
| 26 | "Peach" | 1993 | 216 |
| 27 | "Pop Life" | 1985 | 205 |
| 28 | "The Holy River" | 1997 | 173 |
| 29 | "Take Me with U" | 1985 | 170 |
| 30 | "1999" (re-issue) | 1998 | 167 |
| 31 | "Glam Slam" | 1988 | 165 |
| 32 | "Girls & Boys" | 1986 | 164 |
| 33 | "I Could Never Take the Place of Your Man" | 1987 | 163 |
| 34 | "Gold" | 1995 | 154 |
| 35 | "The Arms of Orion" (with Sheena Easton) | 1989 | 152 |
| 36 | "I Wanna Be Your Lover" | 1979 | 150 |
| =37 | "Paisley Park" | 1985 | 146 |
| =37 | "Purple Medley" | 1995 | 146 |
| 39 | "I Would Die 4 U" | 1984 | 141 |
| 40 | "I Wish U Heaven" | 1988 | 125 |
| 41 | "New Power Generation" | 1990 | 122 |
| =42 | "The Morning Papers" | 1993 | 120 |
| =42 | "Black Sweat" | 2006 | 120 |
| 44 | "Controversy" | 1981 | 117 |
| =45 | "If I Was Your Girlfriend" | 1987 | 115 |
| =45 | "1999: The New Master" (1999 re-recording) | 1999 | 115 |
| 47 | "Anotherloverholenyohead" | 1986 | 103 |
| =48 | "Controversy" (re-issue) | 1993 | 96 |
| =48 | "The Greatest Romance Ever Sold" | 1999 | 96 |
| 50 | "Delirious" | 1983 | 93 |
Picture: Northfoto / Shutterstock.com