Media Release
First-time buyers in QLD & ACT set for longer waits, experts say – July, 2018
Cash rate forecast to hold at 1.5% at tomorrow's board meeting
First-time buyers in QLD & ACT set for longer wait following changes to First Home Owner Grants
Positivity around housing affordability falls from 33% to 23% in just one month
2 July, 2018, Sydney, Australia – Australia's top economists and experts are predicting that new state changes to First Home Owner Grants (FHOG) could delay home ownership for prospective first-homeowners in Queensland (QLD) and the Australian Capital Territory (ACT), according to finder.com.au.
The July finder.com.au Reserve Bank of Australia (RBA) cash rate survey, the largest of its kind in Australia, shows the RBA is expected to call hold on the cash rate tomorrow (3 July 2018), with the panel of 31 economists and experts unanimous in their forecast.
When asked what the next movement may be, regardless of when it happens, 84% (21/24) of the panel said they believe the next move will be an increase – a view that's gaining momentum.
Graham Cooke, Insights Manager at finder.com.au, says while the rise is not expected to happen just yet, homeowners can start preparing for the future hike.
"This month's survey shows little change from the previous six – no change coming now and none on the horizon in 2018. Economists' predictions of when a rise will happen have now been almost fully pushed into 2019.
"However, no movement doesn't mean homeowners can rest easy until 2019. In recent weeks we have seen some smaller lenders increase rates out of cycle, and this is a pattern that could spread across the market," he says.
"As lenders are not provided with a reason to increase rates by the RBA, the cost of international lending and interest rate increases in the US have pressured some banks to look at increasing rates anyway.
"What this means for borrowers is that now is the time to review your home loan rate and see if you can find better in the market – preferably a rate with a '3' in front of it.
"Remember to factor in a buffer of 2-3% on top of your current rate to allow for future rate hikes – because it's not a matter of 'if' but 'when' they arrive."
The FHOG was dropped from $20,000 to $15,000 in QLD on 1 July 2018, while FHOG will be completely abolished in ACT come 1 July 2019.
When asked how this would affect prospective homeowners living in those two states and saving for a deposit, most experts who answered (13/17, 76%) felt it would cause a delay of three months or more.
Seven of the 17 experts (41%) felt the delay would be seven months or longer for prospective homeowners in these two states.
A stark difference of opinions among experts and economists on the topic of FHOG and concessions was highlighted in this month's survey.
According to Saul Eslake, of Corinna Economic Advisory Pty Ltd, "FHOG and stamp duty concessions are a waste of taxpayers' money, in nearly all circumstances," while Alex Joiner, of IFM Investors, believes, "FHOG grants simply push up house prices, they are [the] government's quick fix for the affordability issue without them being materially effective."
But other experts had alternate views, with Leanne Pilkington of Laing+SImmons, saying, "Stamp duty exemptions, in lieu of the complete abolition of this tax, alleviate some of the pressure would-be first home buyers are undoubtedly experiencing in trying to accumulate a deposit."
In finder's Economic Sentiment Tracker this month, positivity around housing affordability fell to just 23%, down from 33% last month (June).
Mr Cooke says this could be due to buyers who have bought at the market peak having difficulty repaying loans if interest rates rise or out-of-cycle rate hikes hit the market.
"With the market cooling, those who bought at the peak will be under the most pressure for repayments.
"Those who bought specifically to rent could be in particular difficulty, as areas that are popular for 'rentvesters' tend to be in the outskirts of the city – which are the first places to drop in value and rental yield in a softening market," he says.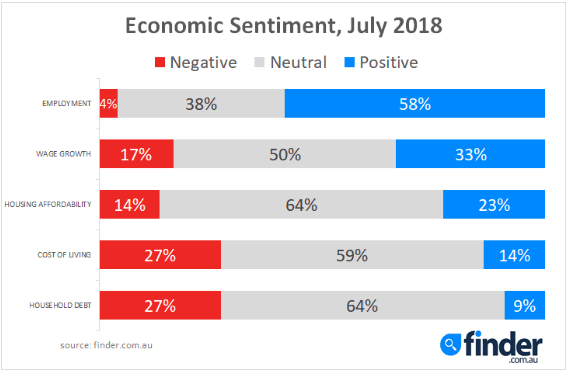 Here's what our experts had to say:
Jordan Eliseo, ABC Bullion: "The RBA's view on monetary policy is clearly changing, with a more dovish tone at the very least pushing back the timeframe for rate hikes, if not already opening the door to an eventual rate cut, which is still our base case in the coming months. Growth figures and employment levels are still reasonable though, so they'll continue to take a "wait and see" approach for now."
Tim Nelson, AGL Energy: "No change in underlying data from previous month."
Shane Oliver, AMP Capital: "There is no strong case to move either way just now. Signs that mining investment may bottoming, strengthening non-mining investment, surging infrastructure spending and rising export volumes all argue against a rate cut but peaking housing investment, uncertainty around consumer spending, continuing weak wages growth and inflation, falling Sydney and Melbourne property prices, tightening bank lending standards and global uncertainty around trade all argue against a hike."
Alison Booth, ANU: "Fundamentals don't yet warrant any change."
Malcolm Wood, Baillieu Holst: "Inflation at low-end of band; housing market rolling over; consumption uncertainties"
Richard Robinson, BIS Oxford Economics: "There are no inflationary pressures, while house prices are now undergoing an orderly and much needed downward adjustment."
Paul Dales, Capital Economics: "There are still very few signs that inflation is going to rise back to the middle of the RBA's 2-3% target. And more recently, the RBA is becoming more concerned about the hit to the economy from the global trade dispute and domestic Banking Royal Commission."
Saul Eslake, Corinna Economic Advisory Pty Ltd: "The RBA will not have changed its overall view of the outlook for the Australian economy sufficiently to warrant either raising or lowering the cash rate. Economic growth (Q1 GDP) was a bit stronger than the RBA had been anticipating at the last meeting - and is arguably now back to its 'trend' pace. But the RBA's commentary on prospects for wages growth seems to have become a bit more pessimistic."
Tim Moore, CUA (Credit Union Australia): "Until we see a strong trend in unemployment dropping toward the magic 5% level, we will continue to see low level inflation and low wage growth, therefore the RBA remaining on the sidelines. Whilst the RBA have clearly communicated their next move to be up, they have also caveated this with comment that they do not see this anytime soon. "
Peter Gilmore, Gateway Bank Ltd: "Key economic fundamentals are still short of the levels the RBA traditionally needs to trigger a rise."
Peter Haller, Heritage Bank: "There is no justification for a rate change at the present time."
Shane Garrett, Housing Industry Association: "No grounds for monetary intervention in the short term."
Alex Joiner, IFM Investors: "Despite good headline economic growth data the RBA clearly requires better wages growth to underpin what is still a weak inflationary pulse, consumer spending and household balance sheets. "
Michael Witts, ING: "No change on the horizon from the RBA, the next move will be up built a long way away."
Leanne Pilkington, Laing+Simmons: "The hold pattern remains appropriate in the current climate. Global economic forces, the widening wage gap between older and younger working Australians, and outcomes of the Banking Royal Commission might all impact the RBA's outlook in the near term, but for now it's important that interest rates remain steady."
Stephen Koukoulas, Market Economics: "It has told the market it will be on hold until it has more economic information."
John Caelli, ME: "The RBA has indicated they are in no rush to change policy."
Michael Yardney, Metropole Property Strategists: "The RBA will hold interest rates steady because there has been no change to the economic outlook since last month. In fact rates are unlikely to rise until wages rise and that seems quite some way off."
Mark Crosby, Monash University: "RBA has signalled that it will hold for the next few meetings, unless a significant shock hits the economy."
Dr Andrew Wilson, My Housing Market: "There remains no clear case for change, particularly given clearly weakening Sydney and Melbourne housing markets, continuing mixed local economic data and concerns over the global economy and rising trade barriers."
Alan Oster, NAB: "Waiting regarding data on wages and the consumer. Need lower unemployment rate. Inflation no pressure yet."
Matthew Peter, QIC: "Philip Lowe has made it quite clear that the Bank will not be raising rates while annual wage growth languishes around 2%. He also has made it clear that there is no chance of a rate cut while household debt and house price remain elevated. The RBA can't cut and they can't hike."
Nerida Conisbee, REA Group: "Businesses are confident but consumers aren't. Until this turns around, I think it is unlikely we will see an interest rate rise"
Christine Williams, Smarter Property Investing: "As much as the housing market has seemed to retract slightly there has been no major impact on the buying pool within the $500-$850k range. This range suits most first home buyers. Our unemployment rate has reduced slightly with the national rate around 6%. Whilst we are at this rate I doubt interest rates will move."
Janu Chan, St.George Bank: "Ongoing strong conditions in the business sector and the high level of public infrastructure spending will support economic activity and employment growth. However, there is ongoing spare capacity in the labour market and wage growth and inflation is expected to remain low."
Brian Parker, Sunsuper: "Growth is improving, but not fast enough to deliver the much needed improvement in labour force underutilisation and wages growth."
Clement Tisdell, UQ-School of Economics: "No significant change in Australia's economic situation,"
Mark Brimble: "We're not likely to see a movement for a long time, and the direct of that movement will depend on international markets so it's too early to tell which way it will go."
Other participants: Bill Evans, Westpac. Noel Whittaker, QUT. Jacqueline Dearle, Mortgage Choice.
###
For further information
Disclaimer
The information in this release is accurate as of the date published, but rates, fees and other product features may have changed. Please see updated product information on finder.com.au's review pages for the current correct values.
About Finder
Every month 2.6 million unique visitors turn to Finder to save money and time, and to make important life choices. We compare virtually everything from credit cards, phone plans, health insurance, travel deals and much more.
Our free service is 100% independently-owned by three Australians: Fred Schebesta, Frank Restuccia and Jeremy Cabral. Since launching in 2006, Finder has helped Aussies find what they need from 1,800+ brands across 100+ categories.
We continue to expand and launch around the globe, and now have offices in Australia, the United States, the United Kingdom, Canada, Poland and the Philippines. For further information visit www.finder.com.au.
12.6 million average unique monthly audience (June- September 2019), Nielsen Digital Panel