Media Release
Sneaky streaming: More than 8 million Australians mooching off their friends and family
44% of Aussies freeload off a friend or family member's Internet TV streaming service.
Netflix has the most moochers (24%), followed by Stan (17%).
Netflix takes out the Finder Award as Australia's best rated streaming service.
16 February 2021 – Australia is a freeload nation, according to a new report from financial comparison platform, Finder.
The report, based on a nationally representative survey of 1,005 Australian adults, reveals more than two in five Australians (44%) admit to using a family member or friend's streaming service – equivalent to 8.5 million people.
With 88% of Aussies watching streaming services, that means half of Internet TV users are mooching off someone.
Aussies are most likely to freeload off someone else's Netflix account (24%), followed by Stan (17%), Disney+ (14%) and Amazon Prime Video (12%).
Gen Z are the most likely to freeload, with a whopping 74% saying they use a service that isn't in their name. Over half of gen X are freeloaders (51%), compared to 38% of gen Y and one in five (20%) baby boomers.
Finder's streaming editor, James Dampney, said that sharing Internet TV subscriptions can be a great way to save cash.
"Instead of paying for multiple Internet TV accounts, consider account sharing with friends or family. This is an easy way to cut costs while retaining the benefits of multiple subscriptions.
"Make sure to keep track of who is paying for each service, and who has login privileges – sometimes siblings or old housemates can end up mooching off your account.
"Even if you're sharing accounts with other people, remember to cancel any services that you aren't using – this is a pointless money drain.
Finder has also revealed today that Netflix remains Australia's best rated Internet TV service.
"Netflix has taken out the Finder Award for Internet TV, with 98% of Aussies recommending the service and top scores across metrics like value for money, quality of content and range of content," Dampney continued.
Amazon Prime Video had the second highest recommendation score of 90%, followed by Stan (87%), Kayo (85%) and BINGE (83%).
You can find the full report here: http://www.finder.com.au/internet-tv-streaming-statistics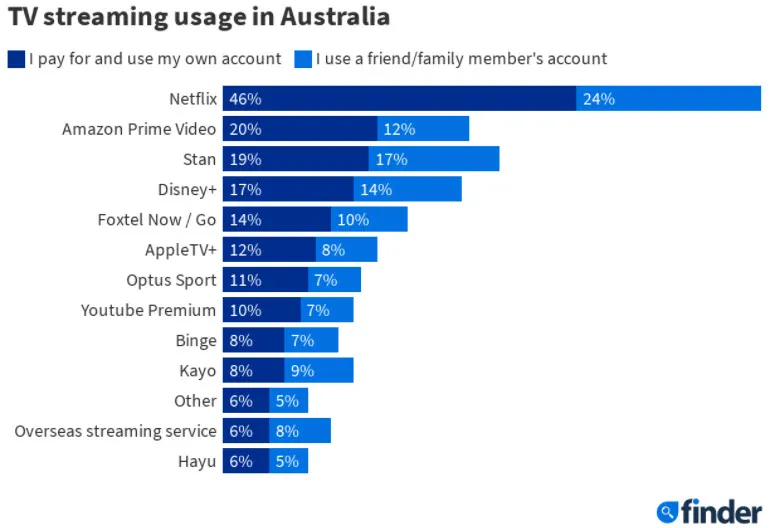 How to save on your streaming
Downgrade your subscriptions. Rather than pay for an individual account, you may have the option to take out a family plan for less money. For instance, Spotify now offers Spotify Family or Spotify Duo for people living under the same roof.
Consider cutting down. Use a budgeting app to review your subscription service expenses over the last month and look for opportunities to cut down. The mere sight of how much you're forking out each month could be enough to convince you to drop a few unnecessary services.
Opt for free instead of paid services. You can swap paid streaming services like Netflix or Stan for free-to-air content like ABC iview or SBS On Demand. You don't need to pay for more than one subscription service, so pick your favourite and substitute the others with free services.
###
For further information
Disclaimer
The information in this release is accurate as of the date published, but rates, fees and other product features may have changed. Please see updated product information on finder.com.au's review pages for the current correct values.
About Finder
Every month 2.6 million unique visitors turn to Finder to save money and time, and to make important life choices. We compare virtually everything from credit cards, phone plans, health insurance, travel deals and much more.
Our free service is 100% independently-owned by three Australians: Fred Schebesta, Frank Restuccia and Jeremy Cabral. Since launching in 2006, Finder has helped Aussies find what they need from 1,800+ brands across 100+ categories.
We continue to expand and launch around the globe, and now have offices in Australia, the United States, the United Kingdom, Canada, Poland and the Philippines. For further information visit www.finder.com.au.
12.6 million average unique monthly audience (June- September 2019), Nielsen Digital Panel