Poochy and Yoshi's Woolly World Review: A cosy handheld yarn
Yarn Yoshi's Nintendo 3DS outing is cut from exactly the same cloth as the Wii U version but seems to fit better on handheld.
We're reader-supported and may be paid when you visit links to partner sites. We don't compare all products in the market, but we're working on it!
The Nintendo 3DS is slowly becoming a refuge for out-of-work Wii U titles while that console quietly retires to make space for the Nintendo Switch. While Super Mario Maker was a logical port to the 3DS with its touch-based map creation, other titles like Hyrule Warriors and Yoshi's Woolly World felt less necessary when they were announced. Poochy and Yoshi's Woolly World may not differ significantly from its Wii U predecessor but its bite-size levels and simple controls are a perfect fit for Nintendo's handheld.
If you played Yoshi's Woolly World on Nintendo Wii U, you've played just about everything Poochy's has to offer. What has been added are a collection of endless-runner levels dubbed Poochy Rush, adorable stop-motion videos starring Pooch and Yoshi, and some Poochy pups to accompany you in the easy, breezy Mellow Mode.
Poochy Rush levels are more akin to mobile games like Nintendo's recent Super Mario Run than the full-fledged Woolly World experience itself. It's a one-button endless runner where you're tasked with popping balloons, collecting gems and finding lost Poochy pups.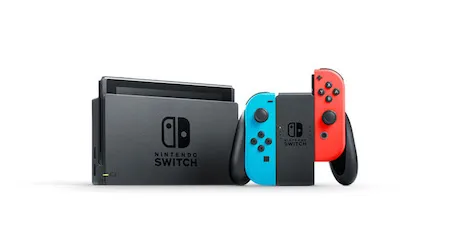 Purchase the Nintendo Switch Neon console
from Amazon
Amazon is now stocking the Neon Nintendo Switch.
View details
Just like Super Mario Run, Poochy Rush levels encourage repeated playthroughs by constantly pushing you forward. Also similar to Mario's mobile adventure is the technique of chaining together jumps to find hard-to-reach collectables. Enemies like floating Shy Guy and Koopa Paratroopas act as ascending launchpads to leap from and reward you with huge gem bounties for successfully completing a chain.
You're not going to pay $60 or so for what, frankly, could have been added to Nintendo's fresh batch of mobile games but it's still an addictive add-on that is perfect for a system that's built to be used on the go.
In fact, the entire game feels like a natural fit for handheld. Levels never really last more than 20 minutes or so, which is the perfect length for my commute to and from work. Most games force you to anxiously close the lid just as the train doors open, but I managed to hammer through approximately one stage for every trip. It also helps that Poochy and Yoshi's Woolly World is just tranquil, good-natured fun. That's the kind of game I want to play on public transport. I've been playing Poochy and Yoshi in-between nights with the incredibly difficult Nioh and let me tell you, if it were the other way around I'd be thrown out of the quiet carriage by the scruff of my neck.
Poochy Rush levels are also unlocked via achievements in the main missions. That presents a good enough excuse for returning hardcore fans to play through again but it won't entice most to return.
On the other hand, a new stop-motion Poochy and Yoshi short unlocks every day. They run for roughly 30-40 seconds each and are impossibly cute but also a clever way to get you flipping open your 3DS every morning.
Woolly World also makes Mellow Mode even easier by putting Yoshi in charge of a small litter of Poochies. These little tikes act as pup-projectiles and always return to their owner, meaning you will never be without yarn.
If you've got younguns holding a controller for the first time, Mellow Mode is a treat. Yoshi sprouts a pair of wings, making it impossible for old Yosh to fall off the screen.
While it's a painless way to get the little ones gaming, there's not much there for everyday gamers. Woolly World is easy enough as it is. Experienced players may find the way lil Poochies sniff out hidden Winged Clouds helpful but that's less of a difficulty matter and more of a testament to how ridiculous some of the invisible objectives are.
I love sniffing out well-hidden secret rooms in games but a lot of Woolly World's secret clouds are suspended mid-air, which forces you to cover every inch of the screen before moving on in fear you've missed a cloud. This used to be less painful on the Wii U version when you had a co-op partner to hurl around the screen but therein lies another problem. Poochy and Yoshi's Woolly World's totally omits any type of multiplayer gaming.
I had a lot of fun with Woolly World's multiplayer when it launched in 2015. It didn't change the game dramatically but knowing you could screw things up for someone else always ramps up the tension a bit. Equally, when you get bored of the game itself, there's room for some old fashion griefing in the form of swallowing your partner and pooping them off the edge.
The unexplained absence of multiplayer mode whiffs of pure laziness. It follows in Super Mario Maker's footsteps, namely level sharing, by losing one of the game's best features during the port.
We reviewed Poochy and Yoshi's Woolly World on Nintendo 3DS with a copy provided by the publisher.
Poochy and Yoshi's Woolly World
7.0 VERY GOOD
What we liked...
Short bursts of gameplay perfect for public transport
Collectable/customisable costumes and amiibo boons
Good natured fun
What we didn't like...
Add-on content for a mode most won't use
No multiplayer
VERDICT
Poochy and Yoshi's Woolly World isn't a totally necessary port. If you've played the Wii U version, you've played almost everything the 3DS port has up its sleeve.
However, if you didn't get the chance to check out the Wii U version (which is likely considering that machine's sales), then Poochy and Yoshi's Woolly World is the perfect place to drop in. Its easy-going gameplay and absurdly cute characters are a joy to play with in short rounds on the bus or train. It's such a portable-friendly game, it's a wonder why Nintendo didn't simply release a handheld version alongside the original.
Available for
For more information on how finder scores games, check our review guidelines.
More guides on Finder