Pokémon Sun and Moon review: Mould breaker
I would fly to the moon and back if you'll be my Flabébé.
We're reader-supported and may be paid when you visit links to partner sites. We don't compare all products in the market, but we're working on it!
It's no secret that Pokémon's core series has needed a refresh for some time now. While each title has managed to remain consistently great thanks to the game's trademark formula, enduring and lapsed fans have wanted something more than Game Freak has been willing to give up.
The series underwent a massive 3D renovation back in 2013's Pokémon X and Y, which introduced new Mega Evolution revisions of beloved Pokémon from prior generations. Graphically and conceptually, it was a much-needed overhaul and a brilliant addition in its own right, but one that still managed the follow the same old story and gameplay beats that have been around since Red and Blue's 1996 debut.
Thankfully, Sun and Moon throws a lot of these conventions out the window for a more naturally developing story in the most inspired location we've ever visited in the Pokémon universe.
La La La Alola
Your player character in Sun and Moon is a Kanto-expat who moves to the sun-drenched islands of Alola with his chilled out mother. Before you know it, our mostly-silent hero is thrust into the world of catching and battling Pokémon with the help of the perpetually shirtless Professor Kukui and two new friends, Lillie (the professor's shady assistant) and Hau (your new rival). A wider range of interesting characters join along the way, but for the most part, these are your main companions.
Everyone is as relaxed and easy-going as you'd expect from a group of beach-dwellers and I'm pretty sure more than one character has been toking on some good old Leafeon.
Kukui is possibly the most proactive professor from the series. Rather than hang on the sidelines dishing out advice, Kukui has a more hands-on role in the story and feels as much a part of the gang as Hau and Lillie.
In addition these likeable chaps, players also have the Rotomdex, a traditional Pokédex that's inhabited by Rotom. The ghost/electric Pokémon is renowned for possessing household appliances like fridges, fans and lawnmowers, but this is the first time it's been given a voice. Rotomdex is a sassy companion, who often refers to you as "Big Boy" and makes quips about how boring a quest to the library sounds. I really adore Rotomdex's playful charm. A quirky companion like this definitely has the propensity to grate on the nerves (see Zelda's Navi), but as most of Rotomdex's ramblings take place on the lower-screen and don't actually interrupt the game, it's like you're getting running commentary as events in the story unfolds.
Other than its affable personality, Rotomdex also introduces some much-needed improvements to the Pokédex and maps. Sun and Moon's maps, while still far from perfect (route numbers are still impossible to locate), finally offer an objective marker. I don't know how many times I've jumped into a Pokémon game after a month-long lapse and had no idea where I am or where I'm meant to be going. This is a feature that should have been added years ago. In this case, it's definitely better late than never. Having it there keeps you on track, and ultimately more invested in the game's unfolding story.
Rotomdex also displays additional information when you first catch a Pokémon. One example is how the Dex shows a glimpse of a Pokémon's evolution tree. Before Sun and Moon, your only in-game option was to spot the gaps in the Pokédex and assume you could evolve that Pokémon, or if you were sensible, just look it up on Bulbapedia.
Why is this so handy? A lot of players love the thrill of evolving Pokémon. My own party generally has 1 or 2 mainstays and four Pokémon I'm working towards evolving, until I get to close the endgame and I settle on a final six. This feature in addition to the game's more accessible PC transfers streamlines the decision making behind party changes.
Good thing you've got Hau, Lillie and Rotomdex as guides too, as Alola is a vastly different location to any we've visited in the Pokémon universe prior. In addition to its loud and proud Hawaiian inspiration, Alola simply doesn't follow the same conventions of previous regions. In place of the traditional gym battle system, there are island trials. Each of Alola's four islands has a number of smaller island trials that lead up to the island Kahuna' grand trial (Kahunas are the protectors of each island).
---
---
Whereas Gym battles generally played as a series of type-specialist trainers before taking on the Gym's type-specialist leader, Island Trials task the player with completing tests of skill in various mini-game events. The first has you play a sort of life-size whack-a-mole game with Sun and Moon newcomer Yungoos. A later trial has you memorise the positions of various Marowak's poses to spot the odd one out. None of these are particularly trying (the latter aims for light-hearted humour in place of an actual challenge), but they're still fun and unique diversions after an hour or so in the tall grass.
---
---
Once an Island Trial is done and dusted, that trial's Captain will reward the player with a type-specific Z-Crystal. These elemental stones power a new type of ability in Sun and Moon, Z-Moves. These abilities are totally transferrable, unlike the series' much maligned Hidden Machines (HM). Z-Moves can be held by any Pokémon equipped with a move of that type (e.g. a Pokémon with Bubble Beam is capable of using the Waterium crystal). Z-moves can be used once per match and initiate a small cutscene that shows the Pokémon using the epic attack. Well, epic in appearance.
When a Z-Move is activated, it replaces the required-type moves in the battle menu (e.g. Ember and Flame Charge will be replaced with Inferno Overdrive). These base moves are where the Z-Move seems to draw power from, but it's never made clear.
Z-Moves are a glitzy addition that give the Pokémon's turn-based battles some much needed theatrics.
A Helping Hand whether you like it or not
Speaking of Pokemon's part and parcel battle system, there's been a Muk-load of smaller changes that make traipsing through the tall grass a lot more enjoyable (and a small handful that don't).
Pokémon has always had the problem of dragging out the most simple and recurring events for way longer than necessary. One small example of this is the way trainers would approach you in the wild. First, you stumble into an NPC's line of sight and an exclamation mark appears over their head as they're alerted to your presence. Then they slowly waltz over to your location and say something sassy. Then we wait another 10 seconds or so for the battle intro animation to play only to pulverise their Pokémon in a flash.
Early in the game, the actual fighting is often the shortest part of a Pokémon battle. Everything else is filled with slow-moving NPCs and inane chit-chat. Thankfully, Sun and Moon expedites this process. Rather than waiting for an NPC to approach, you're dragged into battle the moment you're seen.
Thanks to Sun and Moon's true multi-directional movement (no more grid!) NPC trainers also feel more naturally placed in the world. Rather than robotic sentries lining each route, they move about the world more fluidly. This makes it easier to circumnavigate a trainer if your party's HP is running low. However, it also makes it easier for opponents to get the jump on you if you're not paying attention to their movements.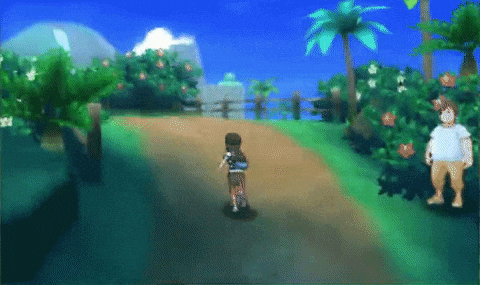 This multi-directionality also helps avoid wild Pokémon encounters in the tall grass at times. Why on earth would you want to do that, you screech. Well, Pokemon Sun and Moon has added the ability for wild Pokémon to "call for help", summoning a companion and making it a two-on-one battle. This system is a bit of a double-Honedge sword. On one hand, it makes it much easier to grind with wild Pokemon. On the other it becomes unbearably tedious when you're trying to catch a specific Pokemon. As calling for help places two enemies in the arena, the player can't throw a Pokéball until there is only one opponent. Pokemon can also call for help more than once and at the opportune moment to throw a Pokéball. It's not a fun hurdle, and ultimately prolongs what should be a short, painless experience.
Still, the help system is far preferable to the overkill of Horde Encounters from X/Y and Ruby/Sapphire and my roided-up party has pushover help Pokémon to thank.
Wild encounters on the whole are almost made a lot easier thanks to the displayed type strengths and weaknesses in the battle menu. Once you've registered a Pokémon in your Dex, you can see what moves are effective, super effective, or have no effect right there in the menu. Most of us know our type matchups by heart now, but with 18 types and roughly 80 new Pokémon there's a lot we can't know this generation without a guide.
Changes like this are a prime example of where Pokémon should be heading. Less tell, more show. For all its intuitive changes, Pokémon Sun and Moon's early game tutorials are still a bit of a slog to get through. It took me about 2 hours before I truly felt like I had started the game, and this was thanks to the unskippable tutorials (throwing a Pokéball!) we have had the pleasure of enduring for seven generations now.
Head in the game
I've been playing Pokémon for 20 years now and in that time I've relied heavily on the tips and tricks from the wonderful contributors at sites like Bulbapedia and Serebii. With Sun and Moon I simply haven't needed their assists anywhere near as much.
---
---
It's almost like Game Freak looked at the most common questions that lead players to such Wikis and have tried to address them in-game with objective markers, evolution charts and displayed type effectiveness in battle menus. That's not to say there's no longer a reason to visit these sites. Hardcore EV trainers especially will still find value in these treasure troves of statistics and hidden attributes. You just need to rely on them less for information that should have been readily available a long time ago.
Pokémon Sun and Moon benefits from these new features by keeping you in the game, and not on your smartphone or computer, and players benefit by becoming more invested in the gameplay without getting caught up in the specifics.
We reviewed Pokémon Sun and Moon on Nintendo 3DS with a copy provided by the publisher.
---
Pokémon Sun and Moon is available now from $46.00. Check out for the best price on Sun and Moon.
---
---
Follow us for all the latest mobile phone news and deals
---
More guides on Finder
Get more from Finder