Pokémon GO Plus Review: Something you would find at the bottom of a cereal box
Can't wait to get a Pokémon Plus on your wrist? It will cost you fifty dollars and a few broken bones if you want it to fit.
We're reader-supported and may be paid when you visit links to partner sites. We don't compare all products in the market, but we're working on it!
The release of Nintendo's Pokémon GO companion accessory has been a real cluster Muk from day dot. Initially promised to release alongside the record-breaking app, the launch came and went without a single mention of Pokémon GO Plus availability. Two months after the Pokémon GO epidemic hit, Australians finally got their chance to get their hands on the kitschy wearable, though stock was extremely limited.
Luckily, one of finder's resident trainers managed to score one of the few GO Plus accessories in Australia and was kind enough to lend it to us for review. We've now had the pleasure experience of reviewing Nintendo's mythical Pokémon GO Plus.
---
---
What's in the box? What's not?
Let's start with the device itself. The Pokémon GO Plus comes neatly packed in a box that's reminiscent of a deck of cards, or if you have a crippling nicotine addiction, a pack of cigarettes. Inside, you will find some helpful instructions (in six different languages), a clip attachment, wristband attachment, the tear-drop Go Plus device and two tiny screws but no tiny screwdriver.
This was the first roadblock to setting off on my GO Plus adventure. As the wristband is a closed, adjustable loop with no clasp, and around 7 centimetres in diameter, I had absolutely no hope of fitting this device (which admittedly was created with children in mind) over my hand without breaking a few bones. Clip it was. But first I had to track down a small screwdriver to swap the attachment. Switching between the clip and the band is a one-screw job and totally painless, but the fact you have to fetch a screwdriver makes it a bit of a hassle to switch on the go. Plus, let's remember that the device is clearly aimed at kids, and I don't know many who walk around with a small screwdriver in their back pocket, but I could just be out of touch.
The Pokémon GO Plus device itself, while smaller than expected, looks pretty neat. It's the shape of Google Maps pin stylised like the iconic Pokéball and features one spongy button that flashes all the colours of the rainbow whenever something exciting is happening nearby. It looks neat, and as a longtime Pokéfan, I was more than happy to sport the GO Plus on my lapel, even if it is a little-less badass than a Sex Pistols pin.
Does it enhance the Pokémon GO experience? Sure, when it works
But enough about my insecurities about size, how does it perform? It's pretty exciting when you first pair your GO Plus to your phone. With the app open and the GO Plus nearby, lights begin to flash, vibrations pulse through your wrist and for a brief time, things just work. Walking around the office, I managed to catch a Nidoran ♂, reap the rewards from a nearby Pokéstop, all while the Pokemon GO Plus lit up like the Harbour Bridge on New Year's Eve. However, as soon as I locked my phone, it started to get needy, and every 30 seconds or so I would receive the following alert.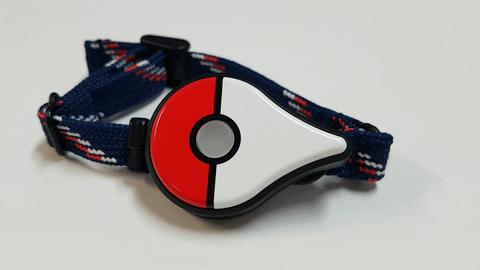 As you'd expect, different colours represent different in-game actions. Red means the GO Plus has lost its connection to the app. Whether that's due to server issues, or Bluetooth issues is never clear, but it vibrates and flashes red at the drop of a hat. Blue means there's a Pokéstop nearby, green means a previously caught Pokémon in the vicinity, dark yellow means theres uncaught 'mon in the area and rainbow flashing means success in any of previously mentioned actions. However, these actions don't always work. Not only does the GO Plus freak out when you lock your phone or close the app (but not always), it also fails to do its one and only job way too often. Walking around Sydney City, there were more than enough Zubat and Pokéstops to test the Pokémon GO Plus on. The problem is, it acts so erratically. Sometimes it would pick up a Pokéstop multiple blocks away and other times it would let me walk right past an uncaught Pokémon without a peep. It kind of defeats the purpose if you can't trust the Pokémon GO Plus to hold the fort while your phone is tucked away in your pocket.
Tell him he's dreamin'
All-in-all, it's a very small package at a very big price. The Australian asking price is $49.99, which is a lot of money for a cute toy that looks like something you would find at the bottom of the cereal box. The only logical reason I can see people throwing down $49.99 is because of the Pokémon GO's exclusivity. Whether it's intentional or not, Nintendo do this well. It's the reason I have a whole shelf dedicated to amiibo figurines where my family photos used to be.
Even though the device (when it does work) curiously offers more features than the original announcement let on, it's simply not worth $49.99. As someone who is clearly a child masquerading as an adult, I do a pretty bad job of controlling "impulse purchases", but even with my frivolous ways, I simply couldn't justify spending more than $20 -- OK, maybe $30 -- on this thing. And that's as an adult; how many kids have $50 to throw down on something that will end up deep in the bottomless void of the school's sandpit? (Kids do get more than 10 cents a week these days, Brodie - Editor)
Who's it suited for? What are my other options?
Much to my dismay, the Pokémon GO Plus is suited to children and children only. Not just because of the wrist-strap for ants, but also because of its many technical issues. Not to say children would be any less aware of the devices technical faults, I just feel they could be more forgiving. For the rest of us, there's the upcoming Apple Watch and (rumoured) Android Wear app for Pokémon GO. It's also not the cheapest option, but if the functionality is anything like the seamless experience of Ingress for Android Wear, it should be a fun and painless way to enjoy Pokémon on the go.
Where can I get it?
After a very limited run at EB Games and eBay, the Pokémon GO Plus seems to be out of stock in Australia. That is unless you're willing to fork out twice as much for a second-hand device. We'd recommend watching the official Nintendo Australia product page on eBay in case more stock is allocated.