P&O Australia vs Carnival Australia
Find out which cruise line between P&O or Carnival will take you on the ultimate vacation to paradise.
We're reader-supported and may be paid when you visit links to partner sites. We don't compare all products in the market, but we're working on it!
We put Australia's branches of P&O and Carnival head-to-head and compared every aspect of cruise travel that you need to know about.
From types of cruises offered, to gratuities, waterslides, gyms and cancellation policies. After reading this article you'll be heading to one cruise line to book your next holiday.
---
P&O vs Carnival
Feature
P&O Australia
Carnival Australia
Verdict
Where does it sail to?

Southeast Asia
South Pacific Islands
Australia
New Zealand

Southeast Asia
Pacific Islands
Australia
New Zealand
Honolulu

Carnival Australia explores further.
Does it have Wi-Fi?
Yes. Prices vary based on package.
Yes. Prices vary based on the ship and itinerary.
Both cruise lines offer Wi-Fi onboard.
Does it provide towels?
Yes. Towels are free to be taken off the ship.
Yes. They can be taken ashore.
Both cruise lines offer towels.
Contact options
Both cruise lines offer the same contact options.
Is it all-inclusive?
No.
No.
Neither cruise line is all-inclusive.
How much is the deposit?
15% of the booking.
Deposits range from $150-400 depending on the destination and cruise length.
Both cruise lines require a deposit to book a cruise.
Does it have a gym?
Yes.
Yes.
Both cruise lines have a gym onboard.
Does it have hairdryers, laundry and irons?
Yes, self-service laundry is available with ironing facilities. Each room has a hairdryer.
Yes, full laundry service, self-service laundry and irons are available on all ships. Hair dryers are available on most ships.
P&O supplies complimentary self-service laundry, irons and hairdryers on every ship.
Does it include food?
Yes. Charges apply for speciality restaurants.
Yes, but speciality restaurants are additional.
Both cruise lines include food.
Does it have casinos?
Yes. Only one ship, Adonia, doesn't have a casino on board.
Yes.
Carnival has casinos on all cruise ships.
Does it have an ATM?
No. Cash is available from reception and is charged to your onboard account.
Yes.
Only Carnival has ATM's onboard.
Does it have formal nights?
Yes. 7-night cruises typically include two formal nights while four formal nights are on 14-day cruises.
Yes. 1-day cruises have no formal nights, 2-5 day cruises have one and 6-day or longer cruises have two.
Both cruise lines have formal nights.
How much are drinks?
Drink packages range from $7-105 per day. Soft drink and alcoholic packages are available.
Unlimited soft drinks and juices are available for $7.25 per day ($5.50 for kids). No alcoholic packages are available however individual drinks can bought on board.
P&O offers more drink package options, including alcoholic options.
Is it good for families?
Yes. Programs for children aged 2-17 are available on board.
Yes, onboard activities for kids and teens are available.
Both cruise lines are family-friendly.
Does it have child care?
Yes. Group programs are available.
Yes. Children must be registered for the onboard programs a minimum of 24 hours before departure.
Both cruise lines offer group child care options but not private child care.
Does it have virtual balconies?
No.
No.
Neither cruise line has virtual balconies.
Does it have a waterslide?
Yes.
Yes.
Both cruise lines have waterslides onboard.
Does it have a promenade?
Yes.
Yes.
Both cruise lines have promenades.
Does it have free room service?
No.
No.
Neither cruise line offers free room service.
What are my payment options?

Visa
Mastercard
American Express
Debit

Visa
Mastercard
American Express
Diner's Club
Debit
Direct Payment

Carnival has more payment options.
Can I price match?
No.
Yes. If you find a lower price within 2 days of booking Carnival will refund 110% of the price difference in the form of onboard credit.
Only Carnival promises to price match lower fares.
Does it allow for cancellations/changes?
Yes, but fees may apply.
Yes, but fees may apply.
Both cruise lines offer options to make changes and cancellations.
How much are transfers?
Prices vary from $18-20 depending on the departure city in Australia.
$20 each way.
P&O offers cheaper departure transfers.
How much are gratuities?
Tips are accepted but not required.
Tips are accepted but not required.
Neither cruise line has mandatory gratuities added to fares.
Has a ship ever sunk?
No.
No.
Neither cruise line has had a ship sink.
Who offers the best price?
Both P&O Australia and Carnival Australia offer 4-day cruises from Sydney to Moreton Island and back so we compared these cruises leaving on very similar dates to see which cruise line offered the better price.
P&O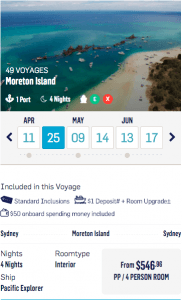 Carnival


The verdict?
P&O comes in at $150 cheaper than Carnival for the same amount of nights and to the same destination.
---
Is this cruise line good?
While both cruise lines have mostly excellent reviews on Cruise Critic, Carnival pulls ahead in this round with awards such as best service and best value for money in 2017. P&O received no awards. Carnival also has significantly more reviews than P&O, most of the reviews are also rated excellent.
---
Any other differences worth noting?
P&O offers many event cruises that Carnival does not. P&O has cruises to the Melbourne Cup, Australia Day in Sydney, the Australian Open, cruises to festivals and speciality cruises such as comedy cruises.
---
What are the deals like?
P&O has a much easier to use deals section on their website giving you the option to choose to find deals to specific destinations, for specific times of the year and more. Carnival offers top deals of the week and last-minute deals.
The verdict?
P&O offers many more deals than Carnival but Carnival has better prices. A 5-night cruise to Tasmania is only $424 with Carnival but $744 with P&O. To Vanuatu Carnival offers a 10-night cruise for $949 while P&O offers a same length cruise for $964. Carnival consistently has lower prices for deals.
---
Top P&O and Carnival deals
---
More guides on Finder