PlayerUnknown's Battlegrounds will never have pay-to-win items
The creator of PlayerUnknown's Battlegrounds has pledged that the PUBG loot crates will never have pay-to-win items.
Pay-to-win is a big talking point at the moment because of some questionable monetisation decisions by EA in Star Wars Battlefront II. Similarly, prior to the divisive launch of Battlefront II, Warner Bros. copped flak for including controversial gameplay-impacting loot boxes in Middle-earth: Shadow of War.
Loot boxes aren't new to the gaming space, but it's often felt that there's a right way to do them, and a wrong way to do them. For instance, Overwatch has loot boxes, but there's very little furore surrounding their inclusion in Blizzard's shooter because they only contain cosmetic items. Any time a game has loot boxes that contain items that impact gameplay and/or progression, though, both media and community don't react kindly to it.
And it's fair enough. Years ago, when free-to-play games were all the rage, many games were criticised for incentivising players to spend money by including pay-to-win items. Either these items could only be purchased with real-world currency, or players had to "grind" (translation: play a long time and potentially perform specific tasks over and over again) to score the equivalent item without spending money.
Because of the backlash to Battlefront II, Shadow of War, and similar mechanics in Need for Speed Payback, loot boxes are currently being dissected in gaming and non-gaming communities as to whether they constitute gambling. If you do spend real-world money for a loot box, you are, after all, exchanging cash for uncertainty - but, ultimately, a chance that you might actually get what you want.
Nowadays, that means any game with loot boxes is falling under close scrutiny. The bigger the game, the more likely it is to be scrutinised. At the moment, there are few bigger games than PlayerUnknown's Battlegrounds (PUBG), and it uses a loot box system as part of its monetisation. These boxes can be earned by playing the game, or purchased based on Steam Market prices. Because gamers have been burned recently by loot boxes that have more than just cosmetic items, I asked Brendan "PlayerUnknown" Greene whether he had any plans to include gameplay-impacting items in PUBG's boxes. Here's what he had to say.
Another big talking point at the moment is loot boxes, considering their inclusion in Shadow of War and Battlefront II.
Oh, yeah.
I can see that they're a way to help cover development costs down the track. Is that the philosophy behind their inclusion in PUBG?
Exactly. We have to think about this as we want to run it as a service for five, 10, 20 years and we need a sustainable income source, and I've always believed having a strong skin economy, it's a cosmetic economy, there's no pay-to-win element to it. Again, it's an optional thing. You get these boxes by playing the game, and you can choose whether to open them, or you can even sell them on the Steam Marketplace.
In my opinion, having that kind of economy where it's cosmetics only, you have this skin economy that supports the game and it also supports the player base, because players are able to sell some of the skins for, even the PlayerUnknown set is going for $1,000. A guy tweeted at me saying he bought a whole HTC Vive VR set off a skin he got for essentially $20, and that's what I think is a really good thing about, especially the CS: GO model: that it rewards players for playing the game and being committed to playing the game. Yeah, you can't get all of the skins you want, but most of the skins are available on the Steam Marketplace for probably less than a dollar or five dollars. There are some of the higher-level ones that are, of course, you're not able to afford or you may think are really stupidly high prices, but that's just the economy. It's fashion, I guess.
I think it's very important for us to have this because it will support the game and, again, it's an optional thing. We're not trying to say you have to do this in order to be successful playing the game. If you're a bit vain and you want your character to look cool, you may want to do this. Other than that, we see it as a model that can support as long, again, as it's cosmetic only.
I just wanted to emphasise that point. There are no plans for it to ever be gameplay-impacting items in those crates, right?
Oh, no. Not at all. We want this to be a successful esport; that's my dream since DayZ Battle Royale in Arma 2. You can't have pay-to-win items. It has to be purely cosmetic, and that's what our plan is, and it's purely cosmetic.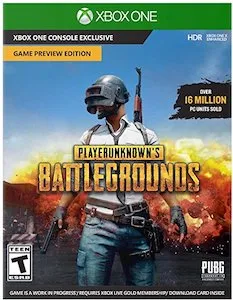 Pre-Order PlayerUnknown's Battlegrounds Game Xbox One Game today from OzGameShop
from ozgameshop.com
View details