How to plan a road trip for two | A couple of travel makers
How to map out your road trip and what to pack so that you can both enjoy the ride.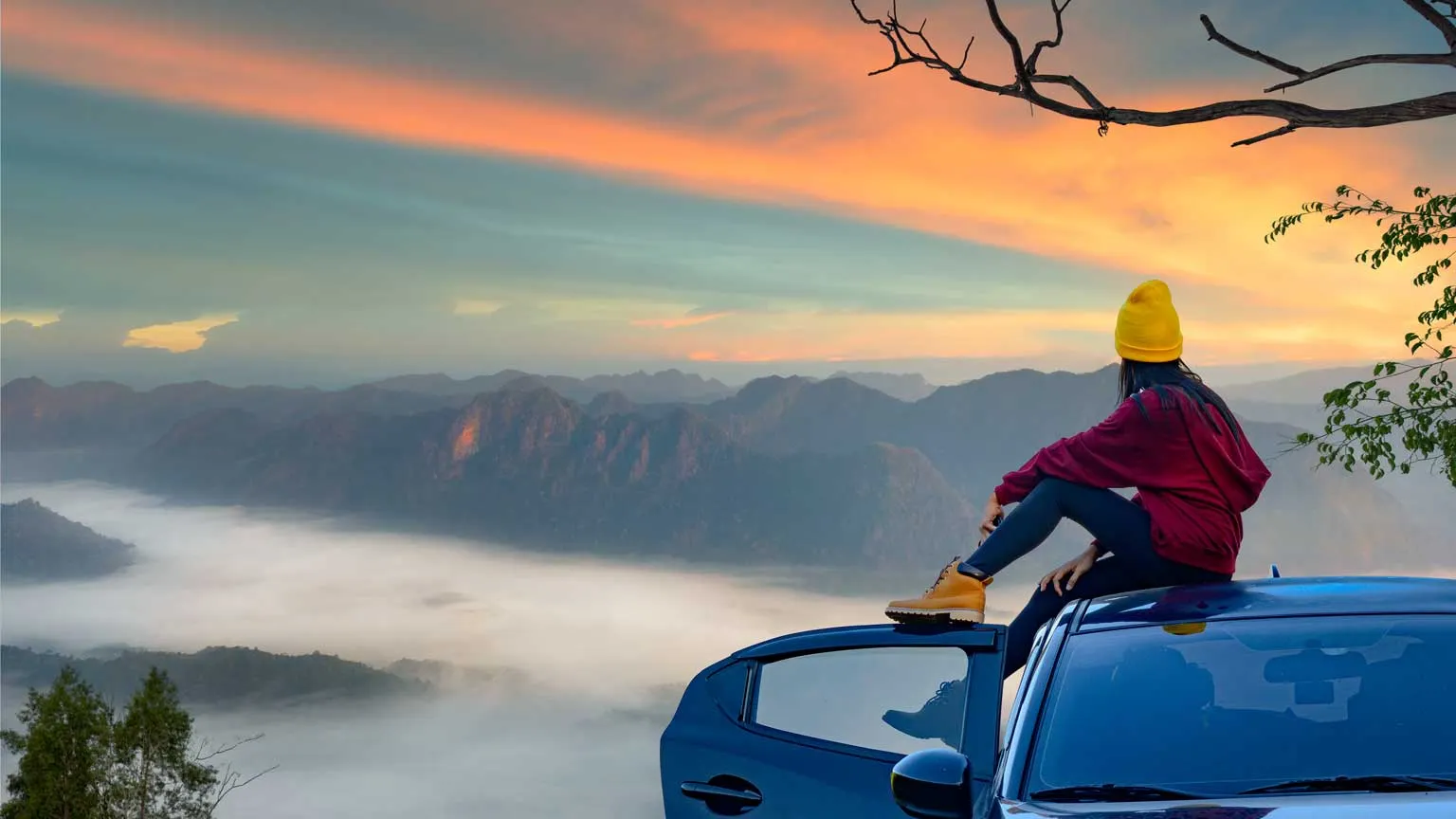 We're reader-supported and may be paid when you visit links to partner sites. We don't compare all products in the market, but we're working on it!
We've been on our fair share of road trips around Australia, Europe and the US. In fact, our first holiday together (before we even got together) was a road trip around Uluru.
So yeah, we know a thing or two about hitting the open road – and about surviving it with each other. Here are our pearls of wisdom on how to plan a big (or small) road trip together.
And if you need some inspo onn where to go, these are some of the best road trips around Australia.
We're Stef and D, a pair of married jet setters. Together, we've visited 55 countries and we're determined to see even more – all while working full-time and paying off a mortgage. We count our dollars at home and while we're away, and we're here to share our tips on how you can travel on a budget.
Read new blog posts every fortnight on Mondays here. Follow us: @acoupleoftravelmakers
How to map out your road trip
Pick your highlights
As a team, pick out all the points on your map that you want to visit. Once you can see the wider picture, you can then start joining the dots together.
Know that you may have to make some sacrifices, as it's likely that one or two of your highlighted destinations may not work on your particular journey.
Determine your driving time
Once you know your path and where you're going to stop, start calculating the driving time between each point and figure out what's actually possible per day.
Consider how much time you want to spend in each destination, how far each person is willing to drive per day (or in a stretch) as well as rest and meal stops, which can definitely eat into your day (pun intended).
Also consider what time you'll start each day. We're night owls who tend to stay up for sky photos, so we'll often start each day at around 10am after breakfast. You may be more inclined to start fresh at 6am and stretch out your daylight hours.
Add a buffer
Speaking from personal experience, no trip ever runs on time. There will always be extra stops to make when something catches your eye. Meals might take longer to cook/eat/clean up. Sometimes you will need to take a roadside nap for an hour or two.
In other words: don't pack too much into each day. Add a few buffer hours to your itinerary or work towards being at your final destination by dinnertime each day so that you can make sure you get a decent night's rest.
Once you've calculated how much ground you can cover in a day, it's time to look into accommodation options.
Campgrounds are a convenient and cost-effective option and they usually offer powered and unpowered sites, as well as cabins if you're driving a car with no facilities.
Otherwise, you can search for motels or motor inns. Filter your options to include parking. Some high-end hotels charge you to park on their grounds, however, most motels and motor inns don't.
We like to include one paid-for activity during our road trip. When driving from Las Vegas to Monument Valley, it was a tour of Antelope Canyon. When driving around New Zealand's South Island, it was a hike of Fox Glacier.
If there's an activity or experience that captures your attention, book it in line with your itinerary. For flexibility, check that there are free cancellations or changes included, just on the off-chance that your trip goes off-schedule.
Set it in stone
Or at least in apps. Create a Google Maps journey or use a road trip planning app to map out all of your stops, activities and accommodation.
You can then view and follow your trip seamlessly while driving and share it with friends and family with the click of a button.
If you're road tripping away from home then you'll need some wheels to get around. You can book this at any stage and we personally tend to do it whenever we see a great deal on a car.
Most car rental companies let you cancel for free so if you find something better it's easy to switch over to save.
You can purchase rental car excess insurance with your booking or at the desk. We tend to buy ours separately as it generally comes out cheaper. This will cover you for any excess the rental company charges if you get into an accident.
---
What to pack on a road trip
Driving essentials
If you're driving your own car, this includes driver's licences for everyone getting behind the wheel, car rego, insurance and roadside assistance details, a back-up key and a spare tyre.
If you're renting your vehicle, you'll only need your driver's licence and your car hire excess insurance. Everything else should be included with your hire.
Everyday essentials
Yes, we're going there. Remember to bring everything that you would normally take when leaving the house, such as your wallet, house keys, credit cards, cash and phone.
Emergency kit
This should include a flashlight, a mini tool kit for if you run into any car trouble and a first aid kit.
Hire vehicles often include these, but it's a good idea to check them before driving away in case you need to bring items of your own.
Navigation
Paper maps, offline maps or a sat-nav. Whichever you use or rely on, bring it. We recommend studying your journey ahead of time and either investing in a paper map or taking screenshots of your journey to follow in case you lose reception.
You can often add a sat-nav to your hire vehicle for a cost. This can be handy but pricey. We tend to run with our phones and Google Maps but it's up to you.
When hiring a vehicle, you'll often be asked where you're driving and you may sometimes be given instructions or a paper map to help get you there.
Tech and accessories
Add phones, phone chargers, a battery pack, phone mounts, USB cords, cameras, headphones and electronic tags to your checklist.
Whatever tech you're bringing, make sure you have the accessories needed to use it.
An outfit a day
When we travel, we run with an average of one outfit for every three days to keep our packing light.
When you're spending a decent chunk of that time sweating in a car, though, you'll need to increase that ratio. We go with an outfit a day or at least an outfit for every two days.
Pack according to your destination and activities. If you're headed to the beach, bring your sunnies, thongs and swimmers. If there are hikes on your itinerary, pack appropriate boots and long pants. A day pack each or to share is also a must.
The beauty of a road trip is that you're not restricted by luggage weight, so you can keep adding more and more gear to the boot as you need it.
Cooking and cleaning amenities
You're eating, drinking and potentially cooking in your vehicle, so having the right stuff to do that is important.
Bring a bundle of garbage bags, tissues, cookware, cutlery and serving utensils and wet wipes with you. Hand sanitiser is also great, particularly if you run out of wet wipes.
When hiring a campervan that is equipped with cooking facilities, you'll often be provided with cutlery and utensils to use.
Bathroom amenities
Chances are you're either sleeping in your vehicle or in a motel where amenities will be slim.
Bring your own soap, shampoo, conditioner, toothbrushes, toothpaste, toilet paper and multiple towels (or a quick-dry towel), or face having to purchase them at the local servo or supermarket.
Laundry essentials
Long road trips may require you to do a wee bit of washing – especially if you're living out of your vehicle or you're not in one location long enough to visit the laundromat.
Pack laundry powder and a portable clothesline that you can string up at a campsite, in a motel room or in your vehicle if it's large enough.
Bug spray and sunscreen
We always forget these but they are so important. Bugs are common in the evenings, particularly when driving through the middle of Australia, and once you let those windows down there's no going back.
Sunscreen is always important, especially if there are stops at the beach or any hikes planned on your trip. A hat never goes astray either when travelling in summer.
Esky
Got a hotplate? Are you camping? If you're planning to cook your own meals, an esky is essential to keeping your food fresh while driving.
Some hire campervans that include cooking facilities may also be equipped with a mini-fridge. Our Spaceship in New Zealand did. It was perfectly sized for two people's worth of food and we were able to pack a good chunk of meat and veggies into it.
Snacks
Driving snacks are an important part of the road trip experience. You can purchase these at your local supermarket before you head off to save money, or while you're on the road to save time. We've done both.
We tend to over-purchase, but personally, I think it's better to have more than less, especially if your road trip is going to be a bit more remote.
The best snacks are one-handed ones, as these allow the driver to eat safely while on the road. Good options include chips, crackers, lollies, sesame snaps and no-peel fruits like grapes, apples and pears.
Water
On long road trips, buy a few water jerries or bulk buy water bottles to ensure you have enough water to be safe. Reusable water bottles work a treat in conjunction with water jerries.
Blankets and pillows
Sleeping in your vehicle? Check what the night temperatures will be on your trip and take blankets thick enough to keep you warm and a pillow each to sleep on.
Hired campervans sometimes come with limited bedding. If you're able to, we suggest you bring your own, as from past experience, the supplied bedding hasn't been enough to keep us cosy and we've had to wear jackets to bed for extra warmth.
More guides on Finder