Pillars of Eternity II: Deadfire preview
Shore up those sails and ready the cannons: the classic RPG is taking to the high seas.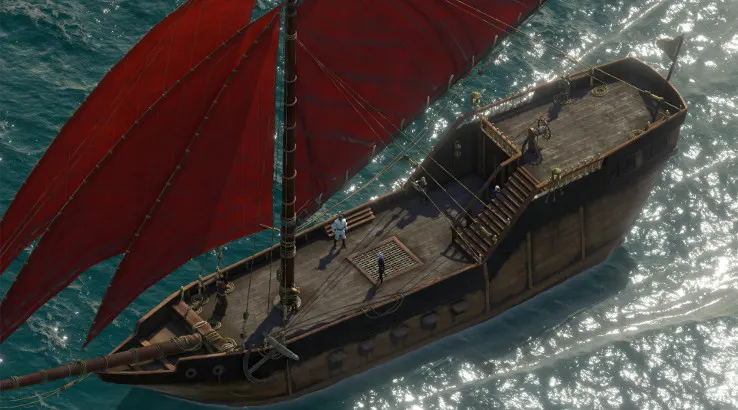 We're reader-supported and may be paid when you visit links to partner sites. We don't compare all products in the market, but we're working on it!
It's always tough previewing a dense, potentially hundred-hour-long RPG like Pillars of Eternity II: Deadfire. Not only do you have to wrap your head around intricate combat systems, tactical party management and more stats than a maths textbook, you often need to do so without the benefit of a carefully paced prologue to ease you into the whole shebang.
Nevertheless, the few hours I spent with the sequel to 2015's crowd-funded throwback to classic RPGs made it clear that developer Obsidian isn't content with merely tickling the nostalgia bone of those who grew up on Baldur's Gate and Neverwinter Nights. By cleverly incorporating elements of modern open-world RPGs, the studio has ambitions of bringing back classic RPGs in a big, big way.
First things first: forget the II in the title. While Deadfire is set in the same fictional universe as its predecessor and centres on the same protagonist, there's enough narrative separation here for newcomers to take up the sword, staff or spellbook without feeling utterly lost.
This is largely due to the way Deadfire is structured. Taking cues from Skyrim and Final Fantasy XV, Deadfire eschews the discrete maps common to classic RPGs in favour of the open sea. The Deadfire Archipelago, as the game's setting is called, consists of dozens of islands you're free to explore at your leisure in your very own boat. Honestly, there haven't been enough pirate RPGs since, well, ever, so it's refreshing that Obsidian is tackling the sorely under-represented sub-genre.
I admit, in my brief time with a tiny slice of the game, I couldn't quite get my head around the ship systems. Between hiring crew to man various stations on your vessel, stocking up on food, water and ammunition to keep your deckhands alive and healthy and muddling through the novel yet obtuse choose-your-own-adventure style combat, it's clear that becoming a scourge of the seas is going to require more than my encyclopedic knowledge of pirate cusses.
That said, navigating your ship between islands is a simple point-and-click affair, and the freedom it grants you can't be understated. Even in the small section of the world available in the preview build, the scope for exploration was impressive. Instead of poking my head into the haunted ruins some layabout chieftain was too cowardly to clear out himself, I scoured the nearby islands for resources to trade, chased enemy ships off with errant gunfire and eventually descended to my watery tomb when I failed to master the intricacies of ship-to-ship combat. Oh well, what's a quest without a few untimely deaths?
Outside of the promising aquatic adventuring, Deadfire looks to deliver on the same excellent moment-to-moment role-playing of its forebear. The real-time round-based combat remains as challenging as ever, though some notable additions make the fighting a whole lot more user-friendly. When you're hovering your cursor over enemies, for instance, you'll now see an info box in the corner of the screen listing their known strengths and weaknesses along with any current status effects. This is especially handy when sizing up previously unseen enemies prior to launching an attack.
Unsurprisingly, the writing in Deadfire is also top-notch. Obsidian already has a strong track record of nailing narrative and dialogue, and that trend looks set to continue here. In particular, the way the studio has incorporated character abilities and traits into dialogue scenes goes beyond what even its own games have attempted in the past.
For instance, as a ranger with an animal companion, I often had the option to sic my friendly bear on not-so-friendly NPCs. My heightened perception also came in handy, with additional flavour text describing characters' body language opening up new dialogue choices for persuasion and intimidation.
While I've only seen a fraction of what Pillars of Eternity II: Deadfire has to offer, I'm already confident in Obsidian delivering a worthy follow-up to its 2015 hit. Thanks to the vibrant swashbuckling setting, the tantalising open world and the continued emphasis on solid writing and engaging combat, Deadfire is definitely on my list of must-play games. Fortunately, the wait won't be a long one as Pillars of Eternity II is slated for release on 3 April.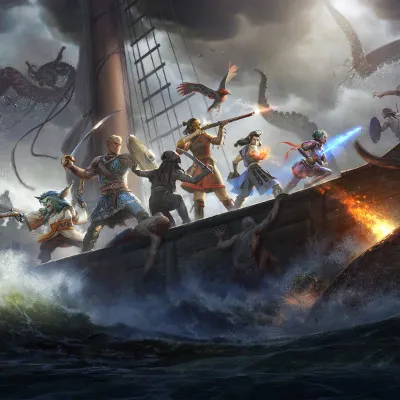 Pre-order Pillars of Eternity II: Deadfire
from Green Man Gaming
A swashbuckling adventure awaits in the follow-up to Obsidian's hit RPG Pillars of Eternity. Secure your copy now over at Green Man Gaming.
View details
---
More guides on Finder