Petals Network Promotion Code
Petals Network delivers flowers and gifts across Australia on the same day and also offers deliveries to more than 90 countries.

We're reader-supported and may be paid when you visit links to partner sites. We don't compare all products in the market, but we're working on it!
Petals Network promo codes and discount vouchers for April 2021
It looks like we don't have any coupons at the moment. Take a look at our most recent deals
It looks like we don't have any coupons at the moment. Take a look at our most recent deals
---
About Petals Network promo codes and discount vouchers
Petals Network boasts of a network of more than 1,000 local florists across Australia and an additional 500 in New Zealand and UK. Delivery to over 90 countries is possible through 20,000 worldwide affiliates. In addition to flowers for occasions like birthdays, weddings, anniversaries, births and deaths, Petals Network also offer other gift ideas. These include gift baskets that vary in size and budget and includes items like chocolates, fruits, soft toys and balloons, as well as gift hampers with an assortment of wines and chocolates.
Featured image source: Petals Network Facebook Page
How do I use my Petals Network promotion code?
Choose any of the Petals Network coupon codes from above. Click on it and this redirects you to the their website.
Browse through the website and look for products you wish to purchase.
Once you find a product you wish to buy, select from different product alternatives like Standard, Classic, Deluxe and Premium.
Choose any extras if you so wish.
Click on 'continue'.
This takes you to your 'Shopping Basket'. If you wish to buy more products, click on 'Shop More'.
Each time you add a product you go to the 'Shopping Basket' page. Once you complete adding products, review your basket and click on 'checkout'.
On this page, enter 'Recipient Information', select 'Delivery date' and type in the 'Gift Message'.
Click on 'continue to billing'
Enter your promotion code on this page and click on 'Recalculate'. This updates your grand total.
Enter payment information as required and click on 'place order'.
You have used your Petals network promotion code successfully - congratulations!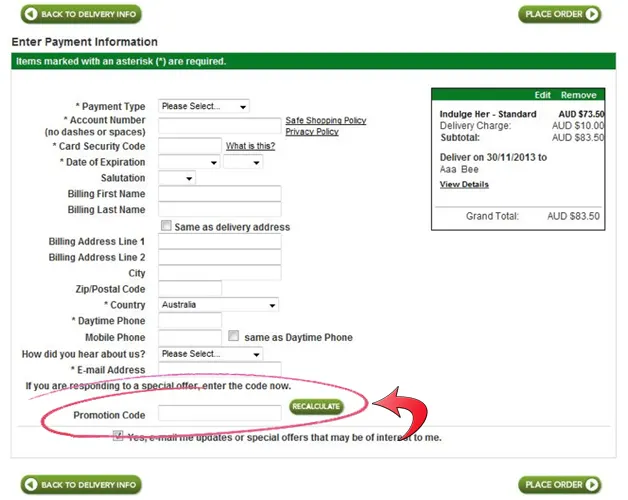 Pros and cons of Petal Network
Pros
Affiliated with the Grumleys. In addition to flowers and gifts on the Petal Network, users of this website can also purchase an assortment of gifts through Grumleys, one of Australia's leading gift networks and a division of Petals Network.
Same day deliveries. With exception to a few places, you can be certain that your flowers and gifts deliver on the same day, as long as you place your order as per given instructions.
Gourmet food and alcohol. Petals Network allows you to send gourmet food items and alcohol along with your flower orders. Delivery of alcohol, though, comes with some restrictions.
Worldwide deliveries. Since April 2011, when an affiliate of Teleflora USA acquired Petals Network, it delivers to more than 90 countries and these include nations like Armenia, Belarus, Cyprus, Estonia, Gibraltar, Jamaica, Kyrgyzstan, Madeira, New Caledonia, Turkmenistan and Uzbekistan.
Cons
No free delivery. Irrespective of how many products you buy or how much you spend, you end up paying delivery charges for all items.
Delivery guide for Petals Network
Same day delivery, from Monday to Friday, applies to orders placed prior to 14:00 hrs in the recipient's time zone and orders received after 14:00 hrs will be delivered the following day. Orders placed before 10:00 hrs on Saturdays qualify for this service.
Delivery is not available on Sundays and on certain holidays like Christmas, Valentine's Day and Mother's Day. Exclusions to this service also include making deliveries to venues like funeral services, hospitals and businesses. No guarantee accompanies delivery to timed events like functions, parties, weddings and funerals, or to places like hotels, ships and military bases. Certain remote areas, like Esperance in WA, Weipa in QLD and Hopetoun in VIC do not qualify for delivery.
Cancellation, changes and complaints for Petals Network orders
You can cancel your order or make changes as long as this happens well in advance, that is, considerably before the delivery date. To do this you have to get in touch with the team at Petals Network. To make complaints about quality, registering a complaint within two weeks of delivery is required. Sending a photograph along with the complaint helps speed up the resolution process. The time limit for complaints surrounding non-delivery is two months from the date of scheduled delivery. Reviews of all complaints received after this period happens on a case-to-case basis.
The Petals Network has evolved from a small florist shop run by Scott Williams and Bobbi Ballas in the early 1990s and it has been delivering flowers across Australia and the world from 1992. Over the years and many awards down the line, this business boasts of providing high quality service at competitive prices. Awards it has received over time include the 1996 Telstra and Australian Government Small Business of the Year award; Premier's New South Wales Regional Exporter of the Year Award, in 2000; the GIO National Innovative Service Award for creative use of the Internet, also in 2000; and the 2005 President's Prize for Best Business conferred by the Australian Business Limited Annual Awards.About Petals Network and its history
More guides on Finder