Petsecure pet insurance
Flexible policies that cover up to 85% of veterinary fees plus a wide range of extra cover options.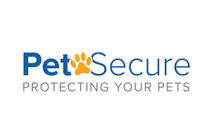 We're committed to our readers and editorial independence. We don't compare all products in the market and may receive compensation when we refer you to our partners, but this does not influence our opinions or reviews. Learn more about Finder .
For many people their dog or cat is more than just a pet, they are both a companion and member of the family, and just like you take out insurance to protect your two-legged loved ones, you can also safeguard your furry friends and ensure you can financially cover their medical expenses in the event of accident or illness. With Petsecure Pet Insurance you can choose from two base plans to suit your desired level of cover, which reimburse up to 85% of notoriously expensive veterinary fees with an annual benefit limit of up to $12,000 for accidental injury and illness cover. Included in your accidental injury and illness cover is Paralysis Tick Benefit ($500), overseas travel insurance and a Free Pet ID tag for every pet insured.
Read on to learn about your policy options.
Finder's 3 favourite features
Cover up to 85% of vet bills.
No excess - so your money stays in your pocket.
Discounts for rescue animals, pensioners, and those with assistance dogs.
Review by our pet insurance expert Alexandra Koster
Popular Petsecure Pet Insurance Deals coupon codes
| Last checked | Code description | Code |
| --- | --- | --- |
| 1 Oct 2020 | Save 10% for rescue animals | RES**** |
| 1 Oct 2020 | 10% Multi-Pet Discount | ******** |
| 1 Oct 2020 | 10% off PetSecure Pet Insurance for Seniors | ******** |
Policies available from PetSecure
See some prices for PetSecure
To help give you an idea about costs for PetSecure pet insurance, we gathered quotes for a few of Australia's favourite dog breeds. Just remember, prices are going to change based on things like you're own dogs breed, age and your address, so it's always worth comparing policies and getting a few quotes.
| Dog Breed | 1yr old | 5yr old |
| --- | --- | --- |
| Maltese Cross | $1,139.82 | $1,501.77 |
| Cavoodle | $1,222.10 | $1,584.86 |
| Labrador | $1,639.24 | $2,185.29 |
| Staffordshire Bull Terrier | $1,446.23 | $1,917.80 |
| Border Collie | $1,446.23 | $1,917.80 |
What are the policies offered by Petsecure?
Petsecure provides members with various policy options to choose from. These policies have been tailored to facilitate all owners (of dogs and cats) and their pets. With the option to tailor your premium to meet your financial needs, Petsecure Pet Insurance offers pet benefits under two insurance policy types.
Accident Cover: Provides pet owners with an affordable insurance policy for their pets. This benefit option will provide reimbursement for vet expenses incurred in the event your pet experiences an accidental injury such as:
Motor vehicle accident
An allergic reaction to an insect bite other than tick or flea bites
A burn or electrocution
A snake bite
Bone fracture
Traumatic ligament or tendon injury
Lacerations or abrasion of tissue, skin or mucous membrane due to external violence
A fight or bite wound abscess
Accident and Illness Cover: This is a more comprehensive insurance package that includes protection for all the above-mentioned accidents, as well as any illnesses your pet may experience.
Overview of policy cover and benefit amounts
Policy Type
Features

Covers accidental injury only
$8000 annual benefit limit
Up to 85% of vet expenses covered
No excess option available
Consultations and visits covered
No excess payable
Consultations and visits covered
10% lifetime multi-pet discount per policy
10% lifetime service dog discount per policy
10% lifetime rescued pet discount
10% lifetime Australian Pension Cardholder discount

Accident and Illness Cover

Covers both accidental injuries and illnesses
$12,000 annual benefit limit
Up to 85% of vet expenses covered
No excess payable
Optional Wellness Care pack (explained in more detail below)
10% lifetime multi-pet discount per policy
10% lifetime service dog discount per policy
10% lifetime rescued pet discount
10% lifetime Australian Pension Cardholder discount
Any additional benefits that can be added?
There are a few extra perks offered by Petsecure to ensure that your pet can always receive high-quality medical care, as well as some non-medical benefits.
These additions are included in the Benefit Limit and provide individual benefits. The extra cover options offered under this section include:
Emergency Boarding: Payment for boarding provided for your pet in the event that you're hospitalised for 5 or more consecutive days ($1,000 per year).
Paralysis Tick Benefit: Pays towards the treatment of tick paralysis ($500 per year).
Free Pet ID Tag: Provides free pet ID tag for each pet covered.
Pet Overseas Travel Insurance: Covers vet expenses incurred whilst your pet is overseas.
Optional Wellness Care
This optional cover pack is only available to those who are already insured by the Accident and Illness Cover policy, and will pay up to $145 per year for wellness and personal care items such as:
Micro-chipping
De-sexing
Heart worm control
Dew claw removal
Teeth cleaning
Prescription diets
Alternative therapies
Hydrotherapy
What isn't covered?
Petsecure, like most other insurance companies, includes a list of exclusions (things that aren't covered). Veterinary treatments and services that Petsecure will not cover are outlined in detail below.
Excluded Treatment or Service
Details
Includes, but is not limited to:

Hind dew claw removal, which may be done during a de-sexing procedure
Genetic blood work i.e. gene testing and DNA
Dental procedures i.e. scaling, cleaning and polishing

Includes, but is not limited to:

Prescription or diet pet foods
Preventative procedures and treatments, such as vaccinations and travel sickness medication
Grooming and bathing of your pet
Training, socialisation, therapy and alternative therapies

A condition or symptom of a condition experienced by your pet prior to the start of your policy or during any applicable waiting periods.
A deliberate or malicious act that results in illness or injury to your pet.
Optional Wellness Care
This extra cover pack, which is only available to those who are insured by the Accident and Illness Cover policy, will allow you to claim for some of these exempted treatments, such as hind dew claw removal, de-sexing and teeth cleaning.
How do I file a claim with Petsecure?
Petsecure makes filing a claim simple with the use of its user-friendly lodgement procedure. All claims can easily be filed online through the company's Managed Policy Portal. If you choose to use this option, you must first sign up on the portal where you will be able to easily upload your documents and track the process of your claim. In order for your claim to be processed as quickly as possible, you must:
Download the claim form.
Complete and sign your designated section and have your vet complete and sign the section designated as well.
Upload the completed claim form, along with all supporting documents and itemised invoices, to the Managed Policy Portal.
Ensure that you keep all original documents for your personal records in case the company needs them.
While filing your claim online is the easiest way possible, if you would like to go the more traditional route and file your claim via mail ensure that you complete the claim form and mail it in with all supporting documents and itemised invoices.
Additional things you might want to know about
Apply for PetSecure Pet Insurance securely
---
You might like these...