11 Perth hotels with pools you won't be able to resist
Jump into the deep end at these Perth hotels. You won't regret it.
Clocking up around 32,000 hours of sunshine annually, Perth is undoubtedly the sunniest capital city in Australia. With so much sunshine bliss to bask in, making sure you have the ultimate swimming pool at your fingertips is not a want, it's a must.
These hotels have some of the most majestic swimming pools in the city for you to dip into when the days get too hot.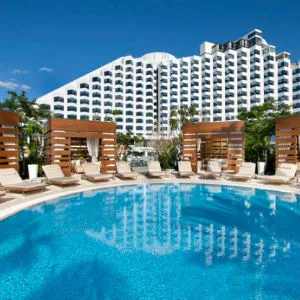 1. Crown Metropol Perth

You'll feel as though you're at a tropical island resort rather than a Perth hotel at Crown Metropol Perth, thanks to its four pools. That's right, FOUR.
Choose between a relaxation pool or family pool at the main swimming area, or hire one of six cabanas at the Pavilion (pictured), the hotel's secluded retreat for a more intimate poolside experience. You know which one we'd opt for...
Hotel rating: 5 stars
Pool features: Children's waterslides, al-fresco poolside bar and grill, cabanas and deckchairs
Other luxuries: On-site ISIKA spa, jacuzzi, limousine service, kids' club, business zone, on-site fitness centre
Go to Crown Metropol Perth website View coupon codes for Crown Metropol Perth
---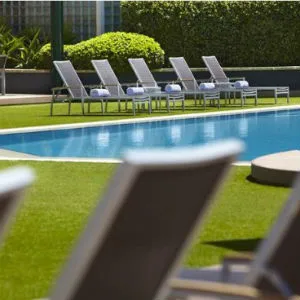 2. Hyatt Regency Perth

With its immaculate lawn, 20-metre pool and dreamy deckchairs, the Hyatt Regency Perth couldn't be more perfect if it tried.
Inside the hotel you'll find some of the largest standard rooms in Perth CBD, many of which boast views of Perth CBD or Swan River, as well as a wide variety of business facilities and meeting rooms.
Hotel rating: 5 stars
Pool features: The Hyatt's 20-metre pool is the largest heated pool of any 5-star hotel in Perth's CBD
Other luxuries: Complimentary morning city shuttle, Rose Moon spa treatment centre, tennis courts, buffet breakfast
Go to Hyatt Regency Perth website View coupon codes for Hyatt Regency Perth
---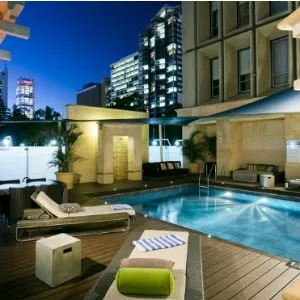 3. Duxton Hotel

Early risers can enjoy a refreshing dip from the moment the sun rises at Duxton Hotel, as its outdoor heated pool is open from 6am.
Once you've cooled down and dried off, take a stroll along the banks of the Swan River, which is just outside the hotel door, or walk further into Perth's shopping and entertainment district. It's all just a stone's throw away.
Hotel rating: 5 stars
Pool features: Heated pool open from 6am–9pm daily
Other luxuries: In-room massage and day spa, 24-hour fitness centre, free Wi-Fi, 24-hour reception
Go to Duxton Hotel website View coupon codes for Duxton Hotel
---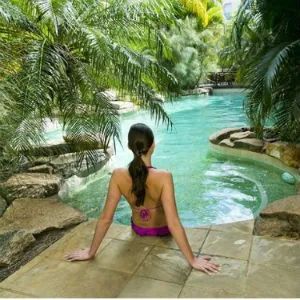 ---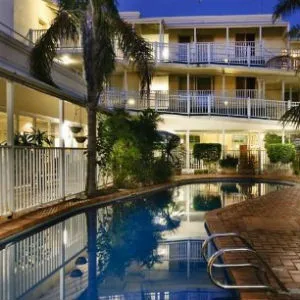 ---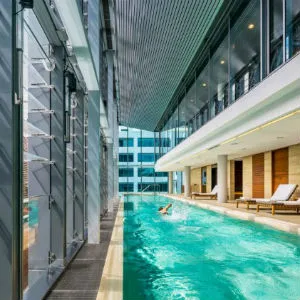 6. COMO The Treasury

Housed in the heart of one of Perth's revitalised historic districts, COMO The Treasury is one of the most highly acclaimed luxury boutiques in the city.
One of its many treasures is a 20-metre lap pool. Like its opulent guest rooms and suites, the pool area features high ceilings and clear glass windows to draw in natural light.
Hotel rating: 5 stars
Pool features: Indoor pool with deckchairs
Other luxuries: COMO Shambhala Urban Retreat day spa, lauded on-site restaurants, custom-made beds, Egyptian cotton bed linen, oversized opening windows
Go to COMO The Treasury website View coupon codes for COMO The Treasury
---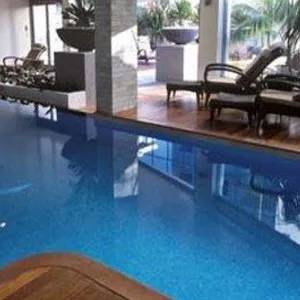 7. The Richardson Hotel & Spa

Regarded as one of Perth's leading 5-star boutique hotels, The Richardson Hotel & Spa has everything a relaxing, luxury holiday could ask for, pool and spa included.
Choose from a variety of modern rooms and suites or splash out on an eighth-floor penthouse suite. The majority of rooms feature native hardwood timbers, balcony views and well-stocked galley bars.
Hotel rating: 5 stars
Pool features: Outdoor heated pool and sauna
Other luxuries: Day spa, fitness centre, 24-hour reception, thick terry bathrobes, pillow menu, 400-thread-count sheets
Go to The Richardson Hotel & Spa website View coupon codes for The Richardson Hotel & Spa
---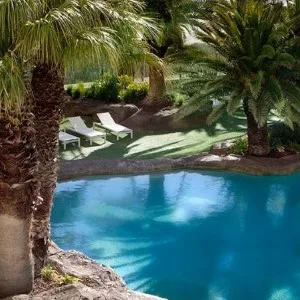 ---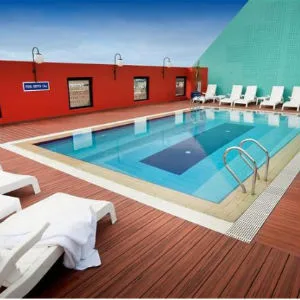 9. Mercure Hotel Perth

When your stay calls for a rooftop swimming pool with a view, the Mercure Hotel Perth has one of the finest in the city.
Located in the heart of the city, it provides an ideal base for exploring Perth by day and unwinding by the pool at night, surrounded by the city lights.
Hotel rating: 3 stars
Pool features: Heated outdoor pool
Other luxuries: Sauna, fitness centre, 24-hour room service, valet parking, on-site restaurant offering European dishes
Go to Mercure Hotel Perth website View coupon codes for Mercure Hotel Perth
---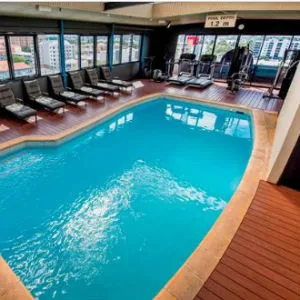 10. Mantra on Hay

This family-friendly hotel features apartment-style, self-contained rooms, daily housekeeping service, and an on-site bar and kitchen complete with buffet breakfast options to kickstart your day.
Oh, and did we mention the pool? Located on the hotel's rooftop, it's a relaxing escape storeys above the city. It's also heated, so rain, hail or shine, there's no reason why you shouldn't enjoy it.
Hotel rating: 4 stars
Pool features: Heated rooftop pool
Other luxuries: 24-hour reception, fitness equipment, business facilities, underground parking for a fee
Go to Mantra on Hay website View coupon codes for Mantra on Hay
---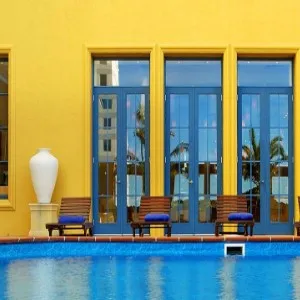 11. Pan Pacific Perth

Book a stay at the Pan Pacific Perth and not only will you be booking 5-star quality, but also a getaway to the inviting waters of the hotel's Mediterranean-style swimming pool.
The Pan Pacific offers four tiers of luxury rooms, to suit your travel style and budget. Choose from Deluxe, Premier, Executive and Pacific Club. Whichever you decide on, you'll be spoiled with views overlooking Swan River or the historic Kings Park garde
Hotel rating: 4 stars
Pool features: Outdoor swimming pool with change rooms and complimentary towels, open from 6am–6pm
Other luxuries: Business centre, fitness centre, self and valet parking for a fee, complimentary city transfer services
Go to Pan Pacific Perth website View coupon codes for Pan Pacific Perth
---
Search for more Perth hotels with pools
Related Posts