Payday Loans in Melbourne
A guide to comparing payday lenders available in Melbourne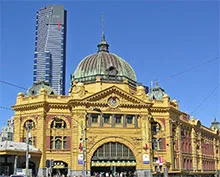 We're reader-supported and may be paid when you visit links to partner sites. We don't compare all products in the market, but we're working on it!
When it comes it borrowing money, applicants should always ensure that they're borrowing from a reliable source. This is where it pays for prospective borrowers to do their research and make sure that the lenders are trustworthy.
There are a huge amount of payday lenders in Melbourne, so it's important to know what to look out for when considering a payday loan. There are a few ways to determine whether a payday lender is one to potentially opt for, or steer clear of. While not all payday loans are created equal, borrowers should still be aware that almost all payday loans come with high fees and interest rates attached, and no payday loan is a long-term financial solution.
Skip to the signs to watch out for >>
Are you struggling financially?
If you're struggling financially and would like to speak to someone for free financial advice, information and assistance you can call the Financial Counsellors hotline on 1800 007 007 (open from 9:30am to 4pm, Monday to Friday). If you are suffering financial problems related to the coronavirus pandemic you may be eligible for additional support. Find out more here: https://www.finder.com.au/coronavirus-financial-help

⚠️ Warning about Borrowing

Do you really need a loan today?*
It can be expensive to borrow small amounts of money and borrowing may not solve your money problems.
Check your options before you borrow:
For information about other options for managing bills and debts, ring 1800 007 007 from anywhere in Australia to talk to a free and independent financial counsellor
Talk to your electricity, gas, phone or water provider to see if you can work out a payment plan
If you are on government benefits, ask if you can receive an advance from Centrelink: Phone: 13 17 94
The Government's MoneySmart website shows you how small amount loans work and suggests other options that may help you.
* This statement is an Australian Government requirement under the National Consumer Credit Protection Act 2009.
Sunshine Short Term Loans
This is a short-term loan offer with a fast and easy online application for good or bad credit borrowers. You can
apply today to get approved
for up to $2,000. Get your loan funded in 30 minutes - conditions apply.
Loan Amount: $2,000
Loan Term: 9-14 weeks
Turnaround Time: 30 minutes - conditions apply
Fees: 20% of loan amount + 4% of loan amount each month
Bad credit borrowers OK
Quick & easy Approval
Go to site
More info
Payday Loans available in Melbourne
How do payday loans providers in Melbourne work?
It is not uncommon for a resident of Melbourne to fall short on money before their next pay cheque. A payday loan is a short term solution that can be used in financial emergencies as a last resort. Payday loan providers offer a quick loan service that will loan customers small amounts of money upfront, usually in just a few hours.
Some payday lenders have restrictions on what their loaned funds can be used for, such as paying off other loans or in some cases, bills. Other lenders may have more lenient processes, so it's always a good idea to check the terms of a loan carefully prior to submitting an application.
What to look for in a Melbourne payday loan provider
If someone is looking for a payday loan provider in Melbourne, they may need money in a hurry. However, it pays for prospective applicants to take the time to consider their options carefully and choose the most competitive payday loan provider available in their city. While many payday lenders charge similar rates and fees (as there is a cap on what they are able to charge, outlined below, and lenders usually charge the maximum) the lenders are likely to differ on a few key features:
Fair interest and fees. Applicants should check the lender doesn't charge more than the ASIC imposed fee cap. Payday loans of less than $2,000 are capped at a 20% establishment fee and 4% monthly fees of the principal amount of the loan (this does not include late payment or default fees, for which there is no cap). If a lender charges more than this, they are likely to be disreputable and should be avoided.
Suitability. The suitability to the individual borrower is an important factor to consider prior to submitting a loan application. Different lenders will have different restrictions for their payday loans. Some lenders will only let customers borrow a certain amount the first time that they borrow, and others may be able to transfer the funds more quickly than others. Prospective applicants should check the terms and conditions of the loan set by the lender to determine whether the loan will be suitable to their borrowing needs.
Things to take note of with payday loan providers in Melbourne
Available funds

Customers should ensure that the lender that they are considering offers the funds that they are looking for. Most payday lenders offer loans of $2,000 and under, but some payday lenders offer loans up to $5,000.

Loan terms

A loan term is the amount of time that a loan customer is given to pay the money back. Loan terms can vary from 16 days to up to one, or in some cases two years. Short loan terms mean that repayments can be very high, whereas longer loan terms will incur a greater cost to the applicant over the life of the loan. Loan applicants should therefore ensure that their repayment terms fit their schedule and their budget, and that they are able to repay the loan comfortably. If someone is uncertain about their ability to repay, they should reconsider applying for a payday loan, as most loans charge very high default and late repayment fees.

Turnaround time

Most payday lenders provide quick funding to their customers, usually within one or two business days. Some lenders even offer a same-day service as standard, while others may charge a fee for the option of fast-tracking an application. Prospective borrowers should ensure that the lender they borrow with can provide the funds they need when they need them, and what the terms are around this service.
Signs of a disreputable Melbourne payday loan provider
Just like you should look for the signs listed above for trustworthy providers, there are also signs of disreputable providers. Here are a few things to watch out for:
They don't require credit checks

Payday lenders usually still consider applicants who have poor credit records. So, while there are lenders who offer no credit check payday loans, this could be a red flag for the lender's credibility because lenders are obligated to ensure that they are lending responsibly to people who can easily repay their loans. However, this is not always the sign of an irresponsible lender, as there are some lenders who determine their customers' ability to repay using alternative scoring methods, such as income assessment and viewing a person's transaction history. If a lender performs neither or these checks, prospective applicants should probably avoid them.

Difficult to contact.

As most payday providers in Melbourne operate online, this can sometimes be difficult to ascertain. But it's important for customers to work out before they apply. If they have any problems in repaying their loan or any questions regarding their finance, they want to be able to contact the lender as easily as possible to avoid extra charges. Applicants can test their lender's responsiveness by how quickly they respond to emails or pick up the phone.

No Australian Credit Licence Number (ACL).

All lenders in Australia, including payday lenders, require an ACL in order to approve loans. This number should be listed on their website and customers should be able to check it on ASIC Connect's Professional Registers.

Rates and fees are difficult to find.

The rates and fees of the loan someone is taking out should be readily available on the lender's site, or they should be able to get a clear answer from a representative of the lender when they speak to them. Applicants should make sure that they have a clear understanding of all the fees and charges before they apply.
Areas of Melbourne and Victoria to be wary of payday lenders
Unfortunately, there are disreputable lenders operating in all categories of payday lending, but equipped with the information outlined in this guide, borrowers may be able to spot a predatory lender and avoid them. Victoria's capital city is the fast growing in all of Australia with a population of close to 4.5 million coming from all over the world. A large amount of international investment into its industries and property market are responsible for its rapid growth and multi-faceted culture.
Prospective loan customers may want to be wary of lenders operating in lower socioeconomic areas of Melbourne and the greater state of Victoria. This may indicate a predatory lender, so it pays for people to be on their guard.
Based on statistics released in March 2013 from the Australian Bureau of Statistics (ABS), these are Melbourne and Victoria's most disadvantaged areas:
Melbourne
Broadmeadows. This north-lying suburb is the most disadvantaged suburb in Greater Melbourne, according to ABS data. The area had a population of 10,578 at the time of the 2011 census, with just over half of that population having been born in Australia.
Campbellfield-Coolaroo. The Campbellfield-Coolaroo areas are also north of Melbourne's CBD within the City of Hume. The combined population of these two areas is 8,728, with the areas falling into the second spot for Melbourne's most disadvantaged suburb, and Campbellfield being ranked in the top four for Melbourne's most crime-ridden suburb.
Meadow Heights. This suburb also lies in the City of Hume, approximately 18 km north of Melbourne's CBD. From the 2011 census we can see that 10.1% of the population was of Australian descent, with nearly a quarter (23.2%) being Turkish. Meadow Heights is ranked third for Melbourne's most disadvantaged suburb.
Doveton. This suburb lies in the south-eastern outskirts of Melbourne, 31 km away from the CBD. It has a population of approximately 8,404, the majority of which (15.3%) were of Australian descent. Doveton was the fourth most disadvantaged suburb in Melbourne according to the ABS data.
St Albans - South. Ranked fifth in the ABS list of disadvantaged areas, St Albans is located in the north west of Melbourne with a population of 35,091. That population is highly diverse, as well, with over half (53.5%) of residents being born outside of Australia.
Victoria
Central Goldfields. This was reported to be Victoria's most disadvantaged areas according to ABS data, and had a population of 12,496 in 2011. The Central Goldfields Shire is located in the central part of Victoria and includes several towns, such as Bealiba, Dunolly and Talbot.
Greater Dandenong. Located in the south east of Melbourne, Greater Dandenong was listed as state's second most disadvantaged local area. In 2014 it was reported to have approximately 146,000 residents and includes suburbs such as Noble Park, Springvale, Keysborough and Bangholme.
Mildura. Mildura is located in the northern part of Victoria and ranked as the third most disadvantaged area. Its runs along the banks of the Murray River and had an approximate population of 30,000 people in 2009.
Loddon. Also located in northern Victoria is Loddon, which falls into the fourth position for the ABS' most disadvantaged areas in the state. In the 2011 census it had a population of 7,459 and includes towns such as Pyramid Hill, Inglewood, Serpentine, Boort and Wedderburn.
Northern Grampians. This shire comprises several towns from Victoria, including Stawell, St Arnaud, Stuart Mill, Navarre, Halls Gap, Marnoo and Great Western, and is located in the Western part of Victoria. This is the fifth most disadvantaged area in Victoria.
Types of Melbourne payday loan providers: is one better than the other?
There are a few different types of Melbourne payday loan providers and their suitability will depend on the needs of the borrower. By comparing lenders carefully, loan customers can maximise their chances of finding a better lender for their circumstances.
Online vs physical lenders
The majority of Melbourne payday lenders operate online as it helps them keep their operating costs down. Although, there are some physical payday lenders that applicants may also want to consider. When looking at online lenders customers can apply directly through their website using an online form and their application will usually be processed within a few minutes. The turnaround time for these loans is also generally quite quick, with some lenders able to have the requested loan amount to successful applicants within the hour.
On the other hand, physical lenders come with their own benefits, such as giving customers the ability to discuss their situation and loan in person. These lenders may also offer secured loans whereby some borrowers may have a better chance of being approved for a loan. When a prospective applicant visits a physical lender, they can ask questions directly to the employees to determine the reputability of the business. This may help them to make a better informed decision regarding their loan.
Secured vs unsecured payday loans
Many payday lenders offer unsecured payday loans. This helps make for easier applications and allows lenders to provide quick turnaround time for loan amounts. Although, some lenders will offer secured payday loans. This added security may help borrowers who do not meet the payday lender's criteria access a loan, as the lender will have a guarantee should the borrower default. However, customers with access to security may qualify for a lower-cost secured personal loan, even if their credit rating isn't perfect. The security used can be anything from household appliances, jewellery, to larger assets like cars, bikes or equity in property.
Small amount loans generally fall into the $100 - $1,200 category, while larger payday loans can be anywhere up to $5,000 or even $10,000. Lenders who offer loans that fall into the first category are restricted by the amount of interest they are able to charge — namely, a 20% establishment fee and 4% in fees per month.
Lenders offering medium loans, or loans of up to $5,000, have different restrictions, including a one-off establishment fee of $400 and a maximum annual interest rate of 48%, which includes all other fees and charges
Larger loans, or loans of up to $10,000 have a maximum rate of 48% including all fees and charges.
What should I ask a lender about before applying
Will I be subject to a credit check, and how will my creditworthiness be assessed?
Prospective applicants in Melbourne should always remember to ask the right questions to any would-be lender and to carefully consider their options, prior to submitting an application for a payday loan.
More guides on Finder