Overcooked 2 review: Night of the Walking Bread
Butter be quick 'cause there's no margarine for error.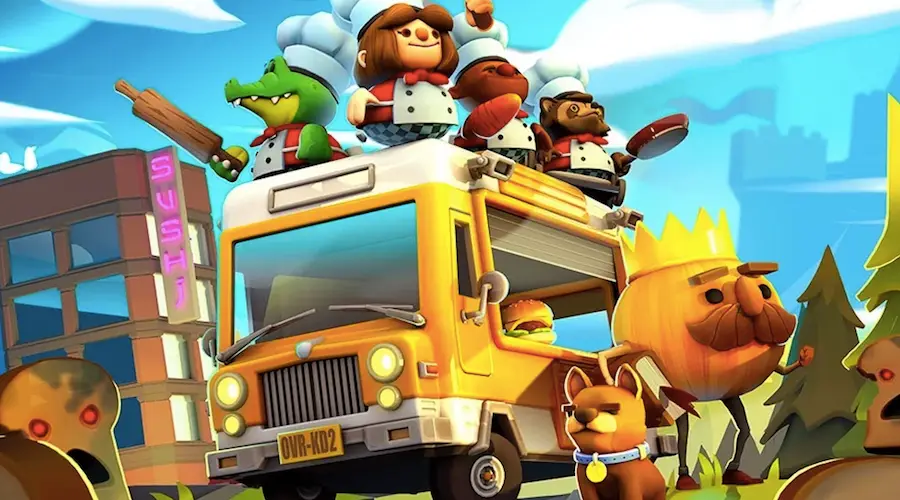 Too many cooks in the kitchen can be an awesome thing. Just ask any four-person posse who's digested the single-screen mania that was 2016's Overcooked. The concept was as simple as it was addictive: divide and conquer meal prep (and washing up) as customers demand increasingly complex dishes and your kitchen reconfigures like a highly flammable Rubik's cube.
Overcooked 2 serves up a heaped helping of more of the same, though a garnish of extra complexity sprinkles on after a few levels. You're still trying to avoid too much food poisoning for terribly made meals, awful tips, fires, fights over extinguishers, and ruined real-life friendships, but Team 17 has clearly recognised the popularity of this series and spent accordingly.
From what I've consumed, Overcooked 2 is a delicious second course thanks to its additional mechanics (flinging raw ingredients anyone?) and it's pretty hard to dislike the new pun-tastic zombie plot. It's more or less "Night of the Walking Bread".
---
Having the ability to huck onions and pickles over barriers is both fun and practical. The original Overcooked had a tendency to starve you for the bench space required to get the job done – now you can simply cover the floor in produce. (Fortunately, there's no health inspector in this universe.) With the wrong crowd of friends, having the ability to chuck tomatoes is also the sauce... sorry, source, of great amusement as well.
The only other major change to mechanics is the ability to bring up a conversation wheel. In theory, it's an improved function which allows you to emote yourself to other players (though why you'd want to play this online with randos without headsets is beyond me). Frankly, I prefer the button back in its original form, a swear function that could be mashed harder than potatoes.
Beyond that, the only major switch ups come in the form of a bunch of new recipes to make you think twice about what ingredient needs to be cooked and what needs to be sliced on a chopping block. Team 17 has also gone a bit mental with the "moving platforms" concept of the kitchens. Old tropes, like having to coexist (read: slam dodge past) with one another in confined spaces returns. There's also a tendency to isolate one of your quartet with a key piece of equipment.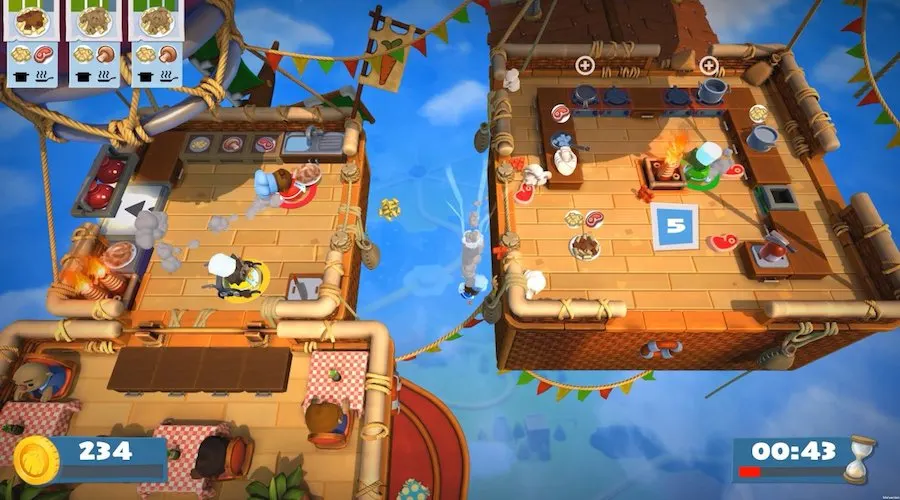 However, things go a little too silly towards the end of the piece thanks to the introduction of weird new environments. The moments where you have to deliver people and things to one another via machines just didn't gel with me and my crew, to the point where we wanted to reload back to earlier missions instead. Likewise, we were more annoyed than entertained when it came to navigating quickly through teleportation-enabling portals and the like. Your mileage may vary. Half of my squad did not "video games" often.
The developer found much more success with cool new concepts like being buffeted by the elements, rotating platforms, elevators and other shifting chicanery. Randomised fires and ingredients barrels that like to go on walkabout are interesting twists. Also "helping" a fellow chef by throwing food at them while they try to tightrope-walk across a chasm of death never gets old.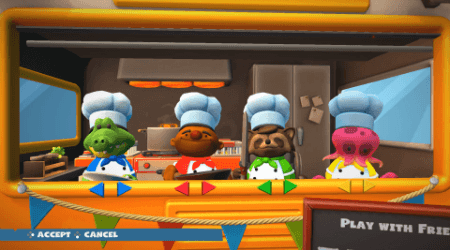 Local multiplayer is far and away the best way to sample this feast and it's nice that public server multiplayer is an option. My limited tests with it confirmed two things: the netcode is stable and the vast majority of anonymous people online value your irritation way, way more than in-game progression or high scores. Trust me, you're going to want to play this in an environment where players can read the room and misbehave to acceptable levels because in the back of their mind they know they're in punching distance.
What you should not do is buy this for a solo play. Overcooked 2, like it's forebear, is amazingly dull if you're Neil No Mates. Yes, you've got the ability to swap your control between two chefs so you can effectively deliver things to yourself as zero hijinks ensue. But you'd have more fun playing catch outside with yourself.
Do yourself a favour and ask three other friends to tie up an apron alongside you. At 8 hours long with 40ish levels to conquer, this doesn't represent a huge time investment for casuals or non-gamers. The diehards can gleefully invest more time into this by full-starring everything and unlocking the 25+ chef skins on offer, too. Whichever way you look at it, Overcooked 2 is a thoroughly delicious second course that serves up some of the best single-screen multiplayer in modern gaming.
We reviewed Overcooked 2 on PlayStation 4 with a copy provided by the publisher.
Overcooked 2
8.5 EXCEPTIONAL
What we liked...
Insanely fun four-person multi.
Added support for online play.
New recipes with slight variants to befuddle you.
Nutso level design.
What we didn't like...
That said, some later levels get gimmicky.
Swear button nerfed.
VERDICT
With Overcooked 2, Team 17 took the order seriously: "We'll have a Number One, but can you super-size it with extra challenge and a side order of online multi pandemonium".
For more information on how finder.com.au scores games, check our review guidelines.
---
Related Posts
Latest gaming deals on Finder