How to organise your home – tips & tricks
Organise your home and get your life in order with these handy tips.
We're reader-supported and may be paid when you visit links to partner sites. We don't compare all products in the market, but we're working on it!
Organisational skills don't come naturally to all of us. Too often we are caught in moments where we've places that document or passport.
We should all be encouraged to start trying to get things organised. There are simple products available that make organising your home easy and, dare it be said, kind of enjoyable. Throughout this article we will find some online retailers that specialise in offering products to stop you tripping up with your coffee over a load of toys left spread across the living room floor, or spending hours untangling wires in order to use an electronic device.
Interesting points about How to organise your home
How to organise your home
Unfortunately it seems that we are all hoarders, with surveys show that 80 per cent of the stuff we keep, we don't use. Entering the garage can be akin to attempting an assault course as we struggle to get from one side to the other. It's not just untidy; it's a health and safety nightmare.
Organising the home is not the most exciting of tasks. It seems like quite a time-consuming thing to do and we often drop it down our priority list as an unnecessary waste of energy.
However, when you actually need an item that would otherwise have been buried underneath a pile of clutter, the time and energy you will have saved by knowing exactly where it is will more than compensate for the initial effort you (and your family) have put in to tidy up.
Use a filing system

Employing a filing system for bills and other important documents will make your life much easier when it comes to taking care of finances. Separating statements, bills and other important pieces of paper is something that very few of us do, which can lead to missed payments and late charges in some cases. Organising these documents in order of priority can help you to save money in the long run—now there's some motivation for you.

Make to-do lists

Keeping to-do-lists is always a good idea to help you keep track of exactly where you are and what you need to do. Within the lounge and general living areas, magazine racks and bookshelves are certainly helpful in keeping things from looking untidy. If you are an avid reader of magazines and newspapers, recycling the ones that have already been read will help your home environment and the environment in general.

Sort out your wardrobe

Clothing and shoes are often found strewn around the bedroom and sometimes piled up in the bottom of wardrobes, ready to be salvaged on the occasion that we need to wear them. Hangers were invented to help keep clothes ordered and free of creases, so they should be employed. Shoe racks provide a display of your shoes in a tidy and orderly way to stop the dog using them as its next chew toy and to enable you to know exactly where every pair is.

A coat and hat stand near the front door can act as a reminder to put your jacket on before exiting into the cold, but it also helps to keep them from being chucked on the sofa or floor.

How to organise your bathroom

When it comes to the bathroom, simple cabinets can be used to keep all toiletries housed, while toothbrush holders and soap dishes can help keep the bathroom looking clean. This also helps reduce the chance of bacterial contamination to things that you are going to be putting in your mouth and on your face.

Don't get too wired up

In terms of PCs and entertainment units, wires can be organised with cable ties and there are other excellent inventions that we have detailed below. We don't quite live in a wireless world just yet. A whole bunch of tangled wires looks unsightly and also proves very annoying when trying to remove an item or locate the plug for it.

When it comes to garage and garden storage, big plastic storage containers can be kept on shelves with labels to enable you to easily find items. All tools and garden maintenance equipment can be attached to the walls to stop dangerous items being within reach of children.

In essence, organising isn't something that only boring people do; it's something that we should all be doing to make the environment in which we live a much more pleasant one. Don't let things get out of hand; make sure that everybody tidies up after themselves. It's not rocket science.

Below is a collection of excellent products from retailers that can help keep your house well organised. However, these products are no good if you don't assume responsibility yourself for making things presentable and easily accessible when required.

When you are having guests around, the last thing you need is a mad last-minute rush to tidy up before they arrive, resulting in a flustered greeting once the doorbell rings. Imagine how much more relaxed you would be if you didn't have to do anything because it was already done?
Back to top
Best products to help you organise your home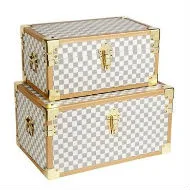 Set of 2 Steamer Grey and White Storage Trunks
from LivingStyles
There's nothing finer than a couple of vintage-look trunks stacked in the corner for bedding and towel.
View details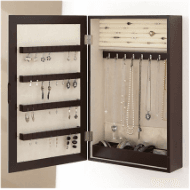 Wall Mounted Jewellery Armoire
from Innovations
No longer will you only be able to find one earring or be required to untangle eight necklaces to get one to wear
View details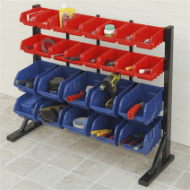 Storage Rack Tray
from Innovations
Keeping all your nails and screws and other DIY paraphernalia in one tidy area will help you get those pictures up quicker.
View details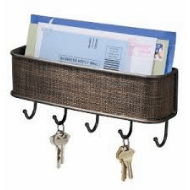 InterDesign Wall Mount, Mail and Key Rack
from Amazon US site
How pleasing to have a nice rack for your keys and those bills. Ironic because keys open stuff and bills don't get opened.
View details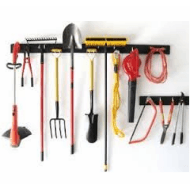 WallPeg 8 Foot Garden Tool Organizer - Garage Wall Storage
from Amazon US site
Keeping those sharp garden tools out of the reach of little ones is both sensible and organised. This rack even has a place for your strimmer.
View details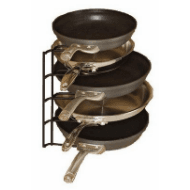 Rubbermaid 1H4209BLA Kitchen Pan/Lid Organizer
from Amazon US site
Nothing should be exempt from organisation. If you're the kind of person that has five frying pans, this is a great way to stack them neatly.
View details
Back to top
Top retailers to shop at for your home
| | | |
| --- | --- | --- |
| | | |
| AmazonAs always, if you want it, they've got it. Amazon caters for everyone and is the first port of call when you're shopping online. | Living StylesLiving Styles specialises in top-end furnishings which don't go over the top in terms of expense. | InnovationsInnovations is a general merchandise retailer that has an exceptional home and garden range with some unique products. |
| | | |
| ZanuiZanui provides everything you need to kit out your home in an individual and super-classy manner. | Kush LivingMighty Ape makes online shopping fun. It has even won awards for the online shopping experience it offers and its product lines are interesting and fun. | Izzz. Apparently Izzz means glorious or to a high standard. Browse through Izzz's lovely range of high-end products and it's obvious this is a very appropriate name. |
Back to top
Current deals and offers
It looks like we don't have any coupons at the moment. Take a look at our most recent deals
Back to top
More tips for organising your home
We've given you some decent products that can help with your organisation, but it all starts and ends with you. So let's go around each room and area in the house and offer some tips on how to make the most of the spaces you have for storing and the best way to achieve that uncluttered environment.
Home office
Every desk should have a set of drawers and drawers are undoubtedly a fantastic place to store things. The dangerous thing about drawers is that, like so many other storage options, they provide you with the whole 'out of sight, out of mind' option. Drawers can very quickly become a hidden dumping ground so it is important to give each drawer an individual role to play in your storage mission. Use one drawer for stationery, one for paper clips and on and on.
The top of your desk should contain your PC and enough room for you to write. A pen holder and perhaps a placemat for your coffee should be all that you have on your desk. A clear desk equals a clear mind.
The kitchen
The kitchen is perhaps the hardest place to organise but it is also the most important. It's also the most satisfying if you can get it right. It is generally suggested that you always think about grouping foods in the same area. A spice rack is very important and can be wall-mounted to save on cupboard space. All pasta should be decanted into glass jars, as should coffee, tea and sugar—it just looks better.
All condiments should be kept in the fridge door (mayo, ketchup etc). Canned goods should also be organised by type. If you know that all your baked beans are stacked together, it makes it easier to recognise when you're running low.
All your dishes and mugs and glasses should be stacked neatly with plenty of space to avoid any unfortunate collisions and drops. Pots and pans are used every day, so they should be easily accessible and neatly stored.
The lounge
So we know that women think the more pillows, the better but going to overkill on these accessories merely makes the place look messy and, before long, they all get misshapen and are only good for hiding the TV remote control.
Magazines should be stored in a rack rather than dumped on the coffee table. The only thing that should be on there is a cup of coffee and perhaps an attractive flower arrangement (as long as it doesn't block the TV).
The bedroom
So much storage space exists in the bedroom. Your bedside table, for example, will always have a drawer which you can use for keeping medication and other things that would detract from the look of your room if they were on display. Other than a clock and a lamp, there really isn't any need for anything else to be on top of this.
Many beds have a lot of space underneath them. This should be utilised with neat storage boxes to keep things that you perhaps don't use so often. Old photo albums and books could go here, or last season's clothes that might have a chance of coming back into fashion.
You will be keeping some of your clothes in your chest of drawers. Make sure that every drawer has its own specific type of clothing—one for underwear, one for t-shirts, one for jeans—all nicely folded and ready to be worn..
If you have a dressing table as well, your makeup and hair products should always be neatly arranged in the drawers. The one thing that it is fine to have on display on your dressing table is your selection of perfumes. All jewellery should either be hung on a stand or put in a nice jewellery box.
The dining room
Your dining room is for eating, not for office work or anything else. As such, all that should be in here is a table, four chairs and some placemats. If you have a larger dining room you may have a cabinet with drinks or larger plates and serving dishes. When your dining room stops getting used for dining, that's when you know you have a problem.
The bathroom
The bathroom is a potential breeding ground for bacteria if you don't properly store all your items. Plastic toothbrush holders and a soap dish are the bare minimum requirements. All face creams and other skincare products, such as razors and shaving foam, should be kept in a mirrored cabinet to make the bathroom more pleasing on the eye. Shower gel and shampoo should be kept in a rack or on a shelf next to the shower or bath, not left around the side of the tub.
The laundry
The only way to keep on top of this is to take care of your ironing and laundry the moment that it needs doing. Your ironing board should always be folded away and neatly stored in a cupboard until it's needed. If you can implement a weekly system for laundry, drying, ironing and putting away, you will be able to keep your laundry (or kitchen for some of us) much tidier.
The garage
Using wall-mounted pegs for all of your tools is a no-brainer. All your nails and drill bits, or whatever else you may have, should all be compartmentalised in something like the trays above. Shelves in the garage are a must for paint tins, varnish and WD40. They simply serve to keep them all these products out of the way.
The attic
The attic is not a dumping ground—of that we must make a point. But with the right storage boxes you can use this valuable space to store old clothes and Christmas decorations until such time as they are required again. Think about vacuum packing clothes in airtight storage packs. This reduces the space they take up and keeps them fresh.
---
Most of the tips above might seem obvious to some, but to others they may be revelations. Either way, get your house looking like it should. There's never been a better time to get things organised and there have never been more products to help you do so.
Back to top
More guides on Finder