Opinion: Dammit Google, why can't Australians have the Pixel Slate?

Google announced a whole slew of products overnight, but Australians will miss out on one of the most interesting.
It was, as they say in the best clichéd fiction, a dark and stormy night last night as Google's "Made By Google" event unfolded.
Well, it was if you were watching from Australia. With the international time zone differences, I was writing finder's coverage of the event from 2am in the morning.
To a large extent, of course, I knew what was coming because the leaks around the Google Pixel 3 and Google Pixel 3XL have been extensive leading up to the launch. So extensive in fact, that Google made a deliberate joke out of them before it announced anything at all.
I'm genuinely curious to get to grips with the Pixel 3 and Pixel 3XL because Google doesn't do "bad" phones. But here's the thing. In 2018, there are loads of premium Android phones, and while Google's take should be a solid competitor, you're spoiled for choice.
You know what you're not spoiled for choice with? Google-based tablet devices. So when Google announced the Google Pixel Slate, I was intrigued. It's not quite an Android tablet (because it's ChromeOS, although that's a distinction with much less weight than it used to have), but it's got the potential to be a real competitor to the Apple iPad, and there just aren't that many of those.
Microsoft's had its go with the
Surface Go
(and to an extent the new Surface Pro 6, but those are Windows 10 devices where the mouse cursor comes first with touch a distant second. They're great devices in their own right, but they're in no way touch-first devices.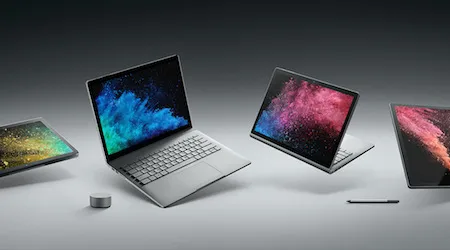 Browse the Surface range on the Microsoft website
from Microsoft Store
How does the Surface Go shape up? Browse the entire Surface Range at the Microsoft Store.
View details
Now there are Android tablet devices out there from the likes of Samsung, Huawei and others, but little that really challenges Apple in tablet supremacy, especially in the Australian marketplace.
I like the 2018 iPad and iPad Pro a lot, but lack of competition breeds complacency, and as we've seen from Apple recently (especially with the iPhone XS Max), a tendency towards prices that creep up.
The Pixel Slate has the potential to be that competitor, with a solid set of specifications, a good looking keyboard and Google's suite of online applications to handle the productivity side of matters. I could even swear that Google's playing to my specific biases by producing it in a dark blue tint because I love that colour combination on technology.
Instead, though, I just swear – because the Pixel Slate won't launch in Australia, at least for now.
As Google said more about the Pixel Slate this morning, my excitement grew... right up until the point it was announced that it'll go on sale in the US, Canada and the UK only.
It's undeniably true that low-cost Chromebooks haven't made the kind of impact in Australia that Google might have hoped for, relative to their more general availability in the States. Still, the Pixel Slate is more premium priced, with US list pricing starting at US$599, or about $850-$900 (depending on taxes) after conversion.
That marks the Pixel Slate out as a premium tablet, but it's one that if (like me) you're keen on, you'll likely have to pay even more for because the only way you'll be able to get one is to import it.
Google prides itself on providing easy answers to complex questions, a theme it returned to multiple times in this morning's launch.
I'd love an answer to why we're getting everything else announced at this morning's launch, but not the Pixel Slate.