Onrush review: Blast from the past or regular old burnout?
Onrush for PS4, Xbox One and PC is a fighter/driving hybrid that shows potential but takes a while to find its cruise control.
We're reader-supported and may be paid when you visit links to partner sites. We don't compare all products in the market, but we're working on it!
Burnout Paradise Remastered broke the drought and reminded petrol-heads of their thirst for arcade racing Aqua Cola. Be that as it may, Codemasters' latest attempt to reinvent the wheel[-based genre], by fusing it with fighting games and deathmatch respawning, won't be for every taste. Onrush presents a solid foundation, but in its current form, you should be in norush to buy it.
The first major rule-break you need to wrap your head around is this: the finish line is meaningless. That checkered flag's importance has been replaced by objectives and vehicular violence that feeds a variety of team-centric goals. Plus, thanks to a class-based approach that's not unlike hero-shooters like Overwatch and Paladins, you'll be racing with your mind focused on the positioning of your buddies in the pack just as much as the rivals trying to shunt you a new exhaust pipe.
Onrush chops and changes its intentions over the course of a few modes, but Overdrive is the undoubted pick of the litter. First, two teams of six racers must select from an eight-class roster of two and four-wheeled vehicles. Then the name of the game is expending more NOS than all the Fast & Furious movies combined – an act that'll reap points. The first team to amass a set amount takes the win. So far, so simple.
---
---
How one earns boost will be pretty familiar to anybody who's played a Burnout title though the physics will feel a bit more rigid than that Criterion classic. Near misses on on-track obstacles will earn you boost, as will grabbing sweet air off jumps (and tricking if you're riding a bike). However, that's all chump change when compared to the dividends you get from ramming through flocks of AI cars that hold no allegiance to either side and seemingly exist to do laps and be slaughtered. You'd hope the pay is good.
T-boning the ever-loving Castrol out of your enemies is lucrative as well (more on this in a second). Plus, your ride comes with unique, passive perks that will reward you with points for sticking to certain racing behaviours. Weirdly, there's some rubber-banding in place that ensures everybody is kept in the same pocket of the race. Rare is the time when you'll have less than half a dozen cars or bikes buzzing about you like hornets.
Sounds great in practice, but Onrush sure was a slow-burn for me. I took way too long to warm to a racer where my mad drifting skills and (literal) driving instinct to leave the pack behind were unrewarded or outright counterproductive. Fighting my natural hatred of catch-up logic was quite the hurdle to get over, too, and Onrush's odd approach to road rage didn't help the transition either.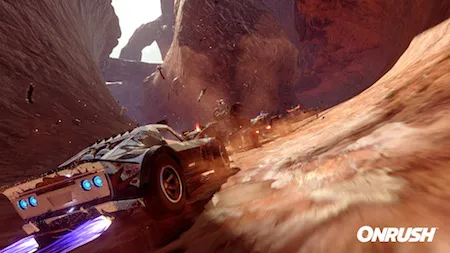 Over the years, I've learned what sort of shunt ought to murder an opposing car – and you can thank games like
Split/Second
,
Flatout
,
Burnout
and Sydney's M4 motorway for this. Somehow, that knowledge felt at odds with the battling in
Onrush
. Too many times I'd line up a competitor and deliver an almighty slam which, by all rights, should have stoved in my victim like a Coke can. However, end result: my own ignominious death and the further reward of having to wait for a respawn timer to count me back in. Finding what works can be totally achieved, and takedowns like dropping on somebody's head are worth learning but expect the educational process to be unsatisfying for a time.
The eureka moment came when I learned to stick to my lane, play to a class and mind my perks according to what I wanted to achieve. Basically, if you're into mayhem, you're going to have to earn the right by ticking off a checklist of behaviours to earn a Rush (think: a limited time super that amplifies your speed and strength to let you hew through the pack).
Even without a Rush supercharge in effect, Onrush runs at a flawless breakneck pace and everything looks gorgeous as it whips past you. Codemasters has gone with a vibrant colour scheme here and the developers went deliciously overboard with the cosmetic vehicle customisation. That said, the game is crying out for a greater variety of racetracks. It works against the ever-changing nature of Onrush's large pool of wildly different modes.
Along with Overdrive, you have Countdown, a gates-based race against time that earns skilful slalomers with extra seconds to live. Lockdown is an addictive take on King of the Hill where the zone to occupy is also doing 120km/h. Switch is almost like a version of a gun-game where dying will switch you into a different, often worse vehicle class (it's pretty addictive cat and mouse stuff).
Providing you find the right crew and go against a team who also know what to do, Onrush can feel like a breath of fresh air – an anomaly that works in short bursts. Unfortunately, the solo offering isn't strong enough to keep people coming back to this, making Onrush heavily reliant on its multiplayer lobbies. In my experience, they've looked a little ghost townish since launch.
I think Onrush is an innovator that deserves to succeed, providing Codemasters commits to supporting it with regular refreshes of new content and modes. Its biggest problem is that it perhaps bends too many genre rules without properly projecting its intentions to customers. Then, in the opening hours, it doesn't train players effectively on how to adjust to this new world order.
A solid love affair can begin with Onrush after a period of disorientation. But I fear too many traditionalist racers and impatient types will eject before Onrush can kick into high gear. And without a large, dedicated online player-base, this could become roadkill well before its time.
We reviewed Onrush on PlayStation 4 with a copy provided by the publisher.
Onrush
7.0 VERY GOOD
What we liked...
Some modes are incredibly novel
Learning the eight classes is fun and rewarding
Looks pretty and whips by at 60fps
Captures the soul of peak 2000s arcade racers
What we didn't like...
Handling physics a bit rigid
Presenter and "edginess" is eye-rolling
Soloists will feel short-changed
VERDICT
A fighter/driving hybrid that shows potential but takes a while to find its cruise control. This, combined with a high price of admission, makes it a tough ask.
For more information on how finder.com.au scores games, check our review guidelines.
---