Online TEFL course: Be certified to teach English
Want to travel and work? Teaching English as a Foreign Language (TEFL) can be one of the best ways to do it.

We're reader-supported and may be paid when you visit links to partner sites. We don't compare all products in the market, but we're working on it!
About Online TEFL Courses
English is the world's third most widely spoken language and has the highest rate of new learners worldwide. This has opened up incredible possibilities for linguists and teachers to teach it to non-native speakers.
Now TEFL programs operate all around the world and they allow adventurous teachers to travel to far flung places, enter new communities and gain rich experiences, and frequently high salaries, in exchange for their skills.
What categories of online courses do they offer?
TEFL courses all offer a similar curriculum, made up primarily of strategies and skills for teaching English around the world. They do, however, come with different levels of study and ways of studying. When you come to choose your TEFL course you can either choose:
TEFL foundation course - This will give you a basic understanding of the core concepts of teaching, as well as practical guides and exercises both for yourself and for your future classrooms.
TEFL professional course - This will give a far more comprehensive educational experience, and will teach you advanced techniques for teaching more complex topics to more experienced learners.
You will also have to choose whether you want to study your course entirely online, or whether you would prefer to take the course face to face. This will depend on your location and preference for studying, and there may be a slight difference in cost.
Back to top
How do I sign up for an online course with Online TEFL Course?
It's easy to sign up for a course, simply head over to the Online TEFL website through any of the links provided. When you're there you can browse the courses that are available and make your selection.
You'll see a screen that looks like this: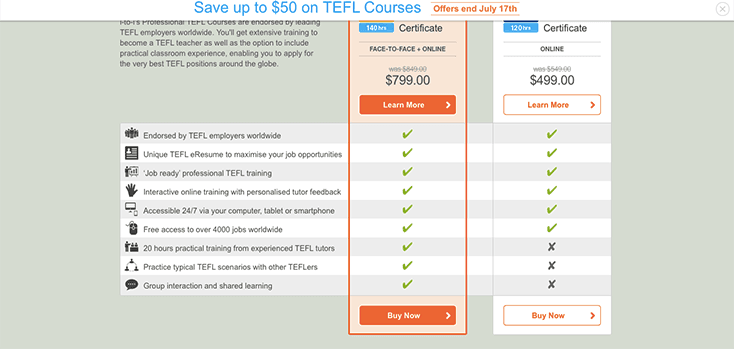 If you choose the face-to-face option then you will be asked to choose a location and study time, or if you select online, then you can simply check out and start your course whenever you like.
Back to top
What fees and prices can I expect with Online TEFL Courses?
Short TEFL courses can start from as low as $150, but if you're doing this as a career move and are hoping to land a job at the end of it, then you should expect to pay around $500 for the full, professional course. This can then be completed either online or face-to-face and you should bare in mind that there may be other expenses if you choose to study face-to-face.
What types of online courses are available?
TEFL courses are not part of the qualifications framework, they are stand alone courses that are accredited by independent educational frameworks around the world. If you're looking to teach in a specific country, you may find it possible to find a course that is accredited or recommended by employers in that country, which could help you speed up the job seeking process.
Any Government funding or financial assistance available?
As TEFL certificates often come from private companies it is not possible to get government financial assistance to study. However, the course are usually inexpensive and they frequently have sales and discounts available helping you to manage the cost. Studying online is also useful, as it will allow you to save money on travel costs and other expenses associated with location learning.
Back to top
Can I transfer any previous credits?
No. TEFL courses are stand alone, which means that they are not usually part of the qualifications framework and they do not typically work in credits. This means that you cannot transfer credits in or out. You will have to take each TEFL course from beginning to end, though you will find that having a TEFL certificate on your CV will be a useful tool throughout your career.
More guides on Finder