Best Public Relations courses online
With a degree in PR you can learn how to create, build and maintain the reputation of companies.
We're reader-supported and may be paid when you visit links to partner sites. We don't compare all products in the market, but we're working on it!
Why should I study public relations?
Public Relations (PR) is the way a business relates to the general public. It's most famous in the celebrity sphere, where PR experts arrange for out of favour celebrities to be photographed at the right place at the right time, but here in the real world PR is just as common.
In fact, almost all medium and large business, agencies and organisations will have someone, or a team of people, in charge of their PR.
A career in PR is well suited to extroverts who like to think strategically about how to manage their perception of others, but, as with most industries, variety is welcome. If you enjoy the creative industries or even psychology, and are looking for somewhere you can use your knowledge, then PR might be of interest to you.
---
See our latest January 2021 deals for public relations online courses below: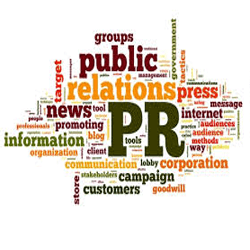 Public Relations for Startups and Small Business
from Udemy
If you're looking to make a career out of public relations, then this course will be a good fit for you. Learn from an expert with 10 years of experience in online marketing, PR and sales.
View details
---
What are the courses for public relations ?
Undergraduate courses
If you're looking for a public relations undergraduate degree that you can study online in your own time, then you're in luck, as there are a few available to you. Be sure to read through full course guides to make sure you'll get an education that will help you have the career you want.
Bachelor of Communications (Public relations) at Charles Sturt University.
Bachelor of Communication at University of Southern Queensland.
Bachelor of Arts (public relations) at Deakin University.
Bachelor of Business (public relations) Swinburne University.
Bachelor of Business (public relations) at APM College of Business and Communication.
Postgraduate courses
A lot of people have found their way into PR armed only with a relevant undergraduate degree, but if you want access to more senior positions or to work in bigger companies or agencies, then why not think about getting a masters degree? Check out the courses below to see if there's a course that might help you out.
Master of Business (public relations) at Queensland University of Technology.
Short courses and professional development
If you're considering a career switch, or just want a glimpse into what PR might be like then there is also a host of short courses available exclusively online. Have a look below and see if there is anything you like.
Graduate Diploma of public relations at Deakin University.
Graduate Diploma of communication (Public relations) at University.
Diploma of Business (public relations) at APM College of Business and Communication.
Back to top
What are the tuition fees and other expenses to study public relations?
To give a general idea, a Certificate in Public Relations and Events Management from Open Colleges Australia will set you back $1,780 paid in instalments. If you'd like your materials printed, there is a surcharge of $150.
The fees will vary from provider to provider, and depending on what level of study you undertake. One of the great benefits of online study is that you can make the course fit around your life, so if you want to take on the expense gradually you can spread the course out of a period of years.
When researching your course also be sure to look out for any bursaries, scholarships or grants that might be available. There is a lot of financial aid available to people looking to study, but not a lot of people go out looking for it. If you need a little help, there is probably a way to get it.
Back to top
What are the best institutes in Australia to study public relations?
There is a lot of choice for studying PR online and all from well known educational providers, so whichever institution you choose you'll get a respected qualification. It's most important that you find a course that suits you and that will teach you what you want to know, rather than worrying about the provider.
If you want more advice on courses, or for information and events in the field, be sure to visit the Publics Relations Institute of Australia (PRIA), who offer a full list of all certified courses available to prospective students.
Back to top
What are the career opportunities for Public Relations?
Public relations offers good prospects for employment as most medium and large business employ people to handle this department. The jobs available will probably be some kind of PR officer, media officer, publicity agent or information officer, but there could also be opportunities in marketing or events management.
Average salary
A PR manager earns an average salary of $61,949 per annum.
Source: Payscale.com
And, if you aren't already, you should tune in to as much social media as you can. Businesses are increasingly harnessing the power of these large networks of people and as much experience as you have will surely help - plus it gives you an excuse to go on Twitter.
Back to top
More guides on Finder