Best photography online courses
We're committed to our readers and editorial independence. We don't compare all products in the market and may receive compensation when we refer you to our partners, but this does not influence our opinions or reviews. Learn more about Finder .

If you love taking pictures, make a career out of it!
Why should I study photography?
More than ever before, photographs are part of our daily lives. Whether it is checking out news or last nights sport, scrolling through your Instagram feed or flicking through a magazine, almost every image you see was taken by someone who got paid to take that picture (with the exclusion of your friends on Insta!).
With so many avenues for distribution and such an appetite for the new, it's a good time to think about becoming a professional photographer. If you're interested in taking pictures and getting paid for it, then we've compiled a list of courses that might help you develop.
As with a lot of artistic professions there are always strong arguments for and against formal education. Some believe that it is not necessary and that style, hard work and experience are more important than qualifications, while others believe that qualifications give you a crash course in your chosen art form, are vital to artistic development and always give you something to fall back on.
Obviously we're not here to settle this debate, we're here to provide you with information and let you decide for yourself. With this in mind we'll give you the picture of the best online courses available in photography.
---
See our latest October 2020 deals for photography online courses below: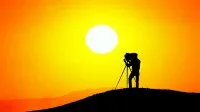 Photography Masterclass: Your Complete Guide to Photography
from Udemy
It doesn't matter whether you're using a smartphone or a DSLR camera to take photos. This course teaches you how to take amazing photos which you can later sell.
View details
---
What are the courses for photography ?
There are fewer photography courses available online than in some other subjects, and they're mostly confined to on-going professional or short courses. But this isn't necessarily a bad thing, as it might allow you to take multiple courses, at multiple institutions and learn from several teachers on your educational journey.
If you're unsatisfied and you want to get an undergraduate or postgraduate degree, then perhaps you should consider campus study, if that is possible in your area and circumstance. Otherwise, read on for the best short courses available online.
Diploma of photo-imaging at CATC Design School.
Creative digital photography short course at CATC Design School.
Certificate in freelance photography at Open Colleges.
Certificate in photography at Open Colleges.
Certificate in digital photography at Open Colleges.
Certificate IV in design (Specialising in photography) at Open Colleges.
Photography course at the Photography Institute.
Learn photography online at Sydney University.
Back to top
What are the tuition fees and other expenses to study photography?
Another upside of a focus on shorter courses is the reduction in tuition fees that you can expect to pay. For example, the photography course at the Photography Institute will cost just $1,099, with most of the other courses in or around that range.
Though before you bank the money you've saved remember that photography is dependant on equipment, so you'll also have to be prepared to shell out for cameras, lenses, editing software, tripods and stands, lighting equipment and other essential accessories.
Back to top
What are the best institutes in Australia to study photography?
Photography is an exceptionally dynamic, ever changing profession, and is such there is no singular institute that can claim to be the best (despite what some might say). The most important thing is finding a course that suits you, that will push your artistic development and that you can afford.
It is also important that you don't depend on your chosen institute to teach you everything there is, if you're serious about becoming a professional photographer, then you have to get out there and contribute to your own learning. Take as many pictures as you can of as many different things, try things that you've never tried, or don't think you'll like. Take portraits, take actors headshots, take landscapes, take wildlife pictures, your artistic development is on-going and shouldn't be confined within the set length of any of course.
Back to top
What are the career opportunities for photography?
While there are few photography 'jobs' available (in the 9-to-5, salaried job sense) it is very possible to make a career out of taking pictures. It's often freelance, which means you'll need to be flexible, open to new experience and not easily deterred, you'll also need to have skills in marketing, self-promotion and experience using the internet or building websites would be very useful.
Average salary
A photographer earns an average wage of $24.57 per hour, though this field highly depends on experience.
Source: Payscale.com
If you're after a structured career path, like ten year plans, or the stability of a monthly pay cheque, then you may be in the wrong business with photography. But if you like setting your own schedule, constantly seeking out new opportunities and, of course, taking pictures, then go for it.
Back to top
More guides on Finder