Best Media Studies courses online
Whether it's television, print or online, media is a bigger part of our lives than ever before.
We're reader-supported and may be paid when you visit links to partner sites. We don't compare all products in the market, but we're working on it!
If you love keeping up with what's new in media, and are even considering a career in it, then have a look at our guide to the best online courses available in Australia.
Why should I study media studies?
Media studies is a wonderfully self-explanatory field. Simply put, it's the study of media, its history, impacts and importance. This could cover print journalism, radio, or film, or it could cover more modern forms of communication like the internet and social media.
If you find yourself attracted to forms of communication and would like to devote your career to their development, then perhaps a career in media is for you.
The qualifications that you need to find and to get the most out of that career will vary based on what field you want to work in and that job you'd like to do. If you already have a good idea, or if you would like to study and specialise as you go then a course online might help achieve your goals and further your career.
---
See our latest April 2021 deals for media studies online courses below: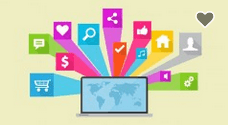 Certificate of Social Media Marketing - The Complete Course
from Udemy
This course teaches you how to use social media sites such as Facebook, Twitter etc to boost sales and attract new customers.
View details
---
What are the courses for media studies?
If you're looking for a general media studies course that will allow you to explore many different areas of this vast industry, then have a look at the following online courses:
Bachelor of Communication (media studies) at Swinburne
Online news production (Undergraduate unit) at Griffith University.
Media relations (Undergraduate unit) at Griffith University.
New communication technologies (Undergraduate unit) at Griffith University.
Or, if you already have an idea of what area of media you would like to specialise in then be sure to look through the other course guides on finder.com.au. We've got complete reviews of journalism, entertainment, marketing, public relations and digital media.
Back to top
What are the tuition fees and other expenses to study media studies?
The tuition will vary from program to program and institution to institution. When you feel like you know what you want to study head over to the provider website for full fees, but if you're just looking for a guideline, the undergraduate study then they Bachelor of communication (media studies) at Swinburne is expected to cost $18,456. This does not include any learning materials or books that may be required.
Back to top
What are the best institutes in Australia to study media studies?
It is difficult to say which is the best institute to study media studies in Australia. The field is so broad and could contain so many different areas of study, that the best institute will really vary depending on what exactly it is you want to study. It is also important that you find a course that suits your budget and the duration that you want to study.
Online study is incredibly rewarding, but can also be challenging. It requires sustained work, so it may be better to find a course that will hold your interest, rather than attempting to find the definitive best.
Back to top
What are the career opportunities for media studies?
The career opportunities are varied, and the work types and salaries will be mixed. Again, it helps if you know, or at least have an idea, what you might like to specialise in before you start, but this isn't essential.
Average salary
An account executive earns an average of $47,500 per annum.
A marking coordinator earns an average of $40,491 per annum.
A media buyer earns an average of $50,050 per annum.
Source: Payscale.com
With a qualification in media studies you could end up working in journalism, film, radio, television or online. Depending on your creativity you could end up producing creative content, or somewhere in the support system.
The possibilities are vast and exciting, but you should also be prepared for hard work. The media attracts a wide array of capable and qualified people, and if you want to get ahead it will help to have some certificates on your wall.
Back to top
More guides on Finder