If you have an interest in helping people feel good about themselves, then a career in beauty therapy may be perfect for you.
The study of beauty therapy encompasses many areas of treatments and techniques all designed to help Australians look and feel better. Hair, nail, facial and body treatments are all a part of this course of study, giving you a multitude of career opportunities to look forward to after completing your online course.
Why should I study beauty therapy?
With new products and techniques aimed at the beauty industry being introduced all of the time, there is a demand for motivated individuals in this field. With the knowledge and skills obtained from study beauty therapy online, you will be empowered with the ability to transform the way a person looks.
This is a rewarding career that gives you the chance to connect with new people daily, and provide for them an invaluable service. Becoming a beauty therapist also offers you good prospects where you can follow a number of different career paths. If this is seems like a promising career opportunity for you, you can pursue the necessary qualifications through online beauty therapy courses.
---
See our latest October 2020 deals for beauty therapy online courses below: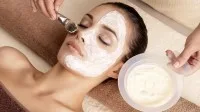 Beauty Therapy - Massage and Body Treatments
from Udemy
This course trains you all you need to know in order to start making money as a beauty therapist or esthetician.
View details
---
What are the courses for beauty therapy?
Online courses in beauty therapy will provide you with the certificate or diploma needed for employment in the Australian beauty industry. These courses are designed to provide you with the certification required to become a practising beauty therapist in Australia:
Diploma in Beauty Therapy
Certificate in Beauty Therapy
Certificate IV in Beauty Therapy
Diploma of Salon Management
Certificate II in Nail Technology
Certificate II in Retail Makeup and Skin Care
Nail Technician Certificate
Back to top
You can also find short classes, such as how to apply makeup that can assist you in becoming an expert in certain areas of beauty therapy.
The certificate courses only provide you with the knowledge and skills relevant to that particular subject. The Diploma in Beauty Therapy course is all encompassing, allowing you to become trained in:
Facial massage
Body massage
Lash and brow treatments
The sale of skincare and cosmetic products
Nail technology services
Waxing
Aromatherapy
Make-up
Skin biology
Anatomy and physiology
Nutrition
With the successful completion of this course, you will be qualified to work in almost every aspect related to beauty therapy.
When choosing an online school in which to study beauty therapy courses, it is important that you verify the schools program is recognised nationally and that it has been accredited by the Association of Professional Aestheticians of Australia (APAA). If you have ambitions of using your diploma to obtain employment abroad, also ask about recognition from CIDESCO and ITEC.
Back to top
What are the tuition fees and other expenses to study beauty therapy?
Although the fees may fluctuate between the different schools offering online beauty therapy courses, expect to pay around $16,000 AUD for the Diploma of Beauty Therapy course. Certificate IV level courses are approximately $12,000. Australian residents may be able to offset those costs with VET Fee-Help.
You may also incur other costs, such as materials and supplies needed to perform certain tasks. In some cases you may be required to pay additional fees in order to take examinations.
Back to top
What are the best institutions to study beauty therapy?
There are a number of online schools in Australia that allow for distance learning to obtain a degree in beauty therapy:
Australian Academy
Ivy College of Beauty
Australian National College of Beauty
Australian Institute of Applied Sciences (AIAS)
Open Colleges
With the flexible mode of study that online schools offer, you can earn your Diploma of Beauty Therapy in anywhere between 96 to 144 weeks. Once completed with success, you will then be ready to join the Australian workforce as a fully qualified beauty therapist.
Back to top
What are the career opportunities for beauty therapy?
As a beauty therapist you have many options for a career. You can become a makeup artist, hair stylist, or nail technician. You could also work for cosmetic corporations as a sales representative or market research analyst.
Many beauty therapists will seek employment with a salon or spa where they can utilise all of the skills obtained during training. This could lead to management, or even opening a salon of your own. Y
ou may also have the chance to work abroad a cruise ship or overseas spa location. There is a lot of flexibility in the beauty industry, allowing you to work part-time or full-time, in a clinical environment or even from home.
Average salary
A full time, employed beauty therapist can earn an average $37,128 excluding superannuation.
Source: Payscale.com
Online beauty therapy courses provide you with the resources needed for a successful career in this rewarding field. When choosing an online university to study with, check the flexibility of the course requirements as some may allow you to complete your studies sooner than others. The sooner you have your degree in hand, the quicker you can begin your career in beauty therapy.
Back to top
What's trending right now with online courses?