Online cloud storage guide: Learn how to access your files anywhere
We're reader-supported and may be paid when you visit links to partner sites. We don't compare all products in the market, but we're working on it!
Many people are turning to online storage to free up space on their mobiles and computers. Cloud storage can benefit anyone who wants a convenient way to store photos, videos, documents and other files.
The right cloud storage for you depends on how much storage you need, the level of security you need and your budget. Prices typically range from free to hundreds of dollars per year. Most online cloud storage services provide security measures to help protect your files from cyber attacks, but this might not be enough for some people.
If you are planning to store sensitive information, you might want to consider private cloud storage or physical storage devices for added security. This guide will help you compare online cloud storage providers and make the right choice to meet your needs.
Compare some of the best online cloud storage services
Data obtained September 2018. Prices are subject to change and should be used only as a general guide.
What is online cloud storage?
Online cloud storage lets you upload and share files from your computer or mobile to the cloud. You can access these files from any device with an Internet connection.
How does the cloud work?
"The cloud" refers to a server or network of servers that are connected to the Internet. When you are also connected to the Internet, you can send data to the cloud by uploading files. While the servers exist in a physical location, the cloud is accessible from anywhere with an Internet connection. Different companies have different clouds or servers where you can store files.
Cloud web hosting uses the same basic principles.
Public vs private cloud storage
Most online cloud storage is considered to be public cloud storage. With public cloud storage, a company provides storage for individual users within a shared environment. Users pay for the amount of storage they use within this shared system. Many popular cloud storage companies use this model including Google Drive, iCloud and Dropbox.
Private cloud storage is generally used by large businesses and involves keeping a private cloud, or network of servers, on business premises. This provides more security and flexibility than public cloud storage, but at a much higher cost. The business will need a specialist, or team of specialists, to run and maintain the servers and take measures to protect against power outages and natural disasters.
For most people, public cloud storage provides everything they need.
Why should I consider online cloud storage?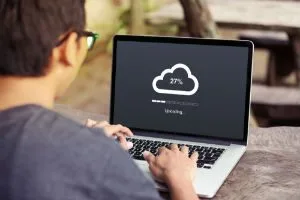 You can free up precious space on your phone and computer by using online cloud storage. You can also access your files anywhere, share them with others more easily and even collaborate on documents with real-time editing. Cloud storage can also function as disaster recovery or backup storage.
Online cloud storage provides the following basic services:
File storage. Store your files on a cloud network and free up space on your phone or computer. Depending on the service you use, you can choose to make your files public or private.
File sharing. Share your photos, videos, documents and other files with others without having to send the whole file over email. Some services also offer document sharing with real-time editing so you can collaborate on projects.
File syncing. You can create specific folders on your devices that will automatically sync with each other. This means you can have access to the same files across all your devices no matter where you are.
Pros of online cloud storage
Accessibility. You can access your files from anywhere with an Internet connection.
Disaster recovery. Cloud storage can protect your data from equipment malfunctions, hardware theft, fire, flood or natural disasters. By using backup software to store your important files with cloud storage, you can have the peace of mind that you won't lose everything in the event of a disaster. If your hard drive crashes, you can restore everything onto another device.
Scalability. With most cloud storage providers, you can easily scale up your storage. if you outgrow your current limits, you can pay to increase your available storage.
Simplicity. Automatic syncing makes storing your files easier than ever. Keep in mind, if you are using cloud storage to backup important data, you should check periodically to make sure everything is working the way you want it to. If you prefer to store files manually, most providers allow you to drag and drop files from your hard drive or computer directly into cloud storage.
Speed. Sending files through web links instead of email is quicker and takes up less bandwidth.
Affordability. Typically, you pay for the amount of storage you use. If you only need a small amount of space, consider free storage. Many vendors offer free cloud storage for smaller amounts of data (ranging from 2GB to 15GB depending on the provider).
Cons of online cloud storage
Security. The main concern most people have about storing their files on the cloud is privacy and security. Any information stored on the Internet is vulnerable to hacking. To help keep your files secure, many cloud storage companies use encryption and two-step verification. Encryption scrambles your data so that only authorised users can view it and two-step verification sends you a message for verification when you try to access files. If you need to store extremely sensitive information, look for cloud storage with the highest possible levels of security or consider using a physical storage device such as a hard drive.
Cost. The cost of online cloud storage is ongoing and could change over time. It's impossible to know exactly what your storage will cost in a few years.
Bandwidth limits. Some cloud storage companies have strict bandwidth limits, which means you can only upload or download a certain amount of data in a given time. If you go over the limits, you may have to pay additional fees. If you need the ability to send large amounts of data, look for providers offering unlimited bandwidth.
Internet dependent. Without the Internet, you will not be able to access anything stored on your online cloud or upload any additional files. This can be especially frustrating while travelling. For example, if you take a lot of photos and want to free up space on your camera, you may have to pay for Internet access to use your cloud storage.
Deleting originals. Another potential issue with cloud storage is the deletion of original files. Often, if you drag and drop files into cloud storage, the original file will move to the cloud and be removed from your computer. If you want to keep your originals, make sure to move a copy of the file instead of the original file.
What to look for when choosing online cloud storage
Many online cloud storage companies provide similar services. Most vendors will offer all the storage you need and give you access to your files anywhere. The main differences between cloud storage providers are cost, security and limits.
When buying online cloud storage, consider the following questions:
How much total storage do you need? How many files do you want to store? How big are the files?
What do you want to store? Documents? Photos? Videos?
How private do you need your files to be?
The answers to these questions will help determine how much you'll need to pay for online cloud storage. If you just want to share photos with family and friends, you won't need a lot of storage and could probably use a free service. If you need to store all of your businesses documents, you may want to pay for a large storage limit and high levels of security.
Additional features you may want to look for:
Automatic syncing
Document editing
Unlimited bandwidth
Media streaming
Frequently asked questions
Check out our guide to antivirus software
More guides on Finder