OnePlus 5 Review: Superb value at a mid-range price
Quick Verdict
While it has a few limitations to keep to its price point, the OnePlus 5 proves that you don't need to pay top dollar to get an exceptional smartphone. On a pure price basis it's the best value smartphone on the market right now, assuming it can keep its price low.
Strengths
Great camera

Excellent performance
Mostly clean Android overlay
Could be better
Benchmarks might be a bit suspect
No water resistance
No expandable memory
---
The OnePlus 5 is a speedy and stylish handset at around half the price of everyone else's flagship devices.
Unless you're rather keen on the Android phone scene, the chances are pretty good that you've never even heard of OnePlus. It's (essentially) a splinter company from Chinese manufacturer Oppo, specialising in delivering handsets with cutting edge internal components at a fraction of the cost of most other premium handsets.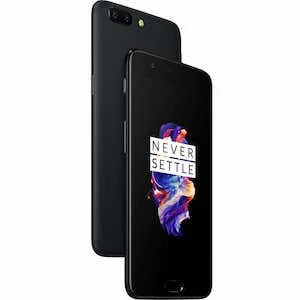 Order now OnePlus 5
from Catch
The more you use the OnePlus 5, the more you'll notice the thoughtful touches that set it apart.
View details
To date OnePlus has never offered a handset in Australia directly, but that changes with the OnePlus 5, which goes on soft launch in Australia on 29 August 2017.
Design
When I first unpacked the OnePlus 5, the design struck me as rather familiar. There's a reason for that, because it's ostensibly the same design that Oppo uses for its own Oppo R11, which itself has cribbed somewhat from the Apple design playbook. In Australia, OnePlus will offer the OnePlus 5 in Slate Gray and Soft Gold finishes for the 64GB model, and in Midnight Black and Slate Gray for the 128GB variant.
Physically, the OnePlus 5 measures in at 154.2 x 74.1 x 7.3 mm, so it's not the largest of phones in your hand, and with a carrying weight of only 153 grams it's also suitably light. Like the Oppo R11, this does mean that it's a somewhat slippery phone in your hand, so the purchase of a case to avoid drops is arguably a wise move.
While limited bezels on phones is definitely the style note of the times, the OnePlus 5 has relatively prominent top and bottom bezels, incorporating a fingerprint reader and home button at the base, and the front-mounted camera at the top.
Along the left hand side sits the volume control, directly underneath a dedicated mute switch, which is a genuine rarity for Android smartphones. It's even grooved, so you can easily locate it without having to look for it, which could be handy if you're heading into a meeting and don't want to be disturbed.
The right hand side is where you'll find the power button, along with a dual SIM tray that's a little different to most other dual SIM trays you'll find in other Android handsets.
That's because OnePlus has taken the unusual step of delivering a dual SIM handset where the second SIM slot doesn't also do double duty as a microSD card slot. There's no microSD expansion on the OnePlus 5 at all, in fact, which is a really unusual step typically only seen in Google's own Pixel phones.
There, Google wants to send you to the cloud for its own services, but in OnePlus' case, it's just a mystery that means you should probably buy the larger 128GB model to keep yourself well covered for storage.
The rear of the OnePlus 5 features a minor camera bump to accommodate its dual rear lenses, as well as a rather subtle OnePlus (or in this case, 1+) logo embossed on the back.
Camera
Premium phones often differentiate themselves with their camera offerings, and OnePlus is no different in this regard, with dual lenses at the rear of the camera to bring wide, telephoto and portrait lens capabilities into play. Specifically, there's a 16 MP, f/1.7, 24mm lens sitting next to a 20 MP, f/2.6, 36mm 1.6x optical zoom lens on the rear, as well as a 16 MP, f/2.0, 20mm lens on the front for selfie purposes.
OnePlus' camera app, rather like Oppo's, borrows heavily from the Apple playbook with a simplified swipe interface for accessing portrait, still and video shooting modes. A hamburger menu opens up the camera's pro controls, as well as standard timelapse, slow motion and panorama modes.
OnePlus' claim with the OnePlus 5's dual rear cameras is that they offer faster autofocus, "effortless" clarity and "professional" quality, but those are all marketing hype terms, rather than absolutely quantifiable numbers.
The practical reality of using the OnePlus 5's camera is that it's amongst the best I've ever tested in most circumstances, and certainly exceptional at this price point. There are some qualifications to that statement, however. There's no onboard optical image stabilisation for any of the lenses, which means that some content, most notably video, can tend towards the wobbly if you're not careful.
While it's superb for a phone in this price bracket, it's just a tad slower than the focus on, say, the Sony Xperia XZ Premium. Like any smartphone camera, if you push the OnePlus 5 particularly hard the cracks will show, but even in low light situations it's a top-notch performer. Here are some sample shots taken with the OnePlus 5:
Performance
The OnePlus 5 isn't the first phone to market with a Qualcomm Snapdragon 835 under the hood, but it's the first we've seen at a mid-range price point, made all the more appealing by the inclusion of either 6GB of RAM on the 64GB model or 8GB of RAM on the 128GB variant. We tested with the higher specification 128GB handset using Geekbench 4's CPU test to see how it compared to a range of premium handsets.
| Handset | Geekbench 4 CPU Single Core (higher is better) | Geekbench 4 CPU Multi Core (higher is better) |
| --- | --- | --- |
| Samsung Galaxy S8+ | 2020 | 6690 |
| Samsung Galaxy S8 | 1989 | 6628 |
| Huawei P10 Plus | 1863 | 6544 |
| OnePlus 5 | 1976 | 6506 |
| HTC U11 | 1919 | 6362 |
| Sony Xperia XZ Premium | 1908 | 6324 |
| Huawei Mate 9 | 1925 | 6068 |
| Oppo R11 | 1616 | 5895 |
| Apple iPhone 7 Plus | 3374 | 5649 |
| Huawei P10 | 1922 | 5633 |
| Apple iPhone 7 | 3452 | 5599 |
| LG G6 | 1810 | 4228 |
| Apple iPhone SE | 2449 | 4171 |
| Google Pixel XL | 1629 | 4051 |
Here's how it compared using 3DMark's Ice Storm Unlimited test:
| Handset | 3DMark Ice Storm Unlimited Result |
| --- | --- |
| HTC U11 | 40239 |
| Sony Xperia XZ Premium | 40086 |
| OnePlus 5 | 39497 |
| Apple iPhone 7 Plus | 37956 |
| Apple iPhone 7 | 37717 |
| HTC U Ultra | 29968 |
| Apple iPhone SE | 29276 |
| Huawei P10 Plus | 28491 |
| Google Pixel XL | 28458 |
| Samsung Galaxy S8 | 28409 |
| LG G6 | 28344 |
| Samsung Galaxy S8+ | 28120 |
There's a huge catch here, however. OnePlus has been accused of juicing its figures with regards to how the OnePlus 5 detects benchmark applications by modifying the behaviour of the Snapdragon 835 to give it a performance boost. Benchmark cheating, in other words.
OnePlus' official statement on the issue somewhat prevaricates around whether it's cheating or not:
"People use benchmark apps in order to ascertain the performance of their device, and we want users to see the true performance of the OnePlus 5. Therefore, we have allowed benchmark apps to run in a state similar to daily usage, including the running of resource intensive apps and games. Additionally, when launching apps the OnePlus 5 runs at a similar state in order to increase the speed in which apps open. We are not overclocking the device, rather we are displaying the performance potential of the OnePlus 5."
Now, I lack the tools to easily check whether this is still the state of affairs with regards to the OnePlus 5, and while benchmarks should never be the sole arbiter of smartphone quality, they can be a useful comparative tool, and anything that makes their figures less reliable is a definite problem.
From the analysis performed by XDA Developers, however, it appears that OnePlus' possible juicing of the CPU would only give it around a 5% increase in performance at best. So what does that mean in real terms if you're not quite as obsessed by the numbers as I am?
Not a great deal, because while that 5% drop would see it ever so slightly outclassed by other Snapdragon 835 devices, the difference would still be marginal, and the OnePlus 5 is still markedly less expensive than other premium offerings. Or in other words, you're still getting plenty of bang for your buck with the OnePlus 5.
That's played out in day to day testing as well, where apps ranging from video players to high fidelity games rarely missed a beat on the OnePlus 5. This is a slick and fast handset that, like the best Android handsets available today, doesn't try to add too much in the way of sluggish software "features".
OnePlus provides its own "OxygenOS" skin to Android 7.1.1, with the promise of Android Oreo down the track, and it's a mostly hands-off, simple launcher that long term Android fans won't find too troublesome. It's nowhere near as iOS-centric as Oppo's "ColorOS" is, for a start.
Speaking of Oppo, the other feature that the OnePlus 5 manages to sneak in is full NFC compatibility, which means that the OnePlus 5 should be entirely compatible with contactless payment systems such as Android Pay.
If it were this simple to bring premium features to the market at this kind of price point, everyone would be doing it, so it's worth pointing out what you don't get with the OnePlus 5. I've already mentioned the lack of microSD expansion, which is a pain point, but to that you can add the lack of any kind of water resistance. Every other premium handset released this year has had an IP rating, but the OnePlus 5 keeps itself cheap by hoping that you'll keep it nice and dry.
The other feature found on most premium handsets that you won't find on the OnePlus 5 is a 2K or 4K display. Instead you get a plain old 5.5 inch 1080p panel, and while it's tweaked for a rather oversaturated experience, it's still lower resolution than most "premium" handsets.
Battery life
The OnePlus 5 shares the same essential chassis as the Oppo R11, and that means that it's thin, light and there's not a whole heaping load of space for shoving in lots of battery capacity. Still, OnePlus has managed to throw 3300mAh of battery power into the OnePlus 5, which should in theory give it some legs in day to day usage.
Testing with Geekbench 3's older battery test showed that the OnePlus 5 isn't an absolute standout on the battery front in the same way that it might be on the performance front:
| Handset | Geekbench 3 Battery Test Duration | Geekbench 3 Battery Score |
| --- | --- | --- |
| Galaxy S8+ | 14:55:30 | 8955 |
| Sony Xperia XZ Premium | 12:06:40 | 7266 |
| Samsung Galaxy S8 | 11:47:50 | 7078 |
| HTC U11 | 11:42:40 | 7026 |
| Apple iPhone 7 Plus | 11:11:20 | 6713 |
| Huawei P10 Plus | 10:39:50 | 6218 |
| OnePlus 5 | 9:33:30 | 5735 |
| Huawei P10 | 9:31:30 | 5523 |
| Google Pixel XL | 9:14:20 | 5543 |
| LG G6 | 9:09:30 | 5495 |
| Apple iPhone 7 | 7:50:10 | 4701 |
| HTC U Ultra | 7:25:40 | 4456 |
| Apple iPhone SE | 4:27:10 | 2671 |
Day to day usage bore this observation out, although there are very few phones that I can't send flat within a day if I put my mind to it.
The OnePlus 5 is capable of single business day usage without a doubt, and OnePlus does provide its own fast "Dash Charge" charger in the box with the OnePlus 5 to top it up if it's getting low.
It's also worth noting that OnePlus' inbuilt power saving measures are quite brutal in terms of cutting down network access and processor capabilities, but if you're desperate to make it through a few hours with just simple phone access, they'll do the trick to keep the OnePlus 5 ticking along.
Verdict
The promise of the OnePlus 5 is that you get a premium handset without the premium price point, and any discussion of it has to revolve around that price.
For its soft launch in Australia, OnePlus will sell the OnePlus 5 for $599 outright for the 64GB/6GB ROM version and $699 outright for the 128GB/8GB ROM variant. That's broadly in line with its international pricing, but representatives of OnePlus did note to finder that this is just soft launch pricing, and it may revise the price of the OnePlus 5 if it takes it further to the Australian marketplace. That suggests that it could become more expensive over time, and obviously quite how expensive will affect its overall value equation.
At $699 for the 128GB/8GB ROM version, however, while there are compromises on storage, water resistance and screen resolution, and there's the grim cloud of benchmark cheating hanging over the whole enterprise, it's still an exceptionally worthwhile buy if you fancy an outright phone.
There's really nothing in the mid-range that competes with it, and while some premium handsets do outclass it for other features or a slightly more refined or unique design language, this is still a top-notch phone at a very attractive price point.
Specifications
Product Name

OnePlus 5
Display

5.5in
Resolution

1920 x 1280 pixels
ppi

401ppi
Software

Android 7.1.1
Storage

64/128GB
RAM

6/8GB
Battery

3300mAh
Front camera

16MP F2.0
Rear camera

Dual camera: 16MP F.17 wide angle/20MP F2.6 telephoto
Processor

Qualcomm Snapdragon 835
Size

154.2x74.1x7.25mm
Weight

153g
---