OnePiece coupon codes
OnePiece is one of Norway's leading brands of jumpsuits. Grab yours today along with some exclusive deals.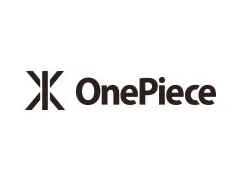 We're reader-supported and may be paid when you visit links to partner sites. We don't compare all products in the market, but we're working on it!
OnePiece offers high quality and fine material jumpsuits to a larger community at competitive prices. Their product range is available for children, women as well as men of all ages. The most surprising feature of OnePiece is a unique outfit for your pet dog.
There is a wide range of jumpsuits and onesies available at OnePiece online store including T-shirts, sweaters, pants, hoodies, tops and accessories. OnePiece also offers a huge variety of onesies, such as slim fits, originals, flags, traditional, prints and one direction.
There doesn't seem to be any coupon codes available.
There doesn't seem to be any coupon codes available for OnePiece right now. However, here are the best deals this week:
How do I use my OnePiece's promo code?
Whenever you purchase an item from OnePiece's online store, you can use a discount code or a promo code in order to take advantage of discounts. You are required to use the promo code at the time of checking out. It is necessary to validate your discount code before proceeding to pay for your order.
Select the item you like to buy from OnePiece online shop and choose your size from the range of sizes available right above the 'buy now' button as shown in the picture below.
Once you select the required size, click 'buy now' in order to proceed to checkout.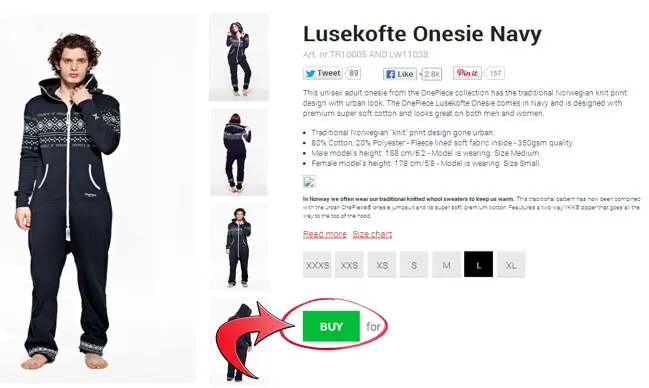 It will direct you to the page where you can see that your product is added to cart. You are also required to apply the promo code in order to validate the active code. It can be seen in the picture below.

After confirming all the details, you can proceed to checkout.
Once you click 'checkout now', it will take you a page where you can fill in your details and choose the payment method in order to confirm the order.
You place your order successfully once you click 'confirm the order'.
---
Pros and cons of OnePiece
Pros
Secure shopping. When you are purchasing a product from OnePiece online store, you can securely process your payment online. Your personal information as well as financial information is securely handled by their third party credit card provider DIBS which has a Payment Card Industry (PCI) certification. The purpose of the PCI is to increase the online information security of all parties that process, store and transfer the data.
Returns policy. You can return the product within 14 days from the day you receive it. It is a reasonable time period to return a product as compared to the period provided by other brands in the market.
Cons
No loyalty club. They do not have any loyalty program for their customers.
No warranty or guarantees. OnePiece does not offer any warranty or guarantees on their orders. Moreover, if you purchase a product online, you cannot return it or exchange it at the store in the same way that you cannot return or exchange the product online if you bought it from OnePiece outlet.
---
Shipping guide for OnePiece
OnePiece understands the importance of receiving your parcel on time and so, uses DPD and UPS courier services in order to deliver their online products to all their customers around the world. You will receive your order right outside your doorstep by one of the two courier services.
DPD and UPS try three times to deliver the product on a given postal address. But if they are unable to deliver the package successfully, it is kept at their premises for 5 days before it is sent back to OnePiece. However, a customer is charged EUR 40 for uncollected packages. Therefore, it is recommended that you should track your order on DPD or UPS websites as soon as it is shipped to avoid any delays or extra cost.
If you live outside the United States of America or Europe, you are required to pay Value Added Tax and a local custom fee. These custom charges and import duties are charged once the parcel enters its destination country and must be paid by the customer who receives the parcel. These charges vary from one region to another and so, it is hard to predict what the total cost will be. You can also contact your local custom offices in order to take detailed information before you order a product.
You can also change your delivery address once the order has already been placed. You can contact UPS courier service in your region to provide a new delivery address and as soon as they send you an email with the tracking detail in it, you can make any necessary changes. Moreover, OnePiece also delivers the products at your residential as well as work address but no product is delivered to a PO Box address for security reasons.
---
Refunds, exchanges and returns for OnePiece
You have to make sure that the returned product is secured in its original condition and has tags and labels attached to it when you return it. Moreover, you are also responsible for the safe return of the product because OnePiece is not responsible for any items that are damaged once they are received or are returned erroneously.
OnePiece want their customers to receive top quality products but if you think there is any fault in the product or it is damaged, you should immediately contact their customer service in order to resolve the issue quickly.
Once your returned product is received by OnePiece warehouse, it goes through a strict quality control procedure and if the returns or exchanges do not pass their quality standards, no refund is given to you. However, a refund is processed within 10 days from the date OnePiece receives a product once it passes the quality control test. Discounts will be subtracted from the refund amount.
---
About OnePiece and its history
OnePiece was established in 2007 and was introduced in the market in 2009 and created a large community of followers on social networks including Facebook and Twitter. On Facebook alone, they have around 800,000 followers but they do not intend to stop there.
OnePiece is making continuous effort to interact with its audience through events and social media. In 2013, they are committed to showcase themselves in 12 events which can be attended by any OnePiece lover. They strongly believe that interacting with their customers is a key to success because their customers speaks what's right. The main motto of OnePiece is to keep introducing the latest trends to cater OnePiece lovers' demand and expectations. They also have hand-made products in their online store and outlets.
So if you want to make a statement with your Onesie and save at the same time, grab a deal today!
More guides on Finder