Where to celebrate Oktoberfest in Sydney 2020
Everyone's favourite beer festival is back! Here are the best places to celebrate in Sydney this Oktoberfest.
Update on Oktoberfest in Sydney
Due to the coronavirus (COVID-19) pandemic, most events across Australia were cancelled, even those a few months in advance.
Raise your steins, the 16-day beer festival has come around again! Kicking off mid-September, Oktoberfest brings people from all over the world to celebrate.
For the love of beer and all things German, it's time to dust those dirndls off, pull on your lederhosen and join in the Oktoberfest action.
Here are the best parties happening in Sydney this year. Or, book your spot on tour for the real thing next year here.
Before you decide which party to attend, find your perfect costume here.
Oktoberfest parties in Sydney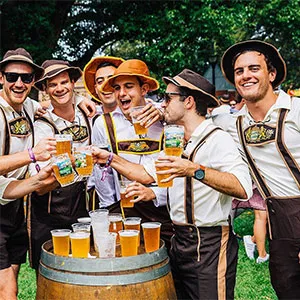 1. Oktoberfest In The Gardens
When: 2021 dates TBC
Where: The Domain, Sydney CBD
Beer selection: Hofbrau Original Lager, Hofbrau Dunkel, Paulaner Lager, Paulaner Pilsner, Lowenbrau Original, Spaten Munich Hell Lager, Steigl Goldbrau, Franziskaner Hefe Weissbier, Weidmann Pilsner
For more information and tickets: Oktoberfest in the Gardens
The hugely popular Oktoberfest In The Gardens comes to Sydney every year.
When it arrives, it brings with it all the best German beers, ciders and wines, as well as food stalls, performers, entertainment and competitions across various stages from afternoon to night.
With a complimentary drink and commemorative event stein, there's no better place to celebrate Oktoberfest. Spend it with a couple of mates or make a date out of it.
Get in quick as Oktoberfest In The Gardens is usually a sell-out event.
---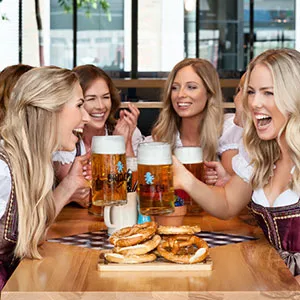 2. Munich Brauhaus
When: 2021 dates TBC
Where: Munich Brauhaus, Cnr Playfair & Argyle St, The Rocks
Beer selection: Paulaner Hefe Weissbier Dunkel, Hacker Pschorr Dunkel Weiss, Spaten Munich Hell and Lowenbrau
For more information: Munich Brauhaus
It all kicks off on 21 September at Munich Brauhaus with the traditional tapping of the Oktoberfest kegs.
What follows are the drinking of 5 official Oktoberfest beers, enormous feasting menus (in more ways than one), Oom-pah-pah bands, a street party and the chance to win a trip to Munich.
---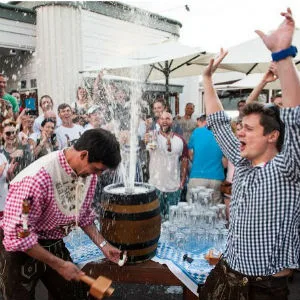 3. The Bavarian
When: 2021 dates TBC
Where: Every The Bavarian in Sydney - Bondi Beach, Chatswood, Entertainment Quarter, Manly, Miranda, Sydney CBD
Beer selection: Biers from Hofbrau, Lowenbrau, Paulaner and Spaten.
For more information: The Bavarian
Take your Oktoberfest celebrations to another level at The Bavarian locations across Sydney where you'll be able to try four of the best pier beers straight from tents in Munich!
5 biers will be available, which you can pace yourself with over the weeks, giving you the perfect excuse to return to the party time and time again. Or, to bar hop and check out all The Bavarians in the city. We don't judge.
---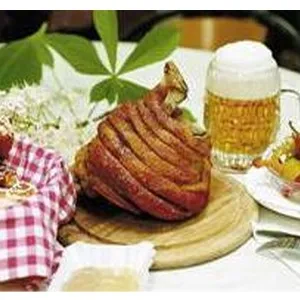 4. Concordia Club
When: 2021 dates TBC
Where: Concordia Club, Mackay Park, Richardson Crescent, Tempe
For more information: Concordia Club
Concordia Club has yet to reveal its plans for Oktoberfest, but if past events are anything to go by you can expect weekends filled with fun festivities. The club tends to kick things off with live music, dancers, beers and food aplenty.
With two weekend's worth of Oktoberfest cheer, there's no better excuse to get the whole family dressed in dirndls and lederhosen and dance to the Oom Pah Pah!
---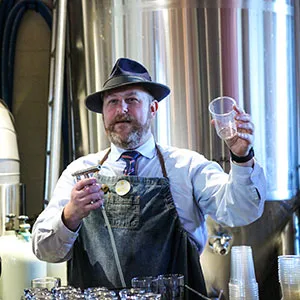 5. Frenchies Bistro & Brewery
When: 2021 dates TBC
Where: The Cannery, 61-71 Mentmore Avenue, Rosebery
Beer selection: Frenchies Festbier, Frenchies Buckeburger Pils and Frenches Hefeweizen
For more information and tickets: Frenchies Oktoberfest
It might be called Frenchies but for one day only this bistrot transforms into a rousing German beer hall complete with nail hammer competition and beer stein race.
Naturally, a specially brewed Oktoberfest-inspired beer will be on endless pour. Dubbed the Frenchies Festbier it features Bavarian ingredients and is a party-starter. It was specially brewed by Frenchies to compliment the feast it has available on the day. Think pretzels, bratwurst, weisswurst, apple sauekraut, currywurst and spatzle and apfelstrudel to top it all off.
Entry is $20 presale or $25 at the door for adults or free for kids.
---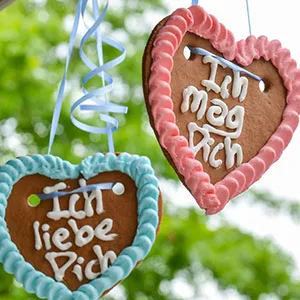 6. The Carrington
When: 2021 dates TBC
Where: The Carrington, 15-47 Katoomba St, Katoomba, Blue Mountains
Beer selection: Lowenbrau on tap and special Katoomba Brewing Company Oktoberfest Lager
For more information: The Carrington
For one day and one day only, the historic grounds of The Carrington in the Blue Mountains is transformed into a family-friendly Munich-inspired festival. As a bonus, the local Katoomba Brewing Company's specially brewed Oktoberfest Lager will be available. As will a jumping castle for the kiddies.
---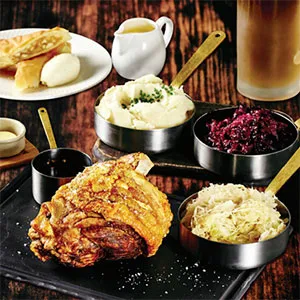 7. Bankstown Sports Club
When: 2021 dates TBC
Where: 8 Greenfield Parade, Bankstown
Beer selection: Helles Biere
For more information: Bankstown Sports Club
When it comes to Oktoberfest celebrations, Bankstown Sports Club knows that it all comes down to the big Bavarian feast. So from of September through October it's serving up an authentic 2-course lunch and dinner in its Platform One restaurant.
That's traditional German prezel, pork knuckle and apple raisin strudel for those playing at home.
---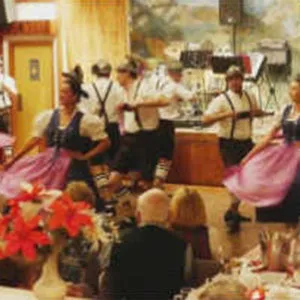 8. Austrian Club Sydney
When: 2021 dates TBC
Where: 20 Grattan Crescent, Frenchs Forest
For more information: Austrian Club Sydney
For an authentic Austrian Oktoberfest experience, head to this club in Frenchs Forest.
Its event is called Oktoberfest Dance and as the name suggests features traditional folk dancing by Pagger Buam, who come direct from Austria. Entry for members is $12 or $15 for guests.
---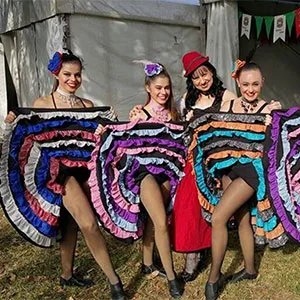 9. The German Club
When: 2021 dates TBC
Where: The German Club, 636A Northcliffe Dr, Kembla Grange
Beer selection: Special Oktoberfest beers
For more information: German Club
The German Club celebrates the world's favourite beer festival from 18-20 October. You can pre-purchase tickets right now or put your hand up to volunteer to be part of the big celebration. This year's event is bathed in competitions so start training now to take on some stomach turning sausage eating or work your muscles to win the title of strong man or woman. There's also a best beard competition, if that're more your thing.
If you simply want to sit back and enjoy the atmosphere, The German Club has plenty of live music, German dance performances and kids' activities such as a balloon animal blower and face painting for you.
---
Best Oktoberfest costumes to set the scene
Didn't find what you were looking for? Browse these costume shops for your oom-pah-pah-perfect costume!
---
Catch last-minute flights to Germany
It looks like we don't have any coupons at the moment. Take a look at our most recent deals
Popular Travel coupon codes
| Last checked | Code description | Code |
| --- | --- | --- |
| 22 May 2020 | Up to 75% off Australia-wide stays + Extra 8% with code | BOO**** |
| 22 May 2020 | Extra $10 off sitewide with code | FDR**** |
| 22 May 2020 | Extra 9% off hotel bookings | AUT**** |
| 27 Apr 2020 | Up to 12% off worldwide flights | PAY**** |
| 14 Apr 2020 | Up to 75% off worldwide hotels + extra 5% off with code | FIN**** |
Popular Flights coupon codes
| Last checked | Code description | Code |
| --- | --- | --- |
| 27 Apr 2020 | Up to 12% off worldwide flights | PAY**** |
| 22 May 2020 | Up to 15% off business class flights | BHJ**** |
| 7 May 2020 | Up to $25 off fees on flight bookings | SUM**** |
| 7 May 2020 | Father's Day sale: Up to $20 off fees on flight bookings | DAD**** |
| 6 Mar 2020 | Up to 15% off business flights with code | BHJ**** |
Related Posts