Oculus Quest review: Consumer VR done right
The Oculus Quest isn't the most powerful VR rig, but it wins big on ease of use, and could finally be the device to bring VR home.
Quick Verdict: The Oculus Quest makes it easy – and a lot of fun – to dip into VR worlds, as long as you've got enough space to set it up properly.
The good
Good balance between price and quality.
Controllers work really well.
Comfortable fit.
Easy to set up.
A great intro point to the world of VR.
The bad
Very plain design.
Some VR experiences scaled back.
Still capable of making your head spin.
Headphones a must if you don't want to broadcast to the room.
For the longest time now, we've been hearing about how VR is going to be the "next big thing". Oculus has been along for most of that journey in recent times and its latest headset, the Oculus Quest, shows an immense quantity of promise. It offers up true freedom of movement, a range of quality titles at launch and an ease of use that gives it a definite edge over much of its competition.
I'll be honest and say that I came into this review with a lot of trepidation. I'm part of the VR audience that loves it conceptually but often finds it deeply uncomfortable on balance and nausea grounds. It's worse for me on lower-end approaches like the Gear VR or Google Cardboard than on higher end devices such as HTC's Vive or any of Oculus' PC-connected headsets.
The Oculus Quest sits between those two approaches, which didn't fill me with confidence, to say the least.
Visually, the Oculus Quest isn't all that dissimilar from any other VR headset you're likely to encounter. You're still going to look weird wearing it, no matter what you do. It's accompanied by two controllers, one for each hand, each festooned with multiple buttons and triggers to control your experiences within VR. At first this might seem daunting, but it's astonishingly flexible, making it easy to form fists, grab objects or make selections.
Of course, what makes the Oculus Quest a little different from Oculus' higher-end solutions is that it's entirely wireless. There's no need to tether to a PC, because all of the VR action is handled from within the headset. While Oculus has been down this path before, the Oculus Quest brings true six degrees of freedom of movement. This means you're not just stationary, but able to move around an area and have your full head motion tracked when you do.
Set-up is handled via the Oculus app for iOS or Android. I was able to get early access to the Oculus Quest, and found I had to refresh the app a couple of times before the Oculus Quest was an available headset type, but those buying one outright should have no such problem. From there, it's a question of pairing the headset with your phone and updating the headset and controllers.
Then it's time to actually set up your Oculus Quest space. Most VR wants plenty of space, and the Oculus Quest is no exception. Oculus has done some super-smart work here, because it's turned the set-up process into something of a game.
You do need to clear space around where you're going to walk, but the process of doing this involves setting up what Oculus calls a "guardian" space. You get a monochrome view of your world – I imagine it's rather like how looking at the world through a dog's eyes would work – and once you've confirmed that the Oculus Quest's sensors have correctly identified the floor level, you "paint" in the accessible space with the controllers.
As a side thought, has anyone made a VR game from a dog's perspective? If not, I'm claiming copyright on that idea right now. Millions of dollars, here I come!
Ahem.
Getting back to the point, even the simple task of painting out the Guardian is great fun, and it's also quite practical. If you wander too close to your pre-determined Guardian wall at any time, it will appear as a virtual "wall" in front of you, keeping you from tripping over furniture or bouncing into walls.
It's not quite so bright when it comes to people or pets that may wander into your way in the middle of a VR session. I've got a trio of kittens at home, and more than once they decided that attacking my feet when I couldn't see them would be a marvelous game. I can't fault Oculus for this of course, but it's worth keeping in mind that the Guardian can't protect you from every menace.
This also means that, like other full VR experiences, you do need quite a bit of space to make the most of the Oculus Quest. If you live in a small unit or apartment, you may have to make do with the far less immersive "stationary" mode of the Oculus Quest.
At a technical level, the Oculus Quest is powered by a Qualcomm Snapdragon 835 processor with 4GB of RAM. It's basically a 2017 smartphone, but one that comes with 2 displays with a 1,440 x 1,600 resolution and a 72Hz refresh rate.
Oculus sells the Oculus Quest with either 64GB or 128GB of RAM on board. While the premium for the 128GB feels a bit like price gouging – it's not like 64GB of additional storage should cost $150 more in this day and age – it may be worthwhile if you do want to throw a lot of apps on board.
The VR experiences are where it's at for the Oculus Quest. Here it benefits somewhat from being a latecomer to the VR party. That's because it can launch with a pretty large library of titles ready to go.
If you've got an Oculus account already for another device, you may even find that some titles have cross-buy functionality, so you don't need to buy them again. However, this isn't assured. There's also a smattering of currently-exclusive content, headlined by Star Wars: Vader Immortal. I really don't want to spoil anything about that particular VR experience for you, but if you're a Star Wars geek, it's a lot of fun.
OK, maybe just the one spoiler. That guy above might just show up. You may want to keep an eye out for him.
If you've used more recent PC-based Oculus or HTC Vive headsets, you're going to notice that the lack of dedicated GPU means that there are some corners cut in terms of the Oculus Quest's overall visual fidelity. Then again, in that case, the Oculus Quest probably isn't for you anyway.
That's because this is solidly a VR headset for folks who haven't really tried VR before. Or those who have only dipped their toes into the lower-fidelity worlds of devices like Google Daydream or Sony PlayStation VR. It's a big step up from those platforms at a visual level, and also at an audio one.
The Oculus Quest features inbuilt speakers that do a tremendous job of giving you positional audio without requiring you to actually cover your ears. The downside here is that unless you plug in a set of headphones, you do broadcast whatever you're doing to the entire room. I'm not going to judge what you get up to in VR worlds, but others might.
As I noted earlier, I'm quite prone to headspin and nausea issues with VR headsets. Here I'll give the Oculus Quest a reserved pass. I lasted way longer than on lower-grade headsets with motion games than I have in the past. Switching to 360 degree video, especially anything with lots of motion still had me feeling queasy rapidly though.
Oculus has done something exceptionally smart with the Oculus Quest. It's not the ultimate VR headset, and anyone with a sufficiently powerful gaming PC would find it limited. However, for those new to the world of VR, it's an absolutely charming entry point with enough variety in its launch platform to give it plenty of viability.
There is always the longer-term question about how many developers will make new Oculus Quest experiences in the future, but for now, this is easily the best general consumer-grade VR experience money can buy.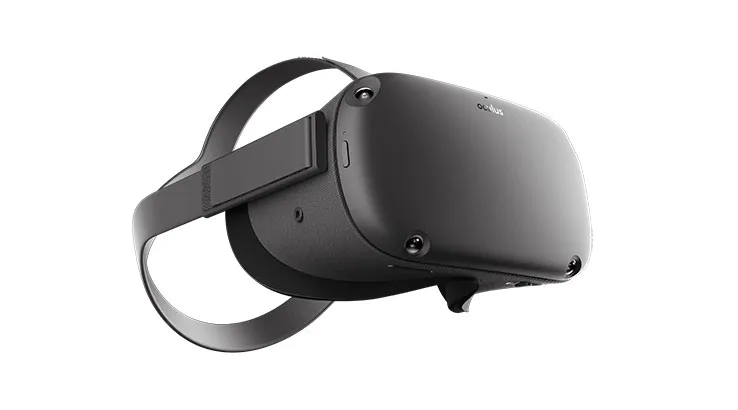 Buy the Oculus Quest
from Amazon
Immerse yourself in the world of VR with the Oculus Quest. No wires to worry about, no need for a high-cost gaming PC. Just slip on the headset and join a whole new VR world. Buy yours today.
View details
The Oculus Quest is available to buy in Australia now. The 64GB model retails for $649, while the 128GB model costs $799.
Latest mobile phones headlines