Nvidia Shield TV review: A great Android TV at a serious price point
We've had to wait for the Nvidia Shield TV to formally launch in Australia, but the wait has well and truly been worth it.
Quick Verdict
Nvidia's Shield TV is easily the best Android TV set-top box we've ever tested. Its games implementation is miles ahead of the competition, although it's still not a one-stop streaming box for local catch-up services.
The good
Smooth operation
Game controller works well
Excellent game streaming for Nvidia-supported games
IR Remote for integrated audio control
Open Android platform
The bad
Some catch-up services are cast-only
Only supports game streaming via Nvidia GPUs
Steam Big Picture mode may flicker
No integrated TV tuner
---
Nvidia Shield TV: Design
The design of a streaming TV box isn't entirely critical because ideally you're not going to spend that much time looking at it once you've set it up. Still, Nvidia's Shield TV manages a design that's not quite like any other streaming TV box we've reviewed to date. It has an angular design that makes it look rather like an 80s sci-fi movie prop, while still feeling very "Nvidia" in its design. A neon green light runs at an angle across the Shield TV body, again speaking to Nvidia's gaming roots.
In connectivity terms out the back, you'll find HDMI, Gigabit Ethernet and two USB 3.0 ports for connecting other storage devices. The one port you won't find at the back of the Shield TV is any kind of digital TV tuner. We have seen other Android TV boxes, such as the Foxtel Now box or Vodafone TV with single integrated digital TV tuners, so if broadcast free-to-air is your passion, you'll need to look elsewhere.
Nvidia sells the Shield TV in Australia in two configurations, with either an included remote control or an included remote and a game controller.
The Shield TV remote is mostly unremarkable as a thin sliver of plastic with buttons for back, home, microphone and selection. It also doubles as an IR remote if you're connected to an HDMI-CEC port, so you can use it to control your TV audio at a tap.
Nvidia's game controller bears more than a passing resemblance to the Xbox One controller, albeit with more of that funky 80s style angular tessellation on the sides. It almost looks like what you'd expect to be created in a VR game if you were handed a games controller. You don't get the game controller by default in the lower-cost version of the Shield TV, although you can buy it separately if you don't opt for it at the start.
Back to top
Nvidia Shield TV: Installation
Streaming TV set-top boxes are all about convenience, so getting the first impressions right is rather key. Here the Shield TV doesn't perform as well as I might have liked, although I'm willing to admit that my experience may have been atypical. In theory, it should support Bluetooth-based information sharing with other Android devices using the Google App. In practice, I couldn't get that to work at all, although Nvidia did warn me that at Australian launch, it may have "issues".
Thankfully, the manual install process isn't too onerous beyond remembering your Google password, although you will have to sit through a number of upgrades once you do.
I reviewed a final retail system and had to upgrade the Shield TV box itself then the remote control and then the game controller to get everything set up and working. Or in other words, don't expect to be up and running in five minutes, especially if you're on a slower broadband connection.
Back to top
Nvidia Shield TV: Streaming
There's no shortage of Android TV boxes on the market right now, but Nvidia's hardware expertise does give the Shield TV a particular edge. Where most manufacturers opt for the cheapest possible processors, Nvidia instead leverages its Tegra X1 SoC for the Shield TV.
For straight up streaming purposes, the Tegra is arguably overkill, but it does give it a lot more power to manage onscreen interactions. Or in other words, where the cheaper boxes are often just a little laggy when you're moving between menu selections, the Nvidia Shield is very slick indeed. Loading different streaming apps is swift, and you're rarely left wondering if you actually hit the button because the Shield TV reacts immediately.
It's helped by Nvidia's custom implementation of the Android TV user interface, which makes it very easy to line up content to watch in a queue or resume watching from multiple different services depending on your viewing habits. In ease of use terms, the only comparable device has to be Apple's 4K Apple TV, but the Shield TV is a much more open platform than Apple's closed device.
The one area where the local version of the Shield TV lags behind Apple's is in voice control. An Apple TV 4K uses Apple's own Siri, and while the Shield TV in the US can use Google Assistant, that's a feature that's "coming soon" to the local version.
The Nvidia Shield TV is an Android TV 8.0 box, which means that, like the competing boxes already on the market, it includes a range of streaming applications for catch-up TV, including 7Plus and Tenplay. It's 4K capable for services that support 4K streaming, such as Stan, Netflix and Amazon Prime Video.
It looks like we don't have any coupons at the moment. Take a look at our most recent deals
What's noticeably not present are the two best free-to-air catch-up services in Australia today: ABC iview and SBS on Demand. Nvidia representatives tell me they're "working on it", and the same is apparently true of Foxtel Now, but at launch, if you want to use those services, you'll have to cast to the Shield TV from a secondary device.
That works well enough for watching individual programs, but it's nowhere near as convenient as being able to call up and search an app from a remote control directly on your TV. Casting to a Chromecast-compatible device (which the Shield TV is) always has the risk of a crashed connection, which can be downright frustrating. This isn't a unique issue for the Shield TV, but it's still less convenient than is ideal.
Nvidia doesn't lock down the Shield TV in the way that, say, Foxtel does, so it's fully capable of running clients such as Kodi or Plex. Actually, with external storage attached, you could actually use the Shield TV as its own Plex server if you were so inclined.
We've benefited somewhat from Nvidia bringing the Shield TV to Australia a little late because clearly a number of bugs have been ironed out and more features have been included, but there's still work to do. Hopefully, Nvidia can bring even more of our local streaming services onboard relatively quickly.
Back to top
Nvidia Shield TV: Gaming
While an awful lot of Nvidia's hardware output these days is pushed into service for cryptocurrency, its heart is still in gaming, and this is an area where the Nvidia Shield really stands out against its streaming competition.
Every Android TV box can run Android TV games, but the Shield's Tegra X1 gives it the processing power to not only do so in 4K, but also across a range of Nvidia-optimised games specific to the Shield TV.
This isn't a case of a generic tower defence game that you've never heard of, but is a case of having access to larger brand titles (albeit in older forms) such as Tomb Raider and Borderlands: The Pre-Sequel.
They're a touch more pricey than your regular Android games, but they're also a lot more immersive than the usual shovelware. You will pay a penalty in storage terms because they're larger games, although again Nvidia has a trick up its sleeve here. The same USB ports that can be used for streaming content can also be used to expand the storage of the Shield TV, so if you're particularly keen, it's easy enough to ensure you've got enough space for plenty of games.
In strict terms, the Shield TV is closer to the Nintendo Switch than other Android TV boxes, given that the Switch runs on a modified Tegra itself. For the curious trivia types, the Chinese locked-down version of the Shield TV apparently runs a selection of licensed Mario titles, although we don't officially see those here.
Beyond the onboard gaming component, the Shield TV can also stream games from your gaming PC in a similar style to Valve's Steam Link, albeit with a few key caveats.
The key one is that Nvidia's GameStream only (strictly) works from computers with Nvidia GPUs onboard. That limit stretches back pretty far in Nvidia's history, with GPUs newer than the GTX 650 officially supported. Naturally, you'll get fancier features if you have a newer and better Nvidia GPU. For testing purposes, I streamed from an MSI laptop running an Nvidia GeForce GTX 970M, which isn't entirely cutting edge.
You also have to sign up for an Nvidia account and link your computer and the Shield TV via Nvidia's GeForce Experience software. It's vital here that your GeForce Experience software and Nvidia drivers are absolutely up to date. Despite insisting it was fully updated, my test rig wasn't and wouldn't connect through to the Shield TV, although the solution was simply to not trust its own onboard updater and instead re-install GeForce Experience direct from Nvidia's web site.
Nvidia specifically optimises games for GameStream purposes, and by default it'll search your host PC for suitable games. Your games library may vary from mine, but I only found about a dozen GameStream-optimised games in my own library to test from.
I've tested out similar game streaming features, most notably via a Steam Link before, and they're often heavily limited by the quality of your network connection. The same is true for the Shield TV, so if you can hook up some direct Ethernet between your PC and your TV, you'll get a rock-solid connection. However, even over Wi-Fi, the Shield TV streamed gaming very well indeed. The signal strength indicator that pops up in the top right corner can be a touch distracting, but beyond that it's a lot of fun taking your traditional PC games to the comfort of the lounge room.
The Shield TV controller is built well enough for purpose, but it does introduce the potential glitch that some games may not recognise it straight away. The first time I fired up Blood Bowl 2 for streaming, it sat resolutely on the start screen waiting for me to press A. A full reboot of the Shield TV and the laptop fixed that issue, but it's not unusual to have to tweak around these issues.
However, that's not the limit of its game streaming capabilities as it also natively supports SteamOS's Big Picture Mode, opening up a huge range of potential game experiences.
Here, I hit an issue which doesn't appear to be uncommon. By default in Big Picture mode, I hit a lot of screen flickering on the interface and in some games. A fix that involved specifically telling GeForce Experience to use only the onboard integrated graphics for Steam seemed to fix that at the cost of some screen clarity, but this points to Nvidia perhaps needing to do more work.
While Nvidia won't officially endorse them, there are also some third-party streaming services and approaches that work within the Shield TV's infrastructure. Again, that's a small but nice benefit to getting hardware late because the hacking types have already been busy making the most out of Shield TV's capabilities.
What you will see from the Nvidia Shield's gaming interface, but won't be easily able to access from Australia, is Nvidia's own in-house subscription game streaming service, GeForce Now.
Nvidia doesn't have local servers for GeForce Now, although it doesn't explicitly block you from trying to access games on the service. On my own 100Mbps cable connection, it simply stated that the connection speed was too low to actually run any games. Your faster connection may vary, but I'd seriously doubt it.
It's a hopeful sign that Nvidia hasn't simply blocked off access to GeForce Now, with Nvidia representatives telling me that they're (once again) "working on it" for local availability prior to launch. Still, if your desire for the Shield TV rests on its GeForce Now capabilities, you'll be better served waiting for concrete confirmation of local server hosting before buying.
Back to top
Nvidia Shield TV: Should you buy it?
If you're after an Android TV based set-top box, it's pretty simple. The Nvidia Shield is currently the best set-top box you can buy, based on its smooth operation, open interface and gaming capabilities, both onboard and for game streaming purposes as long as you've got an Nvidia GPU.
It's a pricier proposition than most Android TV boxes, putting it in a category directly opposite Apple's 4K Apple TV, but it's worth it.
Back to top
Nvidia Shield TV: Pricing and availability
The single remote version of the Nvidia Shield TV retails in Australia for $249.95, while the model with the game controller bumps the price up to $329.95. Additional game controllers retail for $89.95 each, while a replacement remote will cost you $69.95, and a stand will cost $29.95.
The Nvidia Shield will sell online through Nvidia's dedicated website as well as through local resellers including PC Case Gear, Umart, Mwave, Centrecom, Scorptec, PLE Computers, JW Computers, Austin Computers and Computer Alliance.
Nvidia Shield TV: Alternatives
In price and smooth operation terms, the Apple TV 4K is the obvious comparison point for the Shield TV, although it only makes sense if you're heavily in the Apple ecosystem already.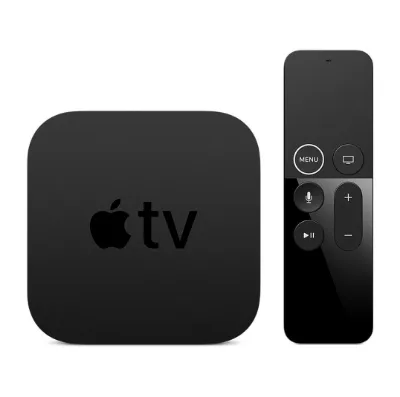 Buy an Apple TV 4K
from Apple Store
Apple's latest streaming box supports both 4K video and HDR lighting, plus a raft of smart home functions powered by Siri.
View details
If the price point of the Shield TV is an issue for you, you can get most of its features by combining a couple of different set-top boxes as long as you've got enough spare HDMI ports on your TV.
The Android TV-powered Foxtel Now box is more locked down than the Shield TV, but includes Foxtel compatibility, or for a little more money you could opt for the Vodafone TV set-top box.
Pair that up with a Steam Link box, which is almost always on sale somewhere, and you'd have an experience that is very close to the Shield TV, although nowhere near as slick or convenient.
Nvidia Shield TV: What the other reviewers say
| Site | Comment | Score |
| --- | --- | --- |
| TechRadar | "Nvidia Shield is the perfect addition to your audiovisual arsenal." | 4.5/5 |
| Trusted Reviews | "The Shield TV is currently the best Android TV box around." | 4/5 |
| IGN | "The best streaming media player for PC gamers." | 8.5/10 |
| CNET | "Even more of a good streaming, gaming thing." | 8/10 |
| Gizmodo | "A major software update and some much needed changes to the system peripherals has changed the Nvidia Shield into a legitimate set-top box choice." | N/A |
Back to top
Specifications
Nvidia Shield TV Specifications
Product Name

Nvidia Shield TV
CPU

Tegra X1
Storage

16GB
Ethernet

Gigabit
Wireless

802.11ac 2x2 MIMO 2.4 GHz and 5 GHz Wi-Fi
Operating System

Android 8.0
Dimensions

9.8x15.9x2.593 cm
Weight

250g
Price

$249.95/$329.95
Back to top
---
Follow us for all the latest mobile phone news and deals
---