Complete Nvidia Ansel guide: All the games and graphics cards that support it
We break down how Nvidia's screenshot tool works and how to make the most of it.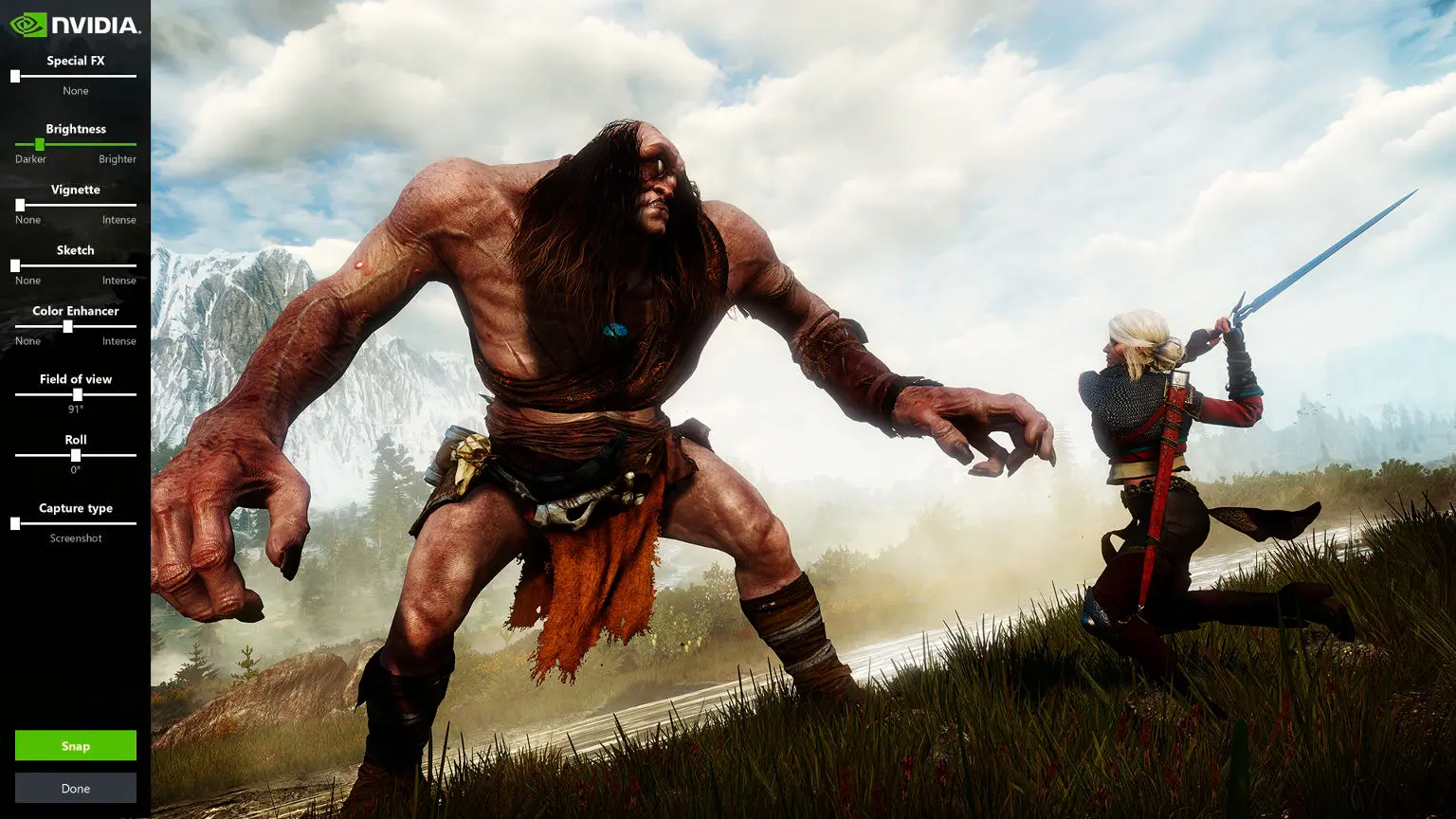 We're reader-supported and may be paid when you visit links to partner sites. We don't compare all products in the market, but we're working on it!
What is Nvidia Ansel?
Nvidia Ansel is an in-game capture engine with options to take regular screenshots, super-resolution screenshots, stereo screenshots, 360-degree screenshots and stereo 360-degree screenshots.
With an array of options provided and the ability to reposition your camera, you can easily choose what you capture.
How do I use Nvidia Ansel?
If you have the latest Nvidia drivers (you can download them through GeForce Experience or Nvidia's website) and a supported graphics card, using Ansel is relatively easy. Once you're in one of the supported titles, you can click ALT+F2 simultaneously to launch Ansel on top of your game screen.
Once in the Ansel menu, you can adjust the main settings such as field of view, enabling or disabling the grid of thirds, beta image enhancement, brightness, contrast, camera angle, positioning and more.
Once you have adjusted the settings and the camera placement, click "Snap" for Ansel to begin capturing your masterpiece. This can take quite some time, especially if you're using the highest super-resolution image.
It's best if you leave Ansel to do its thing while it's taking the picture. Sometimes your game can completely crash and exit if you leave the game tab. It is worth noting that this only happened to me in Watch_Dogs 2, but it might occur in other cases as well, so it's better to be cautious.
The default save location for Ansel captures is in your "Videos" directory, inside a folder named after the game where you're taking the screenshot. If you don't like the default save location, it can be changed by launching NvCameraConfigurator.exe from Program Files/NVIDIA corporation/Tools/Ansel.
If you press ALT+F2 again, hit escape or click "Done", it will close the interface.
Types of Ansel images
Screenshots: Nvidia Ansel's screenshot tool is like any other screenshotting tool, such as the one built-in to Steam. Ansel's regular screenshots don't do the software any justice and look softer than they should.
Super Resolution Screenshots: These screenshots are the key to Ansel. Super Resolution Screenshots allow you to choose your resolution in increments along a slider up to a resolution of 63360x35640, 33 times Full High Definition (this value can be tinkered with outside of the app so that it's even larger!). This absurd quality means you can take a photo from one area and completely adjust what is in frame in editing, without making the image look blurry. It also means these files are massive, so make sure you have adequate space on your drive.
Stereo Screenshots: Stereo screenshots place the same screen image side-by-side, doubling the width of the final product but keeping the height.
360 Degree Screenshots: Ansel allows you to take two different types of 360-degree screenshots, regular 360 degrees and 360-degree stereo screenshots. These images give a more immersive view into the beautiful worlds that are present in today's games.
Longevity of Ansel
Ubisoft was initially one of Ansel's big supporters with three massive titles toting support for the new software. Assassin's Creed: Origins, a prime candidate for Ansel support, included its own photomode.
In a response to finder's query, Ubisoft's Assassin's Creed: Origins team told us the reason they used an in-house solution was because "we wanted the feature to be universally accessible for all players."
The idea of Ansel is great and the community surrounding the art that is in-game photography is strong and ever-growing. People really enjoy sharing their creations with the community, or just keeping them for themselves to enjoy. Photo modes present inside games are here to stay for the foreseeable future, but whether Ansel will evolve with the industry and stay current or become irrelevant is something we've yet to see.
Ansel is fairly future-proof in the sense that it can already handle much larger resolutions than what is typical today, and this makes for fantastic and rich photos that are far ahead of other solutions, such as the built-in Xbox screen capture tools and the new photo mode in Assassin's Creed: Origins.
Ansel Games
Here is a complete list of all Nvidia Ansel games (as of the time of writing).
| Game | Genre |
| --- | --- |
| Agents of Mayhem | Action-adventure |
| ARK: Survival Evolved | Action-adventure |
| ATOM RPG | Role-playing game |
| Aven Colony | City builder |
| Bulletstorm: Full Clip Edition | First-person shooter |
| CAT Interstellar | Adventure |
| CHKN | Sandbox |
| Claybook | Puzzle |
| Conqueror's Blade | MMO |
| Conan Exiles | Action-adventure |
| Dark and Light | MMORPG |
| Dishonored 2 | Action-adventure |
| Fade to Silence | Role-playing game |
| For Honor | Action-adventure |
| Pacer (Formerly Fomula Fusion) | Racing |
| Hellblade: Senua's Sacrifice | Action-adventure |
| Kona | Adventure |
| Mass Effect: Andromeda | Action role-playing |
| Middle-earth: Shadow of War | Action-adventure |
| Mirror's Edge Catalyst | Action |
| Nioh: Complete Edition | Action role-playing |
| Obduction | Adventure |
| PixArk | Action-adventure |
| Pro Evolution Soccer 2018 | Sports |
| Spacelords | Action-adventure |
| Snake Pass | Platformer |
| Tekken 7 | Fighting |
| The Witcher 3: Wild Hunt | Action role-playing |
| The Witness | Puzzle |
| Tom Clancy's Ghost Recon Wildlands | Open world shooter |
| Transformers Online | Battle arena |
| War Thunder | Action |
| Watch_Dogs 2 | Action-adventure |
| WRC 7 FIA World Rally Championship | Racing |
| Battlefield V | First-person shooter |
What graphics cards are supported?
Being a Nvidia product, Ansel is exclusively available on Nvidia graphics cards. If you've got a Nvidia graphics card from the RTX 2080 Ti to the GTX 650, you should be able to run Ansel.
Here's a complete list of all of the graphics cards that are supported by Ansel.
| Model | Series | Architecture |
| --- | --- | --- |
| GeForce RTX 2080 Ti | 20 Series | Turing |
| GeForce RTX 2080 SUPER | 20 Series | Turing |
| GeForce RTX 2080 | 20 Series | Turing |
| GeForce RTX 2070 SUPER | 20 Series | Turing |
| GeForce RTX 2070 | 20 Series | Turing |
| GeForce RTX 2060 SUPER | 20 Series | Turing |
| GeForce RTX 2060 | 20 Series | Turing |
| GeForce GTX 1660 Ti | 10 Series | Turing |
| GeForce GTX 1660 | 10 Series | Turing |
| GeForce GTX 1650 | 10 Series | Turing |
| GeForce GTX 1080 Ti | 10 Series | Pascal |
| GeForce GTX 1080 | 10 Series | Pascal |
| GeForce GTX 1070 Ti | 10 Series | Pascal |
| GeForce GTX 1070 | 10 Series | Pascal |
| GeForce GTX 1060 | 10 Series | Pascal |
| GeForce GTX 1050 Ti | 10 Series | Pascal |
| GeForce GTX 1050 | 10 Series | Pascal |
| GeForce GTX Titan X | 10 Series | Pascal |
| GeForce GTX 980 Ti | 9 Series | Maxwell |
| GeForce GTX 980 | 9 Series | Maxwell |
| GeForce GTX 970 | 9 Series | Maxwell |
| GeForce GTX 960 | 9 Series | Maxwell |
| GeForce GTX 950 | 9 Series | Maxwell |
| GeForce GTX 980M | 9 Series Mobile | Maxwell |
| GeForce GTX 970M | 9 Series Mobile | Maxwell |
| GeForce GTX 965M | 9 Series Mobile | Maxwell |
| GeForce GTX 960M | 9 Series Mobile | Maxwell |
| GeForce GTX 950M | 9 Series Mobile | Maxwell |
| GeForce GTX 880M | 8 Series Mobile | Kepler |
| GeForce GTX 870M | 8 Series Mobile | Kepler |
| GeForce GTX 860M | 8 Series Mobile | Maxwell |
| GeForce GTX 850M | 8 Series Mobile | Maxwell |
| GeForce GTX Titan Black | 7 Series | Kepler |
| GeForce GTX Titan | 7 Series | Kepler |
| GeForce GTX 780 Ti | 7 Series | Kepler |
| GeForce GTX 780 | 7 Series | Kepler |
| GeForce GTX 770 | 7 Series | Kepler |
| GeForce GTX 760 | 7 Series | Kepler |
| GeForce GTX 750 Ti | 7 Series | Kepler |
| GeForce GTX 750 | 7 Series | Kepler |
| GeForce GTX 780M | 7 Series Mobile | Kepler |
| GeForce GTX 770M | 7 Series Mobile | Kepler |
| GeForce GTX 765M | 7 Series Mobile | Kepler |
| GeForce GTX 760M | 7 Series Mobile | Kepler |
| GeForce GTX 690 | 6 Series | Kepler |
| GeForce GTX 680 | 6 Series | Kepler |
| GeForce GTX 670 | 6 Series | Kepler |
| GeForce GTX 660 | 6 Series | Kepler |
| GeForce GTX 650 Ti BOOST | 6 Series | Kepler |
| GeForce GTX 650 Ti | 6 Series | Kepler |
| GeForce GTX 650 | 6 Series | Kepler |
| GeForce GTX 680MX | 6 Series Mobile | Kepler |
| GeForce GTX 680M | 6 Series Mobile | Kepler |
| GeForce GTX 675MX | 6 Series Mobile | Kepler |
| GeForce GTX 670MX | 6 Series Mobile | Kepler |
| GeForce GTX 660M | 6 Series Mobile | Kepler |
---
More guides on Finder