Are Australians risking heartache by failing to insure this one investment?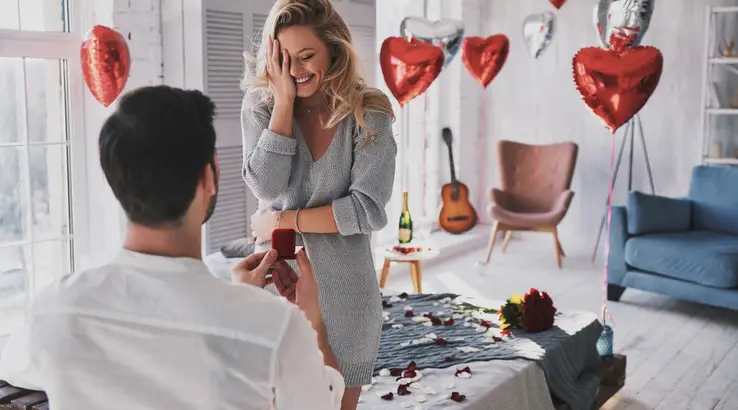 Despite spending more than ever on engagement rings, Australians are neglecting to insure them.
Australians are spending more than ever on engagement rings, but little more than half are bothering to insure this enormous investment according to new research from Allianz. The study shows that 12% of millennials are spending more than $10,000 on an engagement ring compared to 4% of boomers.
Australians of all walks of life are not only failing to protect their rings, but they're also actively putting them in harm's way. Only 52% of all Aussies bother to insure their rings while a staggering 31% have admitted to taking their ring off and forgetting where they put it.
"While I'm sure it's done with only good intentions... Aussies often take their ring off for daily activities, such as washing dishes or exercise, increasing the chance of losing it. Additionally, like any piece of jewellery, sometimes it can slip off while you're doing anything from chores to running or dancing at a party, so it's very important to insure our most valued possessions, especially our engagement rings," Allianz Australia chief technology officer Donna Walker said in a statement.
How to insure your engagement ring
Insuring your engagement ring is quite simple and you can choose one of three ways:
Using an existing contents insurance policy. You can insure your ring using an existing contents insurance policy, but you'll usually need to specify the ring by name in your policy along with its value. In other words, if your ring is worth $15,000 you can't just increase your overall cover by $15,000 without mentioning the ring by name. You'll also need to consider adding portable contents insurance to your policy to cover your ring outside the home – and once again, specify it by name.
Buying a standalone portable contents insurance policy. If you don't already have contents insurance and you know the ring is the only thing you want to insure, a portable contents insurance policy is enough to cover it inside and outside the home. Since it is quite valuable, you'll probably have to mention the ring by name in your policy along with its exact value.
Buying specialist engagement ring insurance. This is a policy that works similarly to a portable contents insurance policy, but it is designed specifically for rings and other jewellery. It will usually be more expensive but can also offer additional perks like letting you take your ring to your chosen repairer for fixes (as opposed to using the repairer your insurer chooses).
Any one of these options will pay to repair or replace your ring if it's lost, damaged or stolen and comparing your options can save a lot of heartache down the road. It's a small price to pay to protect such an expensive item that holds so much sentimental value.
Latest home insurance headlines
Picture: Shutterstock