Northern Territory travel restrictions | Where you can go in April 2021
As restrictions ease, we look at where you can go and what you can do in the NT right now.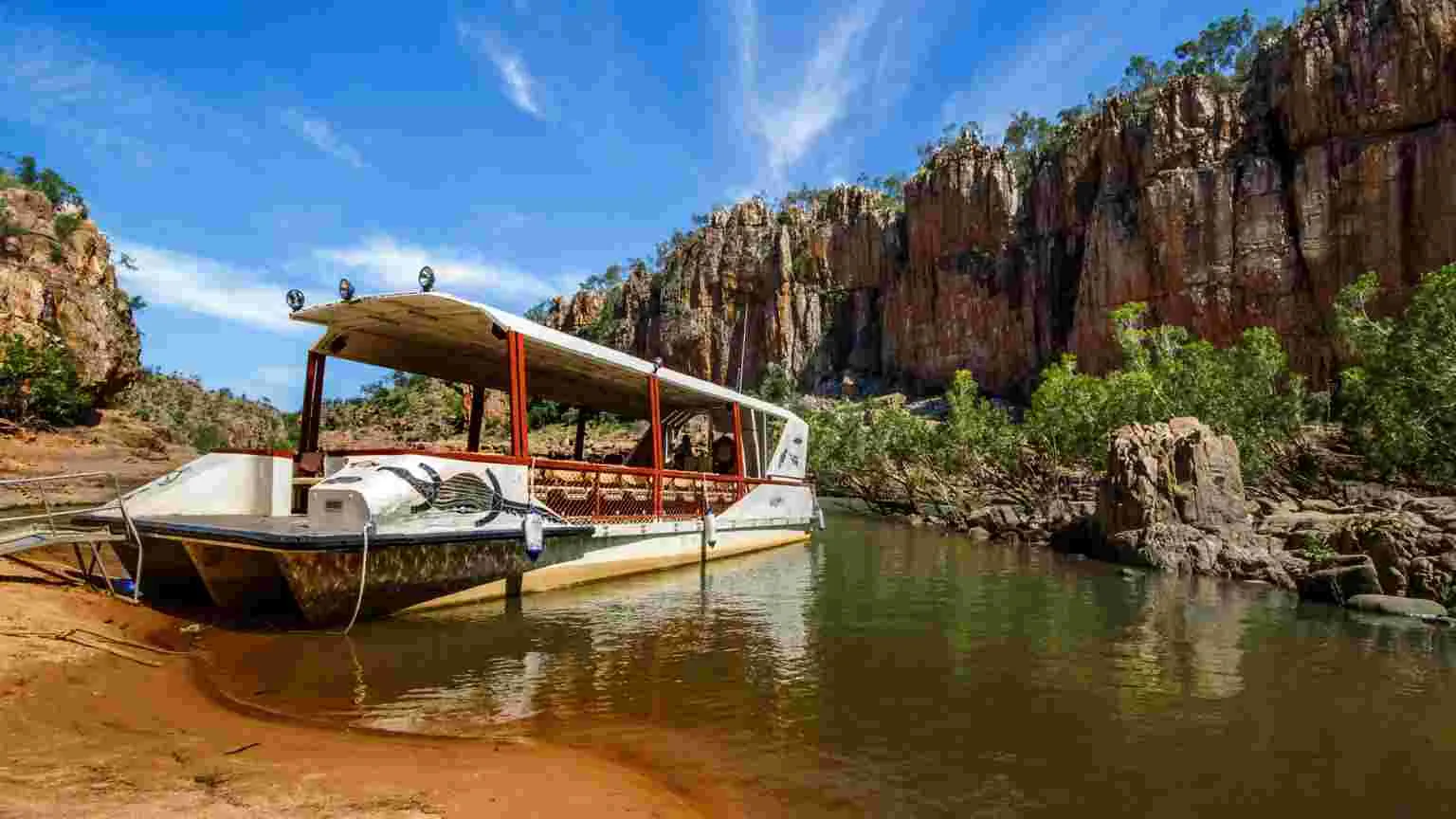 We're reader-supported and may be paid when you visit links to partner sites. We don't compare all products in the market, but we're working on it!
Travel restrictions in the Northern Territory have eased to the point where the territory is mostly back up and running.
Regional travel is allowed for residents and the Territory is open to the rest of Australia – with the exception of Western Australian hotspots.
Whether you're travelling locally or regionally though, physical distancing and good hygiene should be top of mind. Which means you can expect a few changes to how travel works.
Accommodation in the Northern Territory
All accommodation, including hotels, motels, campgrounds, holiday homes and staying at a mate's place, are allowed in the NT.
Staying with family or friends
You can stay overnight at a friend or family member's house without a time or gathering limit.
If your family or friend is over 70 or in a high-risk category, you may want to reconsider the need to stay with them, unless you are a carer.
Staying at hotels
Across the territory, all hotels, hostels and private accommodation are permitted to have guests.
When you arrive, there may be extra hygiene precautions in place. This might include an a la carte breakfast in lieu of a buffet-style one, limited numbers at the pool and gym or the closure of communal spaces.
Latest deals for hotel stays in Northern Territory
Staying at holiday homes
You may travel and stay at your holiday home without limitation.
If you're booking a holiday home for travel purposes, say through Airbnb or Stayz, consider booking entire homes or self-contained apartments where there are no communal facilities.
Airbnb has placed a worldwide limit of 16pax for rentals, excluding boutique hotels and event venues.
Staying at hostels
Hostels throughout the Northern Territory are open and operational. Similar to hotels, they will have enhanced hygiene measures in place.
For example, shared dorms may limit the number of guests to maintain physical distancing and family rooms may only be booked by one party.
Communal areas and facilities may also be closed or be limited to a certain number of guests at one time.
Camping and caravanning
Camping is allowed across the territory in parks that have reopened. Check with your specific park prior to make sure they're open and book a campsite if required.
Organised tours
Organised tours are permitted to resume with an approved COVID Safety Plan. As part of their plans, the tours must encourage a 1.5-metre physical distancing rule between guests who aren't previously acquainted, frequent handwashing or sanitisation and the downloading of the COVIDSafe app.
This may mean that tours operate at a lesser capacity or for private groups only.
Tour operators should also have a booking system that allows them to take your details for contact tracing.
Tourist attractions in the Northern Territory
Many popular tourist attractions in the Northern Territory, such as zoos, museums and galleries, can reopen. However, some still remain closed either due to COVID-19 or the season.
The following are some attractions and experiences that are back up and running:
Latest deals for activities and attractions in Northern Territory
National parks
A good chunk of the territory's national parks are back up and running. The following are some popular parks you can spend the day (or days) in:
Uluru-Kata Tjuta National Park
Kakadu National Park
Charles Darwin National Park
Litchfield National Park
Mary River National Park
Djukbinj National Park
Garig Gunak Barlu National Park
Barranyi (North Island) National Park
Elsey National Park
Judbarra/Gregory National Park
Keep River National Park
Limmen National Park
Nitmiluk National Park (some sections and trails are closed)
Iytwelepenty/Davenport Ranges National Park
Simpsons Gap: Tjoritja/West MacDonnell National Park
Finke Gorge National Park
Watarrka National Park
Beaches and local parks
All beaches and local parks are permitted to reopen, but physical distancing is encouraged.
Getting to and from your holiday
Driving within the Northern Territory
You are free to drive your own vehicle for recreational purposes throughout the territory, excluding any biosecurity areas or remote communities that are not accepting non-essential visitors.
When hiring a car, you may notice some additional protocols in place to keep you safe. This could include a no-contact policy when picking up and returning your ride.
Flights within the Northern Territory
Flights to and throughout the territory are operational.
You can check routes and prices through Skyscanner for your options.
When flying, you'll likely notice added health and safety measures such as enhanced cleaning and masks and sanitising wipes for all customers.
As of 8 January 2021, face masks are mandatory on all domestic and international flights.
Bus and coach services
A wide network of coach and tour companies offer services around the Northern Territory and into its neighbouring states.
These have been impacted by lockdown and travel restrictions.
Greyhound: Services from Darwin to Alice Springs, Darwin to Katherine, Katherine to Palmerston and Tennant Creek to Alice Springs are still running. Services to Broome and Kununurra are operating. To travel to Western Australia you'll need a G2G pass. To return to the NT you must have a border entry form completed up to 72 hours prior to arrival. From 14 December, buses are running from Darwin through South Australia into Adelaide but you must have a current border crossing registration.
Chartered services with companies like Coach Charters Australia and Bodhi Bus are available to get you between cities.
Train services
The Ghan is one of the most famous train journeys in Australia and runs straight through the NT from Darwin to Alice Springs and then down into South Australia.
Journeys recommenced on 1 February 2021.
You can take the entire journey or just sections of it. If you'd like to stay in the Northern Territory when you go, the Alice Springs-Darwin leg is available as a one-way or return trip.
Which states and territories can I travel to?
Due to its low case rate, Northern Territorians can travel across most of Australia. Depending on where you travel though, you may be required to self-isolate when you return home.
| State | Border status | What should I know? | More info |
| --- | --- | --- | --- |
| ACT | Open | No requirements needed. | More info |
| NSW | Open | No requirements needed. | More info |
| Queensland | Open | No requirements needed. | More info |
| South Australia | Open | All travellers must complete the Cross Border Travel Registration. | More info |
| Tasmania | Open | Travellers must register through the Tas e-Travel system. | More info |
| Victoria | Open | All travellers must have a travel permit to enter Victoria. | More info |
| Western Australia | Open | All visitors must present a G2G pass. | More info |
Latest Northern Territory travel deals
Frequently asked questions about travelling in the Northern Territory during COVID-19
How far can I travel from home?
There are no limits as to how far you can travel within the territory.
Are there any regional Norther Territory travel restrictions?
Some biosecurity areas and remote communities are closed for non-essential travel. Otherwise, you're free to travel where you wish in the territory.
Can I travel to the Northern Territory if I live in another state or territory?
Yes. Borders are open to all states and territories.
If you are travelling from a hotspot, you must undergo mandatory quarantine for 14 days, unless exempt.
Do I need to limit the number of people I travel with?
No. There are no gathering limits, but physical distancing should be maintained when in the company of those outside your household.
Do I need to pre-book to visit dining venues and attractions?
No. Most venues don't require you to pre-book unless this is standard practice for them.
Will I need to self-isolate or go into quarantine when I return from my trip?
No. When travelling within the territory, you don't need to self-isolate when you come home. This only applies if you have been travelling interstate.
More guides on Finder