Non-espresso coffee maker buying guide
How to choose the best coffee maker to get the perfect cup of coffee.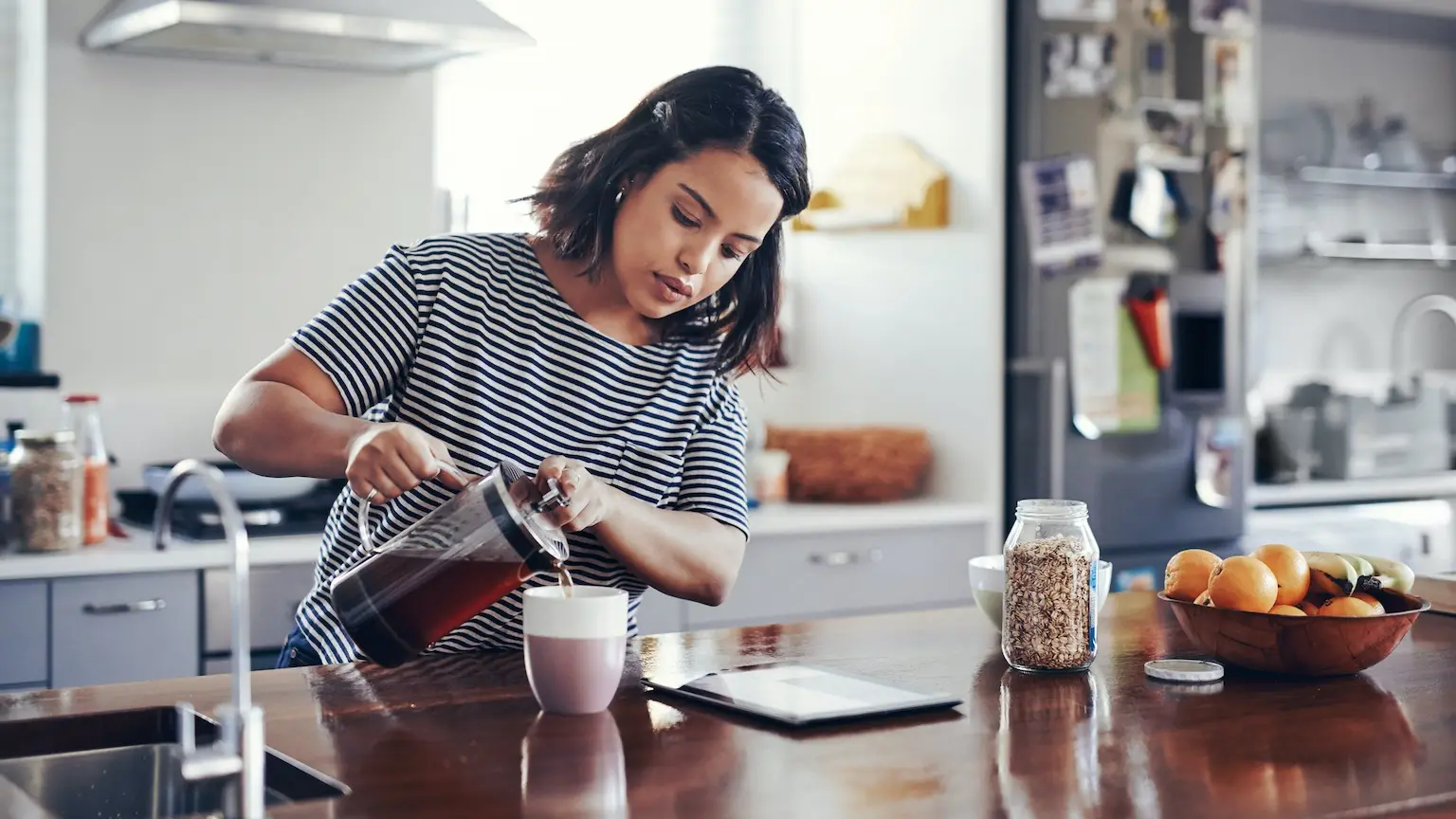 We're reader-supported and may be paid when you visit links to partner sites. We don't compare all products in the market, but we're working on it!
Key facts about non-espresso coffee maker:
Non-espresso coffee makers include french presses, vacuum coffee makers and filter coffee makers.
Each type of non-espresso coffee maker has its own pros, cons and price range.
What types of non-espresso coffee makers are there?
There are three main alternatives to espresso coffee makers:
Filter coffee makers (electric coffee makers/drip coffee makers)
If you've ever had coffee in an American diner, chances are it came from a filter coffee maker. These are extremely easy machines to use. They can be pre-programmed and make large amounts of coffee at once. Most models have a water container and a section to place ground coffee beans. The machine will heat the water, pour it through the coffee grounds and pass it through a filter – all before it reaches your cup. To get a super-basic filtered cup of coffee, you can place a sheet of filter paper filled with ground coffee over your mug and slowly pour hot water over it.
Vacuums (siphon)
These tend to look like they belong in a science lab. Traditional vacuum coffee makers consist of two glass flasks. Ground coffee beans sit in the top flask, while water sits in the bottom. You place the water on a heat source, and as the water warms, it rises to mix with the coffee grounds. After the two fully combine, simply turn off the heat source and wait for the brewed coffee to fall to the bottom.
French Presses
A French press has two main pieces: a container and a plunger. Most French presses work on a ratio of one tablespoon of coarsely ground coffee to one cup of hot water. Simply pour the water over the coffee grounds and place the plunger at the top of the container to trap the heat. Once your coffee has steeped, slowly push down the plunger to trap the coffee grounds. The longer you steep, the stronger your coffee will be. Most people recommend you steep your coffee three to five minutes.
Why should I consider a non-espresso coffee maker?
Non-espresso coffee machines have a number of advantages:
Bigger pot size. Most espresso machines only allow you to make one cup at a time. Some filter coffee makers can produce whole jugs of coffee at once.
Simple to use. Filter coffee makers can be simple. Simply pour in cold water, load some coarsely ground coffee beans and press go.
Easy cleaning. French press and vacuum coffee makers are simple to clean. They involve a small number of components and it's not difficult to take them apart – or put them back together. Many espresso machines on the market can be a pain to take apart, clean and put back together.
Affordable. Traditional filter coffee makers can cost less than $100. If you know what you like, and you're happy with filter coffee, they're a great cost saver. High-end espresso machines can set you back thousands of dollars.
What does "non-espresso" mean?
To start with, it is important to remember that not all coffee is espresso. Espresso is a particular style of coffee, which you need to make in a certain way. As discussed above, you can make different types of coffee in different ways. If you want an espresso maker, check out our complete guide to coffee machines.
There are a handful of differences between espresso machines and non-espresso machines:
| | Non-espresso | Espresso |
| --- | --- | --- |
| Speed | Slower since the coffee has to steep | Can make a quick cup of coffee |
| Water pressure | Does not need high-pressured water | Needs high-pressured water |
| Grind consistency | Can use more roughly ground beans | Needs very finely ground coffee beans |
| Coffee | Coffee brewed is less creamy than espresso | Creamier coffee produced due to fine grounds and high pressure |
How to compare non-espresso coffee machines
Once you know what type of coffee machine you want, you'll know how to compare. For French presses and vacuum coffee makers, trial and error will be involved. How long you need to leave the coffee to steep will depend on how hot your water is and how strong you like your coffee.
The following are some factors to keep in mind regarding non-espresso coffee makers:
Grind size
Grind size is less of a concern for non-espresso coffee makers than it is for espresso machines. Generally speaking, the finer the grind, the creamier the coffee. Don't go too far though. If your coffee is ground too finely for the filter on your machine, you'll end up with coffee grounds in your cup.
Type of coffee
This is ultimately a personal preference. In theory, light and medium roasts should suit filter, vacuum and French press coffee makers better than dark roasts. However, if you love a dark roast, there's nothing standing in your way. Try out a few different beans until you find your favourite.
Ease of use
Make sure you know how your coffee maker works. French presses take time to master, so keep that in mind. Filter machines are generally simple. Vacuum coffee makers can be a little bit of trouble to set up, but if you're choosing to buy one, you probably already think it's worth it.
Size
French presses and vacuums tend to come in a standard size. If you're buying an electric filter coffee machine for the entire office, you might want to aim for one that has a larger capacity.
More guides on Finder