Life insurance for Non-Australian Residents
If you are not a resident you can still take out life insurance. Here's what you need to know.
We're reader-supported and may be paid when you visit links to partner sites. We don't compare all products in the market, but we're working on it!
If you're a non-Australian resident living and working in Australia, you might be thinking about taking out life insurance. Not all non-Australians will be eligible for life insurance but you can still submit and application and have your circumstances considered by an insurer.
If you apply for life insurance, you'll probably be asked to supply some additional information along with your application. You might be asked some of the following:
Your country of origin
How long you have lived in Australia
Your Visa status
Your application will then be reviewed before approval.
Australian and living overseas? Read this life insurance guide
Life insurance requirements for Non-Australian residents living in Australia
To take out a life insurance policy in Australia as temporary resident means meeting specific eligibility requirements, including:
Eligible countries: You must be from a nation classified as Level 1 or Level 2 by the federal government. These include most Western nations, India, South Africa, Thailand, Malaysia, most South American nations and a number of others.
12 months in Australia: You must have been residing in Australia for at least 12 months, and need to be intending to stay for longer.
Visa status: Your visa generally needs to allow you to stay in Australia for extended periods, or indefinitely. Different insurers may accept different visas.
Requirements may differ between insurers
It is important to note that these are just some of the standard requirements that have to be met by non-Australian residents so that they can take out life insurance cover in Australia. However, different insurance companies may have some specific requirements that differ from the ones mentioned above.
What kinds of visas are accepted?
The following common visa types are generally accepted by Australian life insurance providers.
Working or business visas: An employer sponsored 457 visa (The 457 Visa has been replaced with the TSS Visa. For new applicants looking TSS requirements check the TSS (482), many kinds of skilled worker visa, business owner visa or investor visa are accepted.
Migrant visas: Partner visas and other migrant visas are widely accepted depending on how long you intend to stay in Australia, and how long you've been here.
Agent parent visas: Insurers will often accept aged parent visas, depending on age limits and other acceptance criteria.
You may find it difficult to get cover with certain student visas and other more temporary types, but it can be worth checking with insurers to see if you're able to find cover.
Common life insurance questions for non-residents of Australia
Can US residents get life insurance in Australia?
Yes, but you will typically need to be living in Australia at the time you get cover and planning on staying for a long time, or permanently.
Can I get life insurance on a bridging visa?
How likely you are to get life insurance on a bridging visa may depend on which type of bridging visa class you hold, how long you have been in Australia and how likely you are to remain for an extended period.
Insurers may accept or decline bridging visas on a case by case basis. Generally, the likelihood of success may depend on how likely you are to get a substantive visa.
Bridging visa class C, D and E: These bridging visas are held pending your successful substantive visa application, or are only temporary visas while you make arrangements to leave the country. You may not be able to get life insurance with these visa types.
Bridging visa class A and B: Depending on the circumstances of your residency in Australia, you may be more likely to get cover with one of these bridging visa types. However, not all insurers will accept them.
Can non-resident seniors get life insurance?
Yes, depending on the insurer and the circumstances. Seniors can find it harder to get life insurance regardless of residency, and it may be particularly difficult for non-resident seniors. It will generally be easier to find funeral insurance than a full life insurance policy.
Can non-residents get life insurance with pre-existing conditions?
Yes. Pending acceptance in line with any other eligibility requirements, life insurance can cover non-residents with pre-existing conditions the way it covers residents. Learn about life insurance for pre-existing conditions to see how it might impact your cover.
Do I need a new life insurance policy when moving to Australia?
Moving overseas is a significant change, and it's unlikely that your previous life insurance will be ideal.
Cover from your previous policy
Depending on your policy it might be possible to keep the same cover as before. However, your policy from home may specify that you're only covered overseas for a limited time.
For example, you might only be able to use your existing policy in Australia for up to 6 months, and won't be covered after that. Contact your current insurer or check your policy terms to see how if you can take it with you to Australia.
Factors to consider when taking out life insurance in Australia
Cost of living: If the cost of living is higher for you in Australia than it was overseas, you may need to increase your sum insured accordingly.
Life changes: Having children, getting a mortgage, changes to your employment or income, and other expenses can all impact your cover needs.
Medical requirements
Depending on the policy, you might also need to take a medical test before getting cover. Not all policies will require this, but for effective cover it's generally a good idea to look for policies that do. If you are in relatively good health it may be a particularly useful way of keeping costs down and making sure you have adequate cover.
This is the process by which insurers assess applications to determine the premiums and types of cover available. It includes analysis of factors including age, lifestyle, overall health and general risk level.
---
Funeral insurance for non residents in Australia
What is funeral insurance?
Funeral insurance is similar to life insurance, and is designed to pay-out a lump sum in the event of death to help cover immediate expenses. You can generally choose your own cover in the range of around $10,000 to $30,000.
What's the difference between funeral and life insurance?
Funeral insurance does not generally require medical tests, unlike many life insurance policies, and the age limits tend to be higher than they are for general life insurance polices
Can non-residents get funeral insurance?
Australian residents and citizens may be automatically accepted when within age limits, and without needing to take a medical test.
For non-resident funeral cover, you'll generally not be able to get these "guaranteed acceptance" terms. You can still get cover, but applications are accepted or denied on a case by case basis. Some of the key conditions to watch out for include:
You will need to be intending to stay in Australia
Additional policy exclusions may apply for non-residents. For example, you might not be covered outside of Australia, whereas an Australian permanent resident would be.
---
Can I travel with my policy?
Check the terms of a policy to see how you're covered while overseas. Australian life insurance policies usually include worldwide cover automatically, often without limitations. However some policies might specify limitations, and these may vary depending on your residency and citizenship status.
While long term travel insurance policies can include benefits such as income protection or death cover these will typically be limited and are not an effective substitute for a dedicated life insurance policy.
If you will be travelling frequently or spending a lot of time overseas, it's a good idea to make sure you know how you will be covered overseas. If you're only going to New Zealand, some of these requirements may be waived.
The type of cover available while you're overseas and the requirements to maintain it can also vary for different aspects of your policy, and might be different depending on which insurance options you've selected. The benefits paid may also vary depending on location. For example, a policy might pay out an additional lump sum for overseas injury to help cover the cost of returning to Australia.
Here's how some policies work outside of Australia
Income protection: Your income protection insurance benefit period may be limited outside of Australia or New Zealand. For example, you might only be able to receive up 3 months of benefits while outside these countries.
Trauma, TPD and death insurance: The full payout may be contingent upon your return to Australia if you were temporarily outside the country.
Life insurance requirements for Australian expats living overseas
Australian citizens can often enjoy uninterrupted life insurance cover overseas, whether travelling for work or pleasure. However, this may pose additional challenges when making a claim. The beneficiaries will need to be able to provide sufficient medical evidence and a range of other documentation which can be more difficult for insured events that occur outside of Australia.
Am I eligible?
Australian citizens who live overseas, including Australian expatriates, also have to fulfil certain criteria to be eligible for life insurance cover in Australia.
Australian citizens who live overseas, including Australian expatriates, also have to fulfil certain criteria to be eligible for life insurance cover in Australia.
1. The country where you intend to stay for a short-term
Insurers will often extend the same cover in Australia and New Zealand, and many of the requirements, such as time limits or the need to return to Australia, may be waived.
If you'll be moving overseas for an extended period you should let your insurer know. You don't necessarily need to inform them whenever you take an overseas holiday, but insurers may specify specific time limits after which it no longer counts as a "vacation" and instead becomes "migration".
In general, insurance providers will want to know:
Which country you intend to live and work in
And for how long.
Whether or not you can retain your cover is also based on factors such as the country's risk category according to the Department of Foreign Affairs (DFAT). If you'll be residing in a high risk country your application may be more likely to get declined, and you will not be able to take your cover overseas.
2. Whether you'll return to Australia and how often
To retain valid life insurance overseas you may have to return to Australia a certain amount. This might be once every few months, or once every few years depending on the insurer.
If, as an Australian citizen, you'll be living overseas for the better part of the year then this has to be clearly stated in your application.

An adviser can help you find cover from trusted life insurance brands.
Get competitive quotes from multiple brands

Lower rate of declined claims (according to ASIC)

Save time and effort
---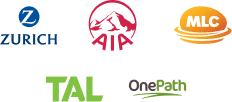 * The products compared on this page are chosen from a range of offers available to us and are not representative of all the products available in the market. There is no perfect order or perfect ranking system for the products we list on our Site, so we provide you with the functionality to self-select, re-order and compare products. The initial display order is influenced by a range of factors including conversion rates, product costs and commercial arrangements, so please don't interpret the listing order as an endorsement or recommendation from us. We're happy to provide you with the tools you need to make better decisions, but we'd like you to make your own decisions and compare and assess products based on your own preferences, circumstances and needs.
More guides on Finder