Nokia announces Nokia 8110 4G for Australia
Curvy phones are back as Nokia's reimagined Nokia 8110 goes on sale in Australia from 20 September.
Back at Mobile World Congress, Nokia – or to be more precise, HMD Global, the folks who own the rights to produce mobile phones with Nokia branding – announced a slew of new Android handsets, alongside its newest attention-grabbing retro throwback phone in the form of the Nokia 8110.
The Nokia 8110 has an iconic design that (depending on your age and cultural reference preferences) is usually described as either the "banana" phone or the "Matrix" phone. Banana because it's curved (and the new model does come in yellow), and Matrix because it featured prominently in the first Matrix film.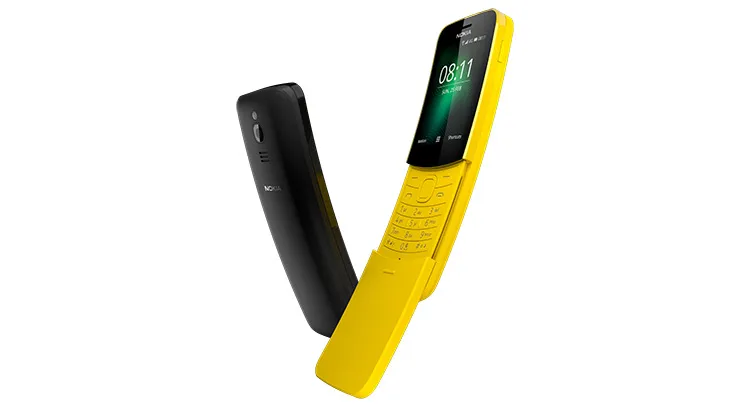 Buy the Nokia 8110 4G
from Amazon
Get your retro groove on with Nokia's 4G-capable Nokia 8110.
View details
The Nokia 8110 isn't a smartphone, but it's the next evolution of the feature phone concept that HMD first put to market with the reimagined Nokia 3310. However, at the time, there were no announced plans to sell the Nokia 8110 in Australia, despite it not having to leap the hurdle of network compatibility as was the case with the newer 3310.
That's now changed, with Nokia/HMD announcing that the Nokia 8110 will go on sale in Australia for $129 outright from 20 September through Harvey Norman, JB Hi-Fi, Big W and Officeworks. That's a solid amount for what is still just a feature phone, and only $20 cheaper than the Android-based Nokia 1 handset.
We're waiting on a review unit of the Nokia 8110, but we did have the opportunity to go hands-on with the phone back in Barcelona. You can watch our video impressions below, or click to read our hands-on review of the Nokia 8110 here.