Nintendo Switch review: Ready to rumble
Nintendo's latest console isn't short of quirks but it's a wonderful remedy to the ill-fated Wii U.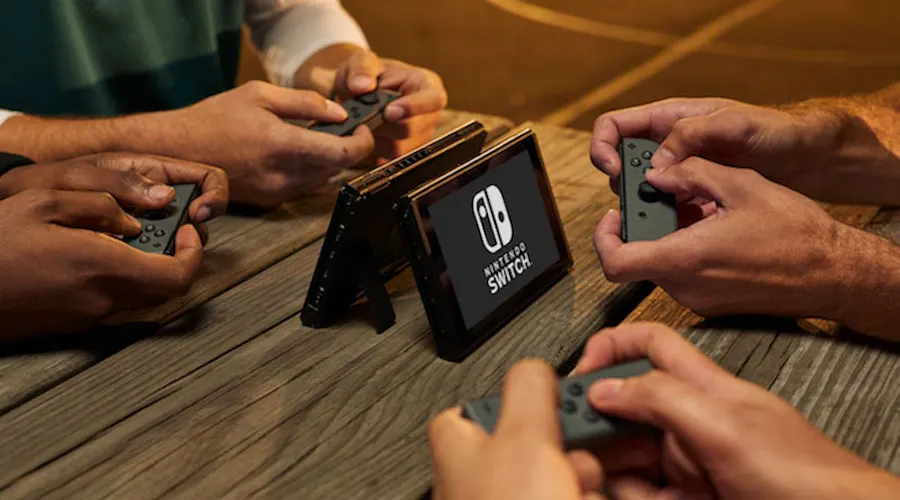 We're reader-supported and may be paid when you visit links to partner sites. We don't compare all products in the market, but we're working on it!
What a ride these last 5 months have been. Half a year before the console's launch, we got our first look at the Nintendo Switch console formerly known as NX in an electric reveal trailer which showed off the essence of the console's versatility and a blink-and-you-will-miss-it tease at a few upcoming titles. Then we waited. It wasn't until January 2016 (two months before launch) that we finally got a much closer look at the Switch and its game lineup courtesy of a live stream from Tokyo and a worldwide hands-on event. Fans and detractors looked on in awe as Nintendo pulled off the very Nintendo-ish feat of astonishing and incensing onlookers in alternating strokes.
The whole launch had the feel of a caffeine-riddled uni student frantically scribbling down notes as the exam supervisor reaches out an open hand. Was the cramming for better or for worse? Who knows. The news came thick and fast over the last three months. With huge batches of games being announced at once and drip fed information on the revamped online service, the result was a blurry whirlwind of news and rumours but there is no denying gamers all over the world were rarely given a chance to think about anything else. Even the epic blockbuster Horizon: Zero Dawn, potentially one of PlayStation's best titles, was somewhat dwarfed in the presence of Switch and our old pal Link.
We've now spent the last week testing Nintendo's new hardware, knee-deep in The Legend of Zelda: Breath of the Wild, and are pleased to confirm that the Nintendo Switch's somewhat messy launch is no way a reflection of the hardware itself. Sure, details around online services remain murky and there's still more than enough room for Nintendo to totally drop the ball. But the console itself? It's actually kind of wonderful. Thousands of classic gamers' vaporous dreams manifest.
The outside: Feels good, man
If this were a first impressions review, we'd be handing Nintendo the nuke codes and calling it a day. Straight out of the box the Switch is a striking console. While there's nothing too unique about the tablet itself, bar some branding on the back, ample ventilation and a kickstand, the magic begins when you slide the Joy-Cons in. Each Joy-Con slides down a rail on either side of the console until it clicks to let you know when it's secured (when powered on, the console also emits the "click" sound that punctuates every Switch trailer).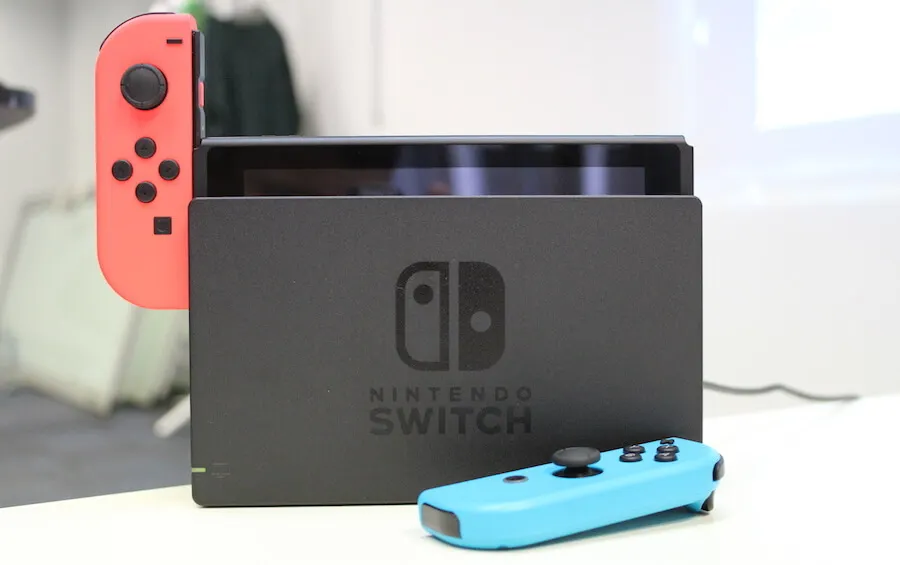 In its handheld form, the Switch's controls feel more console-like than any other handheld I've ever used. That's not surprising. Crossing the line between console and handheld is the Switch's prime objective. What was a nice surprise was the size of the Switch with the Joy-Cons strapped in. I expected the display to be much larger based on what we saw in the launch trailer, then the contrast of seeing it first-hand had me worried that maybe it was a little too small. After spending some quality time with the Switch, it feels just right.
The screen is big enough for two players to play from roughly a meter away, but not so big that the device feels cumbersome in your hands. It does feel a little edgy holding one-handed, but no more than a conventional tablet. There was definitely an adjustment period when we first received our Switch but that was more of a button layout issue than a size problem. This was also amplified by Breath of the Wild's confusing controls (god love it), so it's hard to blame the Switch itself.
Controls become a little more cramped when you're docked and using the Joy-Con grip. I've often found myself reaching over the top to hit the X button with my index finger while my thumb twiddles the Y and B buttons. Again, I feel this is more to do with Zelda's control layout (more on that in our upcoming Breath of the Wild review). It's not enough of an issue to force me to stop using the Joy-Con grip even with the Pro controller readily available (I often pick up whichever controller is closest), but it is noticeable and could be an issue with anyone with bigger mitts than my small carny hands.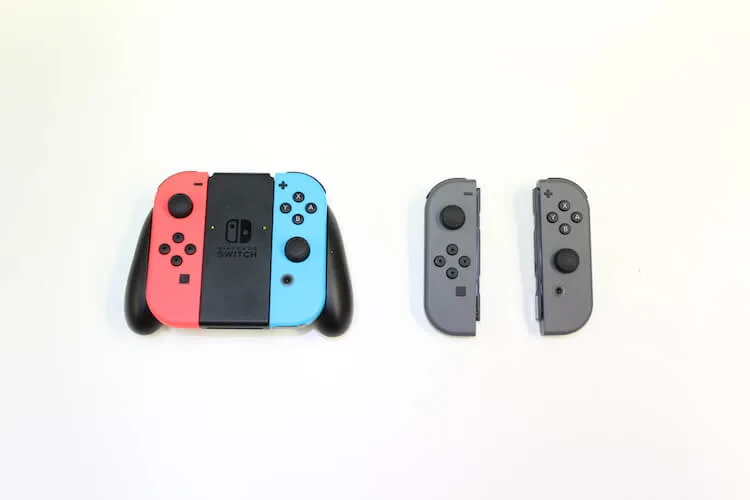 The Switch dock is pleasantly subtle. It's small enough to fit in the small leftover space next to the television on my entertainment unit where the Xbox One and PlayStation don't fit. It's also a wonderfully simple setup. The power cord and HDMI are neatly housed under a door on the back of the dock. If you're dedicated to the Joy-Cons you also have the added benefit of forgoing charging cables. The Joy-Con's natural home is attached to the ends of the Switch console, where they charge. So long as you remember to dock at the end of the night and brush twice daily you should get through life without any unsightly mess.
The inside: Charged with battery
I'm not going to discuss the Switch's specs too much in this review. As we've known for some time now, the Switch runs on a custom Nvidia Tegra chip with similar architecture to the Tegra X1 mobile processor. No, it's not going to compete with the PlayStation 4 Pro and Xbox Scorpio (whatever it may be) and there will no doubt be some big AAA games the Switch simply won't be able to handle.
Nintendo was never looking to "finally enter the console race", despite everyone constantly comparing it against those two (we're totally guilty of just that). The bottom line is: Breath of the Wild is a massive game with no load times (excluding fast travel, shrines and death) and looks amazing on both the Switch's display and my 55-inch television. There have been some noticeable frame rate drops when I devastate a Bokobolin camp with a chained explosion. Though noticeable, it's not too dramatic and the issue hasn't been exclusive to docked or handheld in my experience.
The Switch's 6.2-inch 720p touchscreen isn't as loud and vibrant as what you'd expect from the latest tablets and it suffers a bit in the sunlight but it's still manageable. Like most tablets, the Switch's display really shines when you're playing in the dark of night but even with a bit of shade it still looks unlike anything we've ever seen from a handheld console.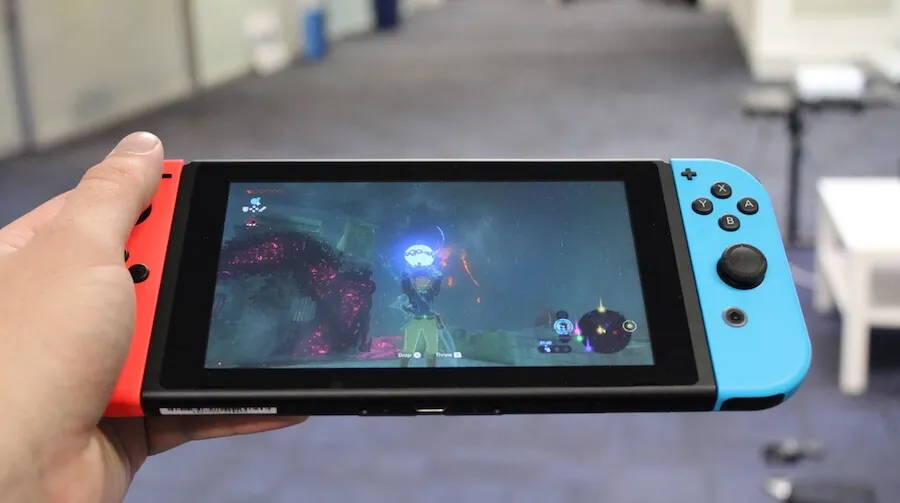 All of this is passable. Graphics nuts will likely scoff at the 1280x720 display but the technical layman will get a kick out of console-quality experiences on the go.
The real problem I have with the Switch so far is the battery. Nintendo quoted an approximate battery life of 3 hours with more intensive games like The Legend of Zelda: Breath of the Wild and around 6.5 hours with less intensive games like Snipperclips. We've managed roughly 2 hours and 40 minutes with each undocked session of Breath of the Wild (we didn't receive any additional software to test with). 2 hours and 4 minutes isn't bad for a huge game like Breath of the Wild but it's not the main issue.
When you see that worrisome flashing red light on the 3DS, you simply find the closest charger, plug in and be on your merry way. That's not the case with the Switch. We hit about 5% battery when we reached for the USB-C cable plugged into the wall. While the Switch assures us that it's charging, the battery continues to drain. The only way to keep playing is to head back to the dock. This is a bitter pill to swallow for a console that's marketed for its versatility; the console that's big sell is the seamless transition between handheld and couch-based gaming. This isn't an issue when docked (thankfully) as the Switch gets to offload the display.
I've also owned many tablets in my time and know how batteries wear. Is this problem going to get any worse? And if it does, how do I go about replacing the concealed battery without purchasing a brand new console? It's definitely not a good omen straight out of the box.
We're going to continue testing the battery over the weekend and will update our review with the results.
The last downer when it comes to the Switch's hardware is the onboard 32GB of storage. Which a ludicrously small amount of memory for a $469.95 console that's already announcing games that take up half that. Your only option here is to purchase additional memory in the form of a microSD card. Thankfully, that's any microSD card, unlike the PS Vita's expensive proprietary cards.
32GB is still cheap. The smallest iPhone 7 comes with 32GB of onboard storage. My PS4 (which I constantly have to delete games from) comes with 500GB. You could theoretically boost the Switch's memory with a 2TB microSDXC card but they're not available to consumers yet.
The experience: Turn around, now Switch
This is what gives Switch its wings. It's the reason I could say with confidence that it's certainly a console worth investing in if you're a fan of Nintendo's work. I live in a very small apartment in Sydney (is there any other kind?). There is always a battle for dominance over the one television in the house, which becomes difficult when your job is sinking hour after hour in video games that often last 30 hours and over.
In one week with Switch, I've played far more than I'm normally able to fit in a work week thanks to the freedom of picking up the Switch and taking it to another room. The freedom to play on the loo. To play on the train. To play in the park, sinking a few hours into a console quality game whilst getting a little sun. Battery concerns aside, this is an experience like no other. At least no other with the likes of Breath of the Wild at your fingertips.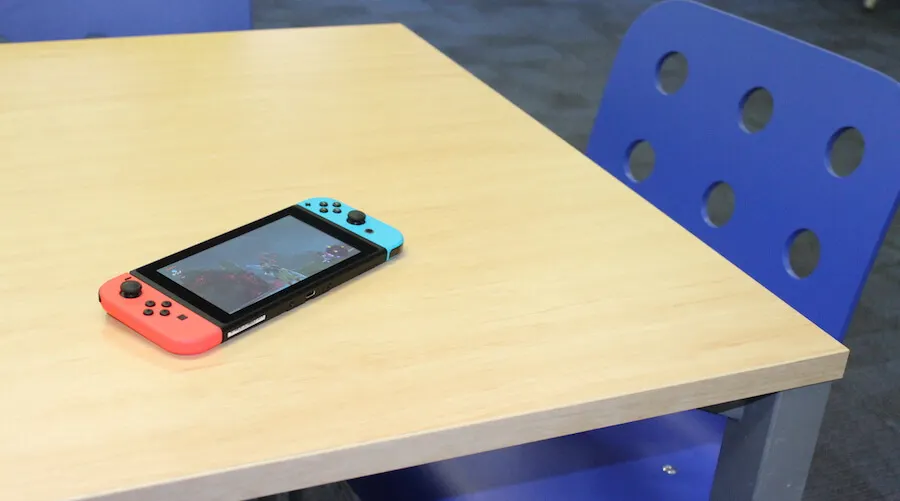 When I first played Red Dead Redemption back in 2010 I actually dreamt that I had a console just like the Switch. When I awoke, the realisation that such a powerful portable device didn't exist was actually (I'm sad to say) a little crushing. The very next year we got the PS Vita which promised to offer console-quality visuals in the palm of your hand. And what a quality bit of gear it was. A revolution in handheld gaming. One that has somehow been relegated as a portal to PlayStation's remote play. The reason? A lack of consistency and dedication from Sony itself. A lot of big name publishers stopped making games for the Vita early on. Many never even started. The Nintendo Switch isn't immune to that same fate. I truly believe Nintendo has sunk its heart and soul into this console and I can't see them kicking it to the kerb as they did the Wii U. However, what third-party publishers do is their own business and despite a strong public showing of support from big names like Activision, Ubisoft and Bethesda, Nintendo isn't out of the Lost Woods yet.
Hopefully, this year's trade shows offer Nintendo a better chance to flaunt third-party titles but for now, we're happy to spend our days blissfully exploring Hyrule where ever we damn well please.
More guides on Finder