Nintendo Classic Mini Super Nintendo Entertainment System review: Simply super
If you enjoy video games in any way, shape or form, you need Nintendo's nifty Mini SNES.
We're reader-supported and may be paid when you visit links to partner sites. We don't compare all products in the market, but we're working on it!
About a year ago, I unwisely opined that Nintendo was unlikely to release a Mini SNES in 2017 for the simple reason that the Mini NES was sold out entirely, and there was still a massive NES library to exploit before moving onto its 16-bit console powerhouse.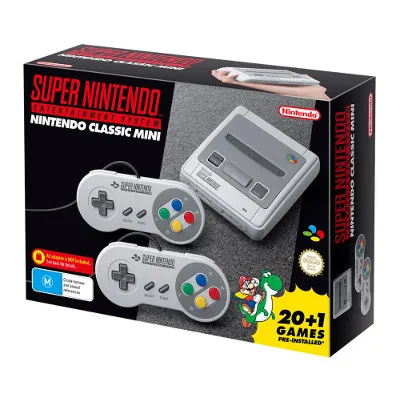 Nintendo Classic Mini Super Nintendo Entertainment System
from Amazon
View details
I was wrong, but having spent some serious time with the Nintendo Classic Mini Super Nintendo system, I've never been so glad to be so spectacularly wrong.
Sure, it helps that of the classic retro systems, the SNES is by far and away my favourite, not only for the strong nostalgic attachment I have to the system, but also because it boasts such a diverse and strong range of classic and highly addictive games.
Nintendo hasn't covered every possible base with the Nintendo Classic Mini Super Nintendo Entertainment System, which I'm just going to call the Mini SNES from now on because everyone else does. Even when it was announced, I quickly worked out 21 titles that should have made the cut, and since writing that, I've worked out at least 20 more easy recommendations as well, and that's really just scraping the top of the exceptional library of SNES titles. Still, there's not much doubting the pedigree of most of the titles covered by the Mini SNES.
Specifically, you get Contra III: The Alien Wars, Donkey Kong Country, Earthbound, Final Fantasy III, F-ZERO, Kirby Super Star, Kirby's Dream Course, The Legend of Zelda: A Link to the Past, Mega Man X, Secret of Mana, Star Fox, Star Fox 2, Street Fighter II Turbo: Hyper Fighting, Super Castlevania IV, Super Ghouls 'n Ghosts, Super Mario Kart, Super Mario RPG: Legend of the Seven Stars, Super Mario World, Super Metroid, Super Punch-Out!! and Yoshi's Island.
That list includes numerous highly collectable (and therefore insanely expensive) titles, as well as a few that have never seen our shores or, in the case of Star Fox 2, been released anywhere on the planet.
From a design standpoint, the Mini SNES is a lovely little device, and thankfully we get the streamlined PAL Super Nintendo design, not the hideous affront to decency that is the horrendous purple NTSC model. The games were the same, but I doubt I'd love the SNES quite so much if it had been that angular purple brick thing back in the day.
Thankfully, we don't also get the 50Hz PAL versions of games from back in the day. Instead, we're treated to the full 60Hz US versions, which means, at a technical pedant level, we're also getting Star Fox rather than Starwing, and Contra III rather than Super Probotector for the first time.
If I have a single minor criticism of the Mini SNES, it's the fact that Nintendo kept the front panel authentic but with fake controller ports. Because the Mini SNES still uses the same plug type as the Mini NES, as well as the Wii before it, the controller ports on the authentic front don't actually connect to anything. When the Mini SNES is in use, that fake front folds down to reveal the real controller ports, which ever so slightly mars the effect of the classic system.
I'm not particularly concerned about the fact that you do have to get up and hit a physical reset button to go back to the main menu for two reasons. Firstly, a little light exercise while you game is no bad thing. Secondly, it dodges the common problem that emulator users often hit, where you're not tempted to play a game for an extended period of time because it's so easy to switch to something else. Playing a Mini SNES game requires a little investment of your time, but it's time very well spent.
Minor design quibbles are largely forgotten when you get to use the actual SNES controllers supplied. Over the years, the enduring popularity of the SNES itself has meant that third-party controllers haven't been hard to get hold of, but few have really felt like the real thing.
The Mini SNES controllers don't just feel authentic. They feel like brand new Super Nintendo controllers somehow warped 25 years forward in time, right down to a little stiffness in the pads. I can still remember having to gently work my pads into shape for epic Street Fighter sessions, and the same is true for these lovely pads. This means that they should be able to last the distance because my original pads certainly have.
At a genre level, the game selection for the Mini SNES covers just about everything but sports, with Kirby's Dream Course's take on golf the only way to get your ball hitting fantasies sated. Why Nintendo's own Super Soccer or Super Tennis didn't make the cut is a little baffling, but these are questions you won't really have time to ponder because you've got some serious gaming to do.
Some games, such as Super Mario Kart, Super Metroid and Super Mario World, are largely genre-defining, and I'd argue that each could well be the finest entries in their respective series. Yes, I really do think that Super Mario Kart is a better game than its very fine sequels. Other titles, such as Street Fighter II Turbo, Super Ghouls 'n Ghosts, Super Punch-Out!! and F-ZERO, are just plain fun, even decades after their first appearances.
For RPG fans, Super Mario RPG has been near impossible to get in Australia for years, likewise Final Fantasy III. Secret of Mana remains a classic, although you're limited to just two players from its three-player brilliance. For many Australian players, it'll be your first legitimate crack at Earthbound.
Speaking of first chances, Nintendo has also dug the code for Star Fox 2 out of the mothballs to finally release it. You don't actually get to play it until you've played through the first level of Star Fox itself, and these are arguably the weakest links in the 21-game library. They're fun enough in concept, but because they were really pushing the SNES hardware back in the mid-1990s with polygon visuals, they look far more dated and play more slowly than you'd probably expect. Still, even a mediocre Nintendo-produced game is usually better than most, and that's still true for Star Fox and Star Fox 2.
Like the Mini NES, you get save slots for each game if you don't wish to use the in-game save or if you need help getting past the admittedly tougher titles like Super Ghouls 'n Ghosts. You don't have to use them (or the new rewind features) if you don't want to, but they're present nonetheless. Likewise, you can scale to 4:3, square pixel or with an emulated CRT filter to taste. While I thought the Mini NES's CRT filter was a little overdone, the effect on my display screen was quite pleasant and close to my proper SNES running on an actual CRT. Your experience may vary.
On a per-game basis at its $119.95 asking price (excluding the AC adaptor, but just about any phone adaptor should suffice), the Nintendo Classic Mini Super Nintendo Entertainment System has to be the best value console released this year.
If, as rumoured, Nintendo really is planning on producing a Mini N64 in the near future, it's going to have its work cut out for it coming up with a game list that's quite as good. Although if it can somehow manage to get the rights to WWF No Mercy, it'd be a good start. Equally, though, a Mini SNES 2 has an insane amount of scope, even leaving aside classic titles where licensing rights would be a nightmare.
At this time of year the gaming schedules are stuffed deep with AAA titles demanding attention, but the Nintendo Classic Mini Super Nintendo Entertainment System stands out as a genuinely essential gaming buy.
Yes, I'm unashamedly a huge fan of all things retro, but I can say this while realising I already own 16 of the 21 titles, and I still consider it great value just for the 5 other titles. Given that you'll never have to deal with carefully cleaning cartridges or soldering parts to avoid region or refresh-rate restrictions, you're already ahead of me simply by buying one.
If you've got this far and you still feel like the Nintendo Classic Mini Super Nintendo Entertainment System isn't for you, then maybe gaming full stop isn't for you, and you should take up something less stressful, like tapioca pudding collecting. Best to get in now, before the retro tapioca fans drive the prices up.
---
Keen on Nintendo's future as well as its past? Score a sweet deal on Nintendo's latest console with our comprehensive guide to the best prices on the Nintendo Switch in Australia.
---
Nintendo Classic Mini Super Nintendo Entertainment System
10.0 FLAWLESS
What we liked...
So many classic games
Easy save states for the more frustrating titles
A quick and easy education in classic retro gaming
Countless hours of fun with both nostalgic titles and plenty that you probably haven't played before
What we didn't like...
Only 2-player for Secret of Mana
Star Fox/Star Fox 2 visuals haven't dated well
VERDICT
Do you like games? I'm guessing if you're reading this you do, and if so, you should buy the Nintendo Classic Mini Super Nintendo Entertainment System at your first available opportunity. At its stated RRP, it's a gaming investment that is simply impossible to regret unless you're tragically allergic to fun.
Getting hold of one is of course rather tough right now, so hopefully Nintendo has indeed listened to the howls of protest surrounding the Mini NES shortages, and there will be more for everyone to enjoy. Great gaming like this deserves to be shared as widely as possible to spread the joy far and wide.
Available for
For more information on how finder scores games, check our review guidelines.