Nintendo Classic Mini: Nintendo Entertainment System Review: Small, cute and wonderful
The NES Classic Mini is a tiny but nearly perfect slice of gaming history and nostalgia.
We're reader-supported and may be paid when you visit links to partner sites. We don't compare all products in the market, but we're working on it!
Most years, there's a "hot" Christmas toy. Quite what that toy is can drive marketers mad as they try to pick whatever it will be, because there's not often much logic that drives the consumer choice. At least, that's the way that I try to explain the Furby to myself, or digging a lot further back, Beanie Babies, Pet Rocks or any other "craze" item.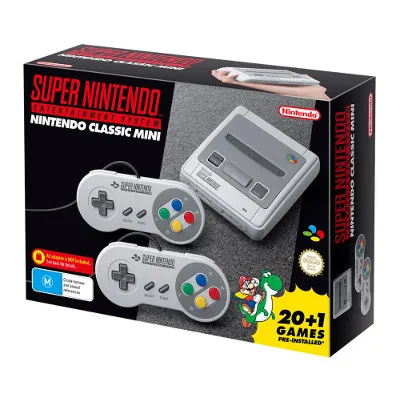 Nintendo Classic Mini Super Nintendo Entertainment System
from Amazon
View details
It's hard to look at the current frenzy surrounding the Nintendo Classic Mini: Nintendo Entertainment System and not view it through that lens. If you want one for Christmas 2016, the bad news is that you're almost certainly too late to the game, unless you want to trawl eBay and pay a stiff premium for the privilege. The question then becomes whether or not it's worth doing so.
Nintendo Classic Mini: Nintendo Entertainment System Upsides: Why you'd want one
Near perfect and cute reproduction of the NES: Let's be honest here. The original NES was no oil painting. In fact, it was 80's-era ugliness personified, designed (so the rumour goes) to look as much like a VCR and as little like an Atari 2600 or any other "games" machine as possible. I say that as a dedicated retro fan and owner of more than a couple of the machines. They're great, but they're ugly. Somehow, when you take those exact same design ideas and shrink them down to a size that's not much bigger than a couple of NES carts, it goes from a large grey ugly box to a really cute little thing. It's captivating simply because it looks properly retro, but the scaling down is so well done that you just get absorbed by it.
Easy to use: There are no download patches to deal with, or complicated multi-button setups to wrangle with. You simply plug in a standard micro-USB charger (not supplied), HDMI cable (supplied) and plug in the controller to the front and you're good to go.
The best of the NES library: Nintendo could probably have gotten away with around 10-15 first-party only titles, but it didn't do that. Instead, the NES Classic Mini comes with some of the best titles that graced the system, including all three NES-era Super Mario titles, two Zeldas, Metroid, Pac-Man, Gradius, Galaga, Ninja Gaiden, Punch-Out and, of course, Bubble Bobble. I'm enough of a Bubble Bobble fanatic that they had me right then and there, even though it's not the best home version (that's the Sega Master System version, no doubt), and I already own the actual NES Bubble Bobble cart.
Easy save states included: NES games have the classic cachet of being "hard", and that's certainly true for some of these games. Tap on the reset button and you're taken back to the game menu from any title, but you can also then save up to four save states per game and return to them at any time. For gamers of a certain age, the terrible spectre of parents calling you to dinner, chores or (shudder) homework is erased at a step with this very simple but incredibly well-implemented feature.
Emulation is well handled: Nintendo could have cranked out a simple emulator and that probably would have kept everyone happy. We tested against an actual cartridge-based NES, and it doesn't take long to realise that while some issues such as sprite flicker have been kept intact, there's some smoothing and framerate optimisation at play here. For the utter purists this may be heresy, but for the wider consumer market these will be welcome improvements, even if many may not realise they're improvements in the first place!
Nintendo Classic Mini: Nintendo Entertainment System Downsides: Why you might not want one
The controller cords are too short: Way too short, in fact. It's not really clear why Nintendo felt the need to skimp on controller cords, and we suspect that it will release a "long cord" version at some stage, but for now, playing the NES Classic Mini either involves having long HDMI and power cables to hand, or sitting very close to your TV. Because the NES Classic Mini can take Classic Wii controllers, you can sidestep this issue somewhat if you've got a Classic Controller because the cables are longer, but then you lose that authentic feel of a proper NES controller.
It's almost too perfect: This is a very picky point, but I'm going to make it anyway. The NES Classic Mini outputs via HDMI, and by default with no screen issues at all. It looks quite spectacular put up against original hardware, but if you are an old-school gamer, this will feel more than a little jarring. In some ways, it's like taking the Mona Lisa and deciding that, no, she's actually been properly smiling all this time.
No upgrade path: There's no network connectivity for the NES Classic Mini. You can't pop your old NES carts (if you still have them) into it, because while it looks like it has a cartridge port, it's not actually a port at all. There's no networking, so you can't download new games to it. This is a sealed unit, and while enterprising hacker types have worked out other ways to mess with it, Nintendo is selling this as a standalone. Many are suggesting a SNES Mini will come next, although I'd bet that we'll see a NES Mini 2 with different games first. Nintendo can be patient with this, and in the meantime try to sell folks on the Nintendo Switch anyway.
Not all the games are classics: Yes, you totally should play Super Mario Bros 1-3 (though this is US/PAL SMB 2, not the "lost levels" version), and for that matter Metroid, Zelda and of course Bubble Bobble. But there are some games that, while my retro freak flag flies freely, I've got to admit haven't stood the test of time well, if they ever did. I totally get how Americans love them some Tecmo Bowl, but here it's really just a novelty title. Double Dragon is the classic arcade beat-em-up, but the NES version of Double Dragon 2 wasn't even that good back when it was new. The ratio of classics to clunkers is quite high, but it's worth noting that not everything is a superb AAA retro NES stonker. Also, call me picky (again), but the version of Punch-Out you get is the later "Mr Dream" version, as opposed to the earlier Mike Tyson version.
Who is it best suited for? What are my other alternatives?
The Mini NES Classic is a superb bit of retro engineering, and it's a huge disappointment that they're not more readily available. I'm firmly convinced that anyone who games should be a retro gamer, both to appreciate the history of the form and because many of these games are just as fun today as they were 30 years ago. It's all but impossible to argue with the implicit value of 30 titles even if a small percentage are perhaps more niche in appeal than they should be. The controller cord issue is a pest, but it's not a deal breaker.
In terms of legal alternatives, outside the distinctly pricey prospect of trawling eBay for the original hardware there's the option of using Nintendo's own Virtual Console feature for Wii U, although you'd want to own a Wii U already for that to make all that much fiscal sense.
For what it's worth rival Sega has licensed out many of its Megadrive titles for small standalone TV consoles, but sadly these have uniformly been rubbish efforts that presented games poorly via composite connections only and with terrible hand controllers. If anyone from Sega is reading this, Nintendo really has shown you how it should have been done. I'd pay good money for a 30-game Master System or Megadrive collection built to this standard, but not some of the terrible third-party knockoffs that are out there. The Atari Flashback consoles to date have been a little better, but those are games that haven't always aged quite as well.
It's not often that I'd use the word "wonderful" in terms of a product review, because it runs the real risk of coming across as mere marketing blather. But the NES Classic Mini is wonderful, because it can so easily convey a sense of wonder in just about anyone you put it in front of. It's a classic gaming delight that should not be missed.

Where can I get it?
Nintendo says it will offer new stock in the new year, but for right now if you want one, you'll need either a lot of retail luck when Target and Big W get new stock sometime in early December, or a decently fat wallet to cover the current eBay pricing of both the consoles and the secondary controllers. We acquired our review unit rather circuitously via the UK, so it may also be worth checking international retailers as long as you can wear the shipping costs.
The full game list
The full collection of bundled NES titles is full of Hall-of-Fame level classics as well as nostalgia-laden triumphs, as you can see from the list below:
NES Game
Balloon Fight
BUBBLE BOBBLE
Castlevania™
Castlevania II: Simon's Quest™
Donkey Kong
Donkey Kong Jr.
DOUBLE DRAGON II: THE REVENGE
Dr. Mario
Excitebike
FINAL FANTASY®
Galaga™
GHOSTS'N GOBLINS™
GRADIUS™
Ice Climber
Kid Icarus
Kirby's Adventure
Mario Bros.
MEGA MAN™ 2
Metroid
NINJA GAIDEN®
PAC-MAN™
Punch-Out!! Featuring Mr. Dream
StarTropics
SUPER C™
Super Mario Bros.
Super Mario Bros. 2
Super Mario Bros. 3
Tecmo Bowl™
The Legend of Zelda
Zelda II: The Adventure of Link