Nier Automata review: 2B or not 2B, that is the question
Platinum Games' wacky RPG stands its ground in the face of the latest critically acclaimed open world games.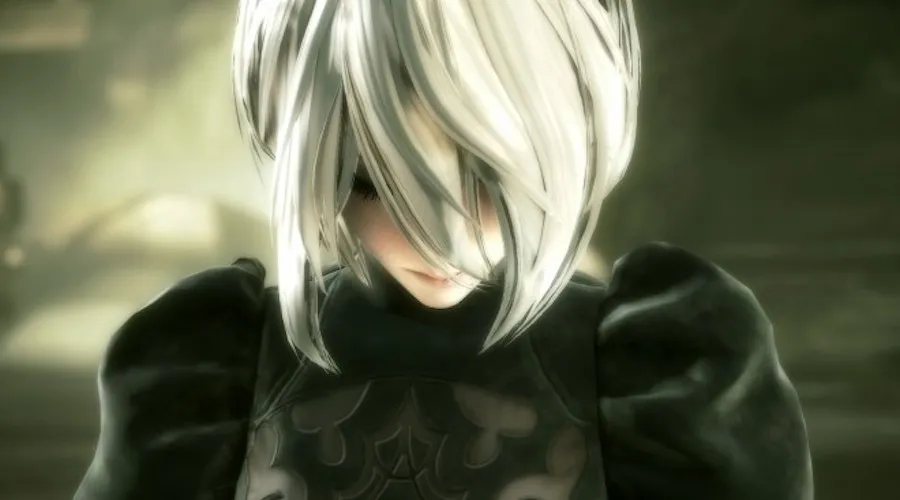 We're reader-supported and may be paid when you visit links to partner sites. We don't compare all products in the market, but we're working on it!
Being that Nier: Automata has you shredding robots in the post-apocalypse as a bad-ass heroine, it'd be natural to expect some Horizon Zero Dawn deja vu. Any thought of that comparison will soon be abandoned, however, as this action role-player is intensely Japanese. Case in two points: the female protagonist here, 2B, is an inexplicably blind-folded android in a maid's uniform who pilots mecha and wields katanas the size of God's own letter openers. Also, there's a trophy that requires the player to gaze up her skirt. 10 times. I couldn't tell you why.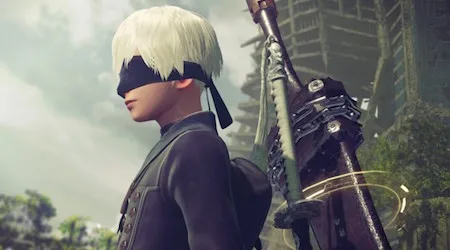 Nier: Automata PS4
from ozgameshop.com
Shift yourself from Earth to Moon and take a part in the action with this game, today!
View details
According to the mission statement on their official site, developer Platinum Games is confident that it has delivered "a silky-smooth 60fps, open-world action RPG, [that sends] the player through a non-stop rollercoaster of emotions". Unfortunately, the first part of that statement is false (on our PS4 Pro, at least) as we intermittently encountered noticeable frame-rate dips throughout our first 18-hour playthrough. Sadly, most of these hitches crop up when Nier does one of its most endearing tricks: switches to a fixed camera perspective in order to ape gaming's greatest hits.
Take the intro for example; you're introduced to the "evil" machines (and your "young-man-droid" partner, 9S) in a top-down shooter section that's reminiscent of Ikaruga. This bullet hell seamlessly transitions to a mecha fight that's of an Omega Boost persuasion, and then the chaser is a moment that riffs on R-Type.
The same magic occurs on the ground, too, where you'll spend the overwhelming majority of your time. Infiltrating a weapons facility in the opening scene offers a top-down view ala Metal Gear Solid. Later still, the 3D jumpy-jumpy sections frequently give way to a 2D affair not unlike classic Castlevania. These perspective shifts will keep you on your toes, and the action fresh, but they're too frequently marred by what we perceive to be overly optimistic level designers or lax play-testers.
Speaking of imperfections, we ran afoul of one or two questing bugs. At the time of writing, meeting the requirements of some quests (presumably achieved in an order not anticipated by Platinum) can result in content that can't be finished. One of these cost us a small chunk of XP and money, another -- the very first main quest -- required a save file deletion and a restart. Sounds like a minor inconvenience, if you don't factor in the three hours we'd also spent grinding and collecting in Nier's very free-form open-world. There's every chance this has been patched, but take the tip now: save often with multiple files.
That's all the unpleasantness out of the way. Platinum makes up for any technical hiccups by providing a massive open-world chock full of weirdoes who need to be trounced in Neir's blisteringly fast and tactical combat system. This is basically Bayonetta in Infinite Climax mode. Whether you equip one melee weapon or two, there are definite combo strings to be milked out of the two-button system, but their implementation is relatively free-form. You can expect the usual lifter and down attacks, and 2B's deadly dervishes are only ever interrupted by the need to dodge. That said, it's more like a teleport-out-of-any-situation dealio than a simple dive roll. All you need to do is time your button press correctly when your enemies flash a telltale red.
These breathtakingly flashy fisticuffs are bolstered by projectile attacks equipped to your personal Pod (think: drone). It can be geared up with things like rapid fire lasers that nullify incoming bullet blobs, or cooldown-governed homing missile blasts. Though it requires a bit of a claw grip on the controller to achieve, leveraging both 2B's swordsmanship, her long-range death-dealers, and the decoy that is the AI-driven 9S, can be hugely entertaining. The biggest testament to just how fun it is: you'll quite happily grind the same group of respawned enemies because the enemy types in the mob will always make this new fight unpredictable.
2B is ever-changing as well, thanks to her personal chip system. She has a finite amount of slots to fill with hardware-based buffs that can achieve practically anything you want. In order to accommodate a chip that refills your life, you might opt to free up space by taking out the chips that provide you HUD elements like a life-bar, or an XP meter. The more suicidal among you might spec themselves as a glass cannon who dies after a few hits but has a Pod that fires small tactical nukes every other second. The shrewder players might use the three available setups to have a hard-hitting berserker 2B who brings a boss almost to their knees, only to switch to a build that will earn double the XP when the killing blow is landed. There's so much strategy to be milked here, and it warrants multiple playthroughs.
Speaking of which, Nier has quite a novel new game plus mode. When you get through the first story -- which, incidentally, is not so much of an emotional rollercoaster ride as it is overly melodramatic, tonally schizophrenic and yet... pleasingly odd -- your control switches to 9S. From there you get a behind the scenes look at what the voice-in-your-ear was up to as you were getting your cyber-maid on. Neither sides of that same coin will win any awards for master story-telling, but we were quite happy to take a holiday in this nonsensical world of humans on the moon waging war via androids against machines built by aliens. Go in expecting rollicking silliness, and that's exactly what you'll get.
We reviewed Nier Automata on PlayStation 4 with a copy provided by the publisher.
Nier Automata
8.5 EXCEPTIONAL
What we liked...
Stylish visuals and slick animations
Neat gameplay and genre shifts
Supremely tactical combat and chip system
What we didn't like...
Unpolished frame-rate, minor bugs (one major)
Voice-over performances can be overwrought
VERDICT
Truth be told, it's currently a tough market for open-world action-RPGs right now, thanks to the superlative Horizon Zero Dawn and The Legend of Zelda Breath of the Wild. Nier: Automata hasn't been sent out to die, however. It has a shape-shifting mechanical quirkiness and an effortlessly addictive combat system that's uniquely its own. On a limited budget, we'd hit up the aforementioned titles first. That said, anybody sick of Western-produced experiences would do well to immediately binge on this radical palate cleanser.
Available for
For more information on how finder scores games, check our review guidelines.
More guides on Finder