Ni no Kuni II: Revenant Kingdom review: Cats and mice living together, mass hysteria!
Cats and mice living together, mass hysteria!
We're reader-supported and may be paid when you visit links to partner sites. We don't compare all products in the market, but we're working on it!
When recommending JRPGs to curious outsiders, I always find myself telling them that there's nothing quite like 2013's Ni no Kuni: Wrath of The White Witch. Developed by LEVEL-5 with animation by Studio Ghibli, White Witch combined luscious anime visuals, signature storytelling and a complex, classic-flavoured battle-system into an epic RPG experience. Oddly, now that it finally has a sequel, there's... well, still nothing quite like it.
Ni no Kuni II: Revenant Kingdom may look like the exact same McCoy, but it has more in common with the Bandai Namco's Tales franchise or Suikoden than its predecessor. This is by no means a bad thing – any game that cribs from Suikoden is more than alright by me. But it's important to manage expectations of this sequel early because the shocks don't end there, folks. Revenant Kingdom has more or less nothing to do with the characters and setting you spent 50+ hours falling in love with during the last adventure.
The clock has gone on hundreds of years and we're now following the plight of Roland, a pistol-packing "real world" politician who's barely escaped a nuke attack, and a cat-eared-boy-king named Evan who's being usurped from his castle. Who are the conspirators going against the Grimalkin-held crown of Ding Dong Dell? Why, a bunch of dirty rats from the Mousekin caste, of course. Cats and mice not getting along and having a race war. Yeah, somebody probably should have seen this coming.
---
---
With the scene set and the mission to rebuild a kingdom established, the battling and exploration begin. On the surface it's still more of the same – you snoop about the overworld as a chibi version of Evan, completing linear quests to progress the cutscenes and political intrigue along. Like before there's a huge overworld packed with enemy ambushes and towns/villages/dungeons to raid for loot and additional XP. In this sense, it's the same old grind, and you'll happily do it for double-digit hours.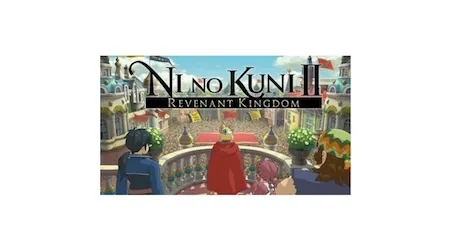 Buy Ni No Kuni II: REVENANT KINGDOM on PS4
from Amazon
Join the young king Evan as he sets out on an epic quest to found a new kingdom.
View details
However, when it comes time to throw down, you'll enter a very different battle system. Battles are real-time events that put you in control of one party member on a large open battlefield. Hotswapping between members is possible and your merry band is made up of three to four characters from a pool that will eventually grow to roughly six or so. Boiled down to their cliches, Roland is "that guy from an alternate world", Tani is "Pirate Princess", Batu is "Pirate papa", Bracken is "the sexy tech nerd" and Leander is "That magic guy". No, wait, sorry. It's not magic he uses. It's "higgledies" – Ni no's saccharine sweet name for a bunch of spells bound to six elements.
Unfortunately, I can't report on any amazing new combat mechanics here. Though Revenant Kingdom is a complete and utter diversion from the turn-based antics of its predecessor, in the wider context of all JRPGs it brings virtually nothing new to the table. The old monster-raising element exists but has been pared right back – nowadays your cutesy little followers skip about and offer a modicum of support. You're mainly just hammering away at targets, shrewdly swapping between your weapons and party members. It's streamlined and not as difficult as White Witch, but still undeniably frenetic and fun.
The only mix-up you get is a bunch of novelty RTS-style fights, called Skirmishes, that are highly reminiscent of a bit of Suikoden. It's not the deepest or most challenging side-diversion going, though. Essentially you use Evan to rock-scissors-paper his way through all comers. It's a nice palate cleanser, but nothing to write home about.
What is worth your time is the realm building that's neatly folded into the game after a few chapters. Don't go in expecting SimCity or a remake of Dark Cloud – you can pick what style of building gets set down in each plot, plus you have a say in what tenants shack up there and what goods they'll produce for you. It's pretty rewarding, though, doing side-activities to lure in artisans who can build you sweet weapons and armour gets pretty addictive.
Mix these smaller diversions into a more than solid 45-hour narrative, and Ni no Kuni II: Revenant Kingdom proves to be a tight package. It's a very different beast compared to what's come before, but absolutely no backwards steps have been made here by LEVEL-5. Providing you can stomach some cutesy, I think this could be the perfect gateway experience for anybody looking to toe-dip into JRPGs for the first time. Genre veterans may lament the lack of challenge and narrative depth, but there's no denying that this sequel ding dong delivers.
We reviewed Ni no Kuni II: Revenant Kingdom on PlayStation 4 with a copy provided by the publisher.
Ni no Kuni II: Revenant Kingdom
9.0 AMAZING
What we liked...
Incredibly high production values across the board
Likeable characters and an enthralling tale
Offers a nice mix of palate-cleansing mini-games
What we didn't like...
Safe and by no means genre-defining
A little too fetch-questy
VERDICT
A sizeable departure from the complex systems seen in 2013's Ni no Kuni, but it's a sideways shuffle rather than a step backwards. Revenant Kingdom is equal parts adorable, visually-alluring and addictive.
For more information on how finder scores games, check our review guidelines.
---
More guides on Finder