Newcastle Harbour cruises
Panoramic views, dramatic landscapes and marine life all await you on these Newcastle Harbour cruises.
Get ready for front-row views of Newcastle Harbour and the Hunter Coast. On a Newcastle Harbour cruise, you can see the harbour's coal-loading facilities and big ships close-up. Cruise further out and you may also catch sight of dolphins and turtles as you sail by caves, beaches, coastal forts and cliffs.
Ready for an adventure on the water? Check out our round-up of Newcastle Harbour cruises to pick your favourite.
Our top picks: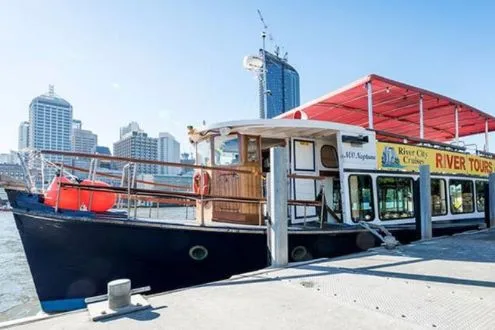 Best for price: Scenic Cruise around Newcastle Harbour with Nova Cruises, Lee Wharf Pontoon
from RedBalloon
Highlights:
Cost: $59
Duration: 2.5 hours
Available on: Sunday, departing at midday
Extras: Buffet lunch, tea, coffee and biscuits and captain's commentary for the budget-friendly price of $59 per person
View details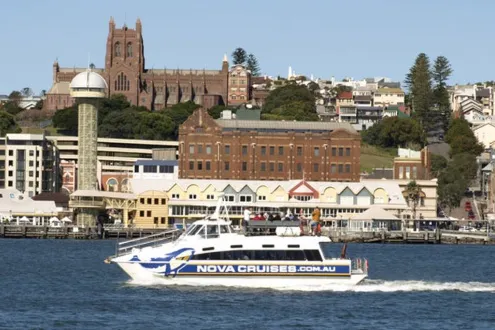 Best for experience length: Hunter River Discovery Cruise and Lunch with Nova Cruises, Lee Wharf Pontoon
from RedBalloon
Highlights:
Cost: $74
Duration: 5.5-6 hours
Available on: Sunday, departing at 10am
Extras: Devonshire morning tea, hot lunch, tea, coffee and biscuits and captain's commentary over 5.5-6 hours
View details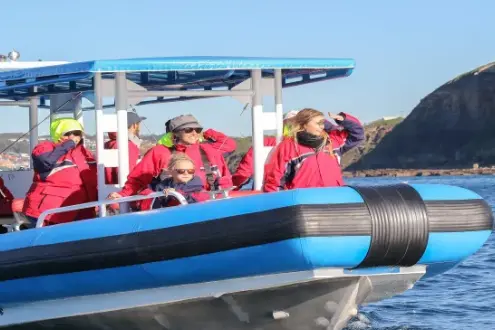 Best for kids Humpback Whale Encounter Tour with CoastXP, Harbour Square Boat Dock
from Adrenaline
Highlights:
Cost:From $60
Duration:2 hours
Available on:Daily (between June and November) departing 8.45am
Extras:Professional guide, wet weather jackets, water and juice, digital photographs of your trip
View details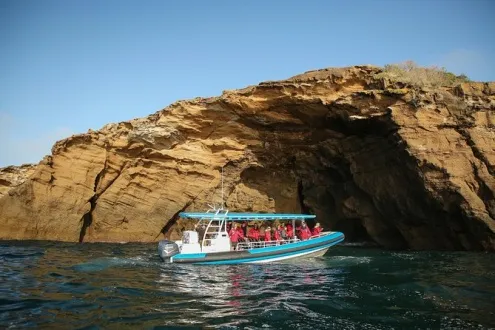 Best for views: Coastal Adventure Tour with CoastXP, Harbour Square Boat Dock
from Viator
Highlights:
Cost: $95
Duration: 2.5 hours
Available on: Daily, departing at 9am
Extras: Cruise 30 kilometres down the Hunter Coast, taking in historic sights such as Catherine Hill Bay and its natural landscape of rugged cliffs and quiet beaches. This cruise includes a professional guide, water and juice, and digital photographs of your trip
View details
Compare Newcastle Harbour cruises
Cruise name
Location
Available on
Duration
Suitable for (ages)
Extras/inclusions
Price
Book with
Scenic Cruise around Newcastle Harbour with Lunch
Lee Wharf Pontoon
Sunday
2.5 hours
All ages
Buffet lunch, tea, coffee and biscuits, captain's commentary of the working harbour
$59 (adult)

$37 (child)

RedBalloon
Hunter River Discovery Cruise and Lunch
Lee Wharf Pontoon
Sunday
5.5-6 hours
All ages
Devonshire morning tea, hot lunch, tea, coffee and biscuits, captain's commentary, opening of the historic Hexham Bridge
$74
RedBalloon
Coastal Adventure Tour From Newcastle
Harbour Square Boat Dock
Daily
2.5 hours
All ages
Professional guide, water and juice, digital photographs of your trip
$95
Viator
Humpback Whale Encounter Tour
Harbour Square Boat Dock
Daily (between June and November)
2 hours
All ages
Professional guide, wet weather jackets, water and juice, digital photographs of your trip
$95 (adult)

$60 (child)

Adrenaline
Newcastle Harbour cruise deals
Related Posts