Where can you go in New South Wales in July 2020? | NSW travel restrictions explained
As the state lifts COVID-19 travel bans, here's where you now can go, what you can do and what to keep in mind.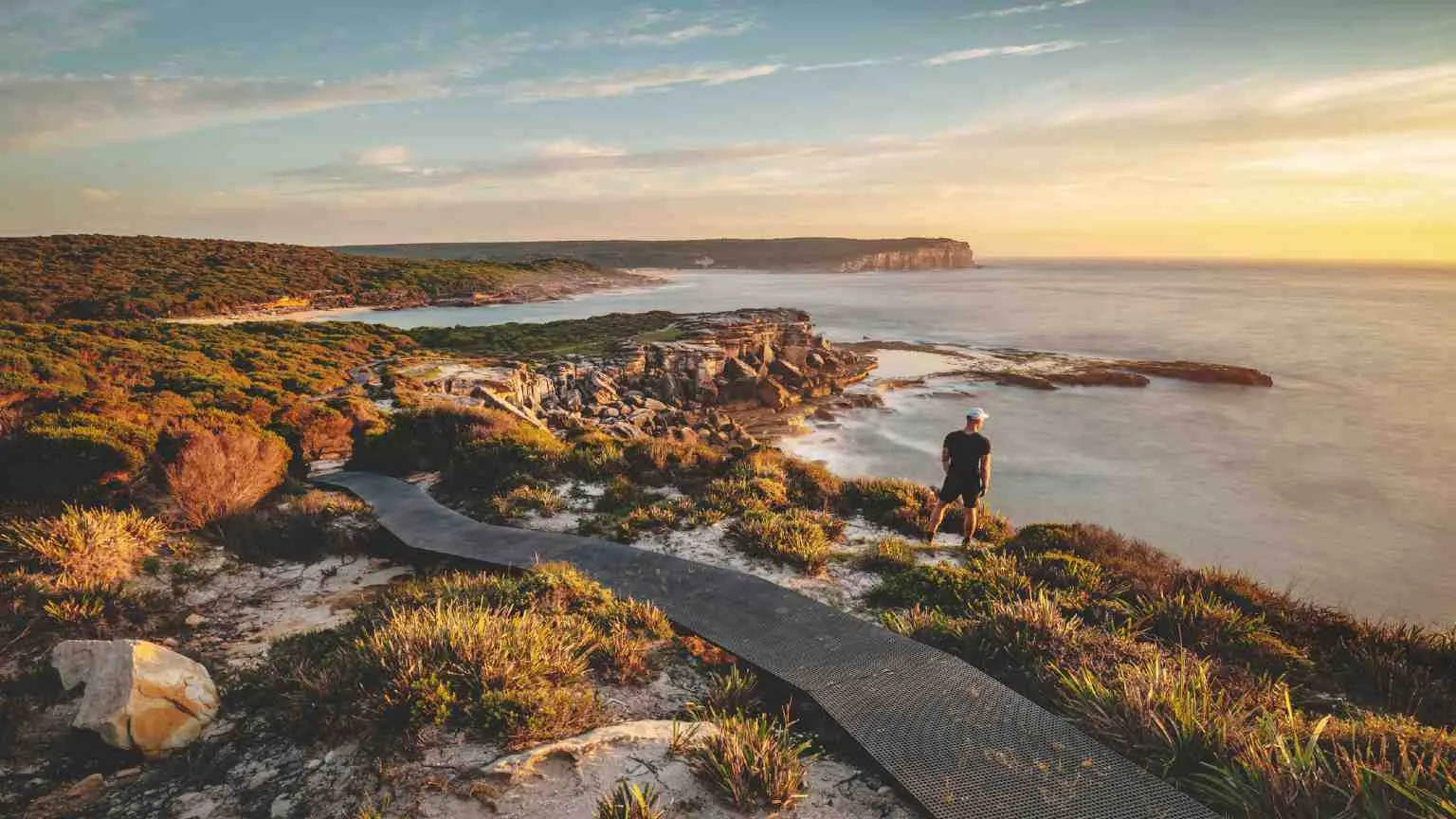 If you're in New South Wales, you're able to travel for leisure anywhere in the state. Whether you're heading up to the North Coast for a coastal retreat, to wine regions like the Hunter Valley and Orange, or down to the Far South Coast to aide some of the areas affected by bushfires, you will still need to practice physical distancing while travelling to lessen the risk of any community spread of COVID-19. You may also need to be flexible to changes in the way tourist attractions, hotels and dining venues operate.
We're covering what you need to know for travelling throughout New South Wales in this guide. If you're travelling to Sydney, we'd recommend reading our guide on what's open in the city for a list of open attractions, restaurants and public areas.
If you live in New South Wales and are hoping to travel out of state, we've created a guide for the domestic travel restrictions. You can travel to the ACT now, Queensland from 10 July 2020, the Northern Territory from 17 July and Tasmania from 24 July. South Australia and Western Australia are still closed to travellers from NSW. As of 11:59pm on 7 July, the border to Victoria will also be closed, and if you're travelling from Melbourne into NSW you'll need to quarantine for 14 days upon arrival as of 6 July.
Accommodation in New South Wales
Overnight recreational stays are once again allowed within the state, so if you're looking for a change of scenery after a few months at home during isolation, now is the time.
This includes both stays at family and friends' properties and at paid accommodation, like hotels.
Can I stay overnight with family and friends?
Yes. You can invite as many visitors per day over to your home, as long as there aren't more than 20 people over at one given time.
The 20-person limit also applies to overnight stays. It's recommended if you're vulnerable (for example, immunocompromised) or older than 70 that you should limit the number of overnight guests even further to limit the risk of passing on the coronavirus, even if you're asymptomatic and don't realise you may have it.
Can I book a stay at a hotel?
Under the latest recommendations by the New South Wales government, there are no restrictions to paid accommodation at hotels. Across the state, you are now able to check in as a leisure traveller, but there may be some changes to check-in and fewer amenities available at the hotel.
You can book into and stay at a New South Wales hotel if you are coming from another state, but you may need to quarantine upon arrival back home as per the regulations of your state.
Some hotels, especially in Sydney, are still being used for hotel quarantines for people returning from overseas.
Latest hotel deals for New South Wales
Can I stay at a privately owned or paid holiday home (like an Airbnb)?
Staying in holiday home is permitted anywhere in state, whether it's a home you own or you've booked on an accommodation sites like Airbnb or Stayz, is allowed. Previously, Airbnbs were unable to accept leisure travellers due to risks associated with coronavirus spread.
Like if you were having guests visit you in your own home, holiday home groups are limited to a maximum of 20 people for overnight stays.
Am I able to book a bed or a private room at a hostel?
Hostels are able to take in guests. However, some physical distancing measures are in place.
For example, the YHA chain, which operates hotels across the state, has limited the occupancy in shared dorm rooms and offers more sanitisation stations, especially in shared spaces like bathrooms and kitchens.
Base Hostels
, which offers locations across the country, including in Sydney, is allowing guests to check in with their phone using an app to eliminate the number of guests touching doorknobs.
At all hostels, physical distancing should be practised in common areas, too.
Is camping and caravanning allowed?
There is no limit to how many people can stay at a campground, but you will still need to practice physical distancing between campsites. You'll only be able to have a maximum of 20 people in your camping party as it's considered an outdoor gathering.
While some states have restrictions on communal areas at campgrounds, in New South Wales you can still use shared barbeque and kitchen facilities as long as there is space of at least four square metres per person.
If you're planning a camping trip to a New South Wales national park, you'll now need to reserve a spot in advance, even if it's to a campground that has been free in the past.
Tourist attractions in New South Wales
Popular attractions across the state are once again able to operate, including zoos, aquariums, museums and galleries.
To help make it easier to find activities that are COVID-safe and tours that are operating, some sites like RedBalloon have added a "Now Open" tag to many of their experiences.
Alternatively, you can pre-book or purchase vouchers for future travel if the activity you'd like to do isn't yet available.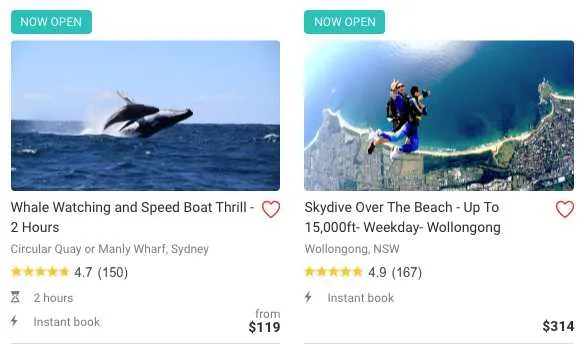 Some attractions that have re-opened across the state include:
Art Gallery of New South Wales
Powerhouse Museum
Latest deals for attractions and activities in New South Wales
Are national parks in New South Wales open to visitors?
Most NSW National Parks are open to recreational visits, including camp sites within the parks. Camp sites do need to be pre-booked if you're planning on staying overnight.
A few parks do remain closed though, including a few parks on the Far South Coast near Eden that were greatly affected by the bushfires in early 2020. It's best to confirm on the NSW National Parks website before heading out to avoid disappointment.
Can I go to beaches and parks?
Opening status of beaches and local parks depends on the local council, so depending on where you're hoping to hit the surf, it's best to check the local council website before leaving home.
If the beach is open, you should practice the state's physical distancing restrictions. Stay in groups of 10 people or less and make sure there's at least 1.5m distance from you to the next person.
Will ski areas be open this year?
While the Queens Birthday long weekend usually marks the start of the ski season in New South Wales, this year the ski fields are opening later in the month. Although subject to change, the season opening dates are currently as follows:
Thredbo: 22 June
Perisher: 24 June
Charlotte Pass: 26 June (accommodation will be available from 25 June)
Selwyn Snow Resort will not be opening for the 2020 season due to bushfire damage.
There will be limited tickets available this year compared to previous years to ensure there's no overcrowding. Group lessons also won't be available for the 2020 season at either Perisher or Thredbo, but private lessons can still be booked.
You also won't be able to purchase lift tickets on arrival this year, and will need to pre-purchase them online. It's best to do this as soon as possible. The first release of tickets for Thredbo for skiing until 30 August has already sold out, with a second release of tickets yet to be available.
Latest deals for skiing in New South Wales
Getting to and from your holiday destination
Am I able do drive anywhere within New South Wales or into the ACT/Canberra?
There are no limitations when driving your own vehicle, and you can go anywhere within the state.
If you're getting a hire car, depending on the company you're renting from, there may be additional protocols due to COVID-19 in place including when you can pick up and drop off your car.
For example, Europcar has a zero-contact policy where the car keys will be disinfected and put into a sealed envelope.
Am I able to fly within New South Wales (or to the ACT)?
Yes. There are no longer coronavirus-related restrictions on who can book flights within the state or to Canberra. So if you're hoping to take off to Byron Bay, Newcastle, Sydney, Canberra or any other destination in New South Wales, you can.
Extra safety measures are in place if you do decide to fly. For example, Jetstar asks passengers to limit movement around the plane cabin, and is offering all passengers masks and sanitising wipes to clean the seat belt, trays and armrests. However, both are offered for added comfort; it's not mandatory to wear a mask while on the plane or to clean your own seat area.
Are coach buses operating between cities?
As long as the services are still running, you can travel by coach between cities, with some restrictions, depending on the destination:
Greyhound: Still operating routes, including those with destinations outside the state. The buses will be stopping at the border to comply with any restrictions. Depending on your destination, you may be asked to quarantine. You can only take a bus north into Queensland if you're a resident or have an exemption.
Murrays: Murrays routes from Canberra to Sydney, Wollongong and Narooma are operating .
Premier: Still operating routes, including those between New South Wales and Queensland. However, you can only enter Queensland if you sign a declaration. Expect police to board your bus and ask you to self-isolate for 14 days once arriving into the state.
Can I take a train within the city or to regional New South Wales?
City rail services: The government is asking travellers not to use public transport trains during peak hours and to travel between 10am and 2pm to more easily allow for physical distancing.
There will be green "Sit here" and "Stand here" stickers on trains to identify where to sit so passengers are safely spread out within carriages.
Regional services: Trains will not be running into Queensland until the borders are opened up again, and services will terminate at Tweed Heads. Food services on board trains will still be operating, but with some changes. Water fountains will not be available and only pre-packaged food items will be available for purchase.
Ready to explore New South Wales? See our latest deals
Common questions about travelling in New South Wales during COVID-19
How far can I travel from my home?
There's no limit on how far you can travel from your home within in New South Wales.
Are there any regional travel restrictions in New South Wales?
No. You can travel anywhere in New South Wales or into the ACT.
Can I travel to New South Wales if I live in another state?
Yes. New South Wales is open to travellers from outside of the state (with the exception of Victoria from 11:59pm on 7 July), but if you do come, you may need to quarantine when you go back to your home state. It's best to check with your state government's regulations before booking.
Do I need to limit the number of people I travel with?
If you're all staying in the same accommodation, including campsites, you'll need to travel in groups of 10 people or less. If you normally live in a household with more than 10 people, then you can travel with your household group. However, if restaurants or attractions are restricted to groups of 10 or less, you may need to split up.
Do I need to pre-book to visit dining venues and attractions?
While not mandatory everywhere, it's recommended. Some attractions, like the Art Gallery of New South Wales, is requiring visitors to pre-book (free) tickets with an entry time to limit the number of people in the gallery at any given time.
If you're hoping to dine at a popular restaurant, it's a good idea to make a reservation to avoid being turned away at the door due to limited capacities.
Will I need to self-isolate or go into quarantine when I get back from my trip?
If you live in New South Wales and you've travelled to another destination within New South Wales, the ACT or the Northern Territory , Queensland [fin_hide from="10-07-2020" from 10 July and Tasmania , you won't have to quarantine upon arrival back home.
As of 11:59pm on 7 July it's also restricted to travel to Victoria.
If you're travelling form overseas, you still need to follow the NSW government's quarantine rules.
Related Posts