A new engine for Mass Effect Andromeda "was a radical move" says BioWare

The developer of Mass Effect Andromeda reveals the challenges it faced in moving the Mass Effect series to a new game engine.
Mass Effect Andromeda was one of the most anticipated games of 2017, but early review scores have not been kind. One of the more prevalent criticisms has been a lack of consistency in the visuals and animations across the title. This was an issue we flagged in our first hands-on with the game, and also one we raised with the game's producer, Fabrice Condominas, during an interview a few weeks ahead of launch (alongside his comments regarding one night stands in the game).
Video supplied by Grizwords
Mass Effect Andromeda presents more than just a new narrative start for the series, but also a new technical start. The well-worn Unreal Engine 3 that powered the first trilogy has been ditched in favour of the EA-owned Frostbite 3. As Condominas explains, this shift effectively required the team to start again on its assets, not to mention other time-intensive components like the AI. It should come as no surprise them that the game isn't the generation leap ahead of Mass Effect 3 many gamers anticipated. Here is what he had to say:
When the decision was made to move to a new setting and story within the Mass Effect universe for Andromeda, was there any friction on that within the team?
Well fundamentally we are storytellers, so it was never really a question we asked ourselves. In the sense of the trilogy, we always knew it was a trilogy – so we knew it was going to end. It doesn't mean it was easy, but the idea was also to, over the course of the trilogy, not just tell a story, but build a universe. And we wanted to build a universe that was deep, rich and complex, because we wanted to tell more stories. Internally, it was never implied that would involve the trilogy's characters.
The problem is, of course, that the players get attached to those characters. But after our discussions, we all decided it was important for us as well [as the series] to get away from the trilogy and to have a fresh start. To leave those characters alone. They had a good ride and were strong characters, but we can build just as strong characters in another world.
Part of that decision was moving to a new game engine – from Unreal Engine to Frostbite. Why make that move and how has it impacted what you have been able to do with Mass Effect Andromeda?
So obviously that was a radical move, as you have to redo all your art, redo all your artificial intelligence; you have to redo everything. But we had to move to a new engine to reach the level of quality we had in mind. The Frostbite engine was perfect for us because it's shared across EA, so you benefit from what the other teams are doing. We also benefited from one of the most powerful engines in the market in terms of visual quality. So the engine made sense. The timing also made sense as we were making a fresh start [with the series], so that was perfect.
Obviously, it's a big investment as there was a lot of things to redo. Dragon Age Inquisition was the first RPG to use Frostbite, so BioWare had already put a lot of RPG mechanics into it, but it still wasn't that strong for a science-fiction game. For example, the lighting is extremely powerful in the Frostbite engine, but when we asked those guys how we could place in two suns, they had never imagined that someday, someone would want to do that. So it was challenging, but visually I think it was the right move.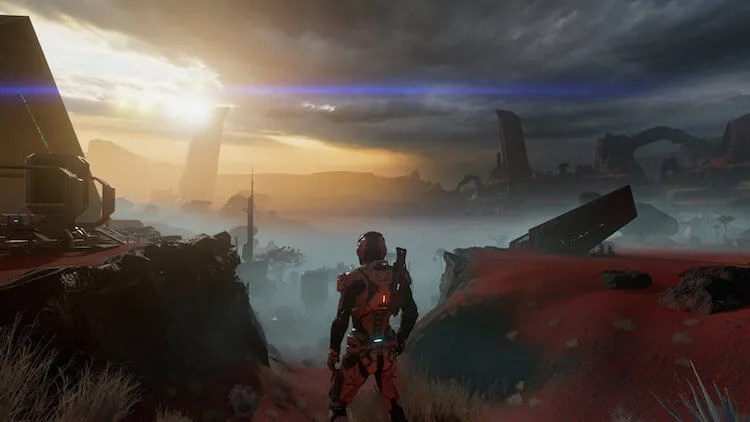 You mentioned that over 5000 bugs had been fixed in just the week between when the game was exported mid-February and the build I played - I noticed that some of the character models and animations were further along than others. Do you feel that is a fair comment?
I don't know specifically what order we are working on the characters. But if you are referring to the facial expressions and all that, then for sure that stuff comes at the very end. Because all the dialogue needs to be in, so that is one of the aspects the team is doing fast right now with something we call Face FX.
It still feels like a Mass Effect game; like the sense of being in the same universe is seamless.
Yes, that was definitely one of the challenges. Not just with changing engines, but adding in new alien races, for example, and their architecture and everything that comes with it. We wanted anybody to be able to take a screenshot and for those who saw it to say, "oh, that's Mass Effect." Our art director, Joe MacMillan, did a great job because it feels like a breath of fresh air, but at the same time, you get the traits of a Mass Effect game.