Nest Cam IQ Review: A smarter security camera with a data downside
The Nest Cam IQ has a host of smart features, but you'll need a hefty broadband data pipe to make the most of them.
Quick Verdict
The Nest Cam IQ is a smarter home security camera thanks to its facial recognition features, although you'll need both fast broadband and a hefty download allowance to make the most of it.
The good
Good video quality
Facial recognition
Doubles as a Google Home speaker
Geofencing works well
Warns when offline
The bad
Huge data requirements
Privacy concerns
Limited Google Home features
Pricey for a single camera
---
Nest started life as a smart thermostat company in the US before branching out into smart home cameras and being acquired wholesale by Google. We don't get the thermostats here in Australia, apparently due to the difference in the way we heat and cool our homes, but Nest's home cameras have been available here for some time. The Nest Cam IQ looks much like any other smart home security camera from the outside, but it hides some notably smart tricks beneath the surface.
Nest Cam IQ: Design
There's a word to describe the Nest Cam IQ's design, and that's the word basic. However, that's not a bad thing. You definitely want an internal camera to look like a camera so that folks (good or bad) know that they're being filmed, and the Nest Cam IQ, wrapped in a white finish certainly stands out for its very simple elegance.
It sits on a solid white base that gives it 180 degrees of swivel and up to 160 degrees of solidly held tilt. Within those parameters for keeping an indoor area under surveillance, you should absolutely be able to find an angle that suits. The stand itself also features an ordinary tripod-style screw, so if you wanted to wall mount the Nest Cam IQ, that shouldn't be too much trouble.
The Nest Cam IQ is strictly AC-powered, unlike many of the rechargeable battery powered smart cameras we've tested recently. That does somewhat limit its placement scope relative to those devices, but this is intended for indoor use, so Nest is clearly assuming that you'll have a power point or extension cable handy.
The model as tested here is the Nest Cam IQ, an indoors-only model, although Nest does provide an outdoors-suitable model that skips out on the Google Home features.
Back to top
Nest Cam IQ: Installation
The Nest Cam IQ runs off its own app, not surprisingly the Nest App, which makes for a simple enough installation. Like many of its rivals, it's a matter of scanning the QR code on the Nest Cam itself and letting the Wi-Fi details trickle over to it, which only takes a couple of minutes.
The Nest Cam IQ can also double as a Google Home type device via its embedded speaker, but you'll have to enable its Google Assistant features via the Google Home app. This was the only area where I hit a notable issue because Home initially had trouble locating the Nest Cam IQ, even though it was otherwise functional. That good old standby of restarting the Nest Cam IQ by yanking out the power solved that, and it was good to go.
Back to top
Nest Cam IQ: Performance
The Nest Cam IQ has a 4K video sensor, although it only actually records at 1080p quality. That sounds all kinds of confusing, but the reason for those extra pixels is to enable a facial tracking facility called Supersight that crops that 4K image down in order to follow the faces of those moving in front of the camera.
The idea is that it should make the faces of those captured even more clear for later identification. It works quite well, but then the Nest Cam IQ's general video quality is also very good, so you can always disable it if you don't like it or find its zooming distracting.
Good video quality is one definite plus, but it's hardly unique. Where the Nest Cam IQ gains its IQ from is through the inbuilt, Google-based facial recognition feature that can identify subjects in front of it as long as it's enabled. Without a Nest Aware subscription, the Nest Cam IQ is aware of movement, but it doesn't actively pick faces. With it enabled, the Nest Cam IQ can identify you or your family quickly and cancel alerts, or tell you when an "unknown" face has wandered into view.
Your reaction to this, and the reaction of just about everyone I've discussed it with, will probably fall into one of two camps. As a direct identification methodology, it's very cool technology indeed, and a sign of how far advanced Google's AI routines already are.
At the same time, it works by capturing the facial features of those in your home and sending them to the cloud for Google's analysis, and for some that'll feel like a very creepy feature. For what it's worth, you can opt for the regular Nest Cam if you don't like the person alerts feature, although why you'd buy the more expensive Nest Cam IQ unless you did eludes me.
You can also stop the Nest Cam IQ from spotting you by enabling its geofencing capability, which Nest calls "Home/Away Assist". This uses a single smartphone to identify "you" and its location status to set an area within which the Nest Cam IQ will switch off its recording capability. So when you're home, it'll switch itself off, and when you head out, it'll arm itself and start recording and monitoring nearby.
There are a few quirks to its geofencing capability. More than once I've noticed it failing to switch off until I've been home for a few minutes, and likewise it can sometimes be a little sluggish to switch on until you're a decent distance from your camera's location. If you live and work in very close proximity, you could find it switching on and off a lot more than you might like.
One very nice feature of the Nest Cam IQ's set-up is that it's actually aware of whether it's getting power and talking to the cloud or not. During my test phase, I had to have a momentary power cut for some home electrical work, and the Nest service very quickly told me my camera was offline right after the power went down. If you're concerned about burglars cutting the power to skip past cameras, this could be hugely reassuring.
All of the Nest Cam IQ's features do come with a price that goes beyond its retail cost or even subscription pricing. Like many of its rivals, the Nest Cam IQ has a minimum upload speed of 2Mbps for proper functionality, which means if you're sitting on an entry-level NBN plan, or even a saturated one, you might find it less than optimal. It's also designed to run 24/7, which is undoubtedly why it's mains powered rather than battery powered. While other cameras jump into action when motion is detected, the Nest Cam IQ is always running, and that means data usage.
Quite a lot of data usage, as it happens. If you've got the Nest Cam IQ running at top quality, Nest advised that it can use up to 400GB of data per month of operation.
As such, it would be madness to run it on most current mobile broadband plans, or for that matter any fixed-line broadband plan that doesn't included unlimited data because the costs of that kind of usage could be seriously prohibitive in a very short span of time. You should also consider your other usage because while the Nest Cam IQ is only likely to be trickle feeding data up to the cloud, it's going to be a constant flow.
The Nest Cam IQ also sells itself as Google Assistant capable, making it into almost a Google Home Mini type device. I've got to qualify that because while you can enable Google Assistant and talk to it in much the same way as you would a Google Home device, there's a range of functionality, including calls and music playback, that the Nest Cam IQ won't manage at all.
The included speaker wouldn't be all that kind to music in any real way, but its Home integration does mean that you can use it to help control other devices, or send its video output to a TV screen via a Google Chromecast. There's only a handful of competing smart camera devices that work with smart assistants, and while it's not quite the full motza, the Nest Cam IQ is more impressive than most.
Where that gets notably impressive is that the Nest Cam IQ is also Amazon Alexa capable if you've got an existing Echo device or Amazon Fire TV, so you can share the video feed up to your TV or Echo Spot device. You've got to install the Nest Camera skill, and it doesn't turn the Nest Cam IQ into an Echo speaker as well, but it's a nice added layer of flexibility if you're already Alexa-equipped.
Back to top
Nest Cam IQ: Subscription costs
To make the most out of the Nest Cam IQ's smart features, you're going to need to pay for a Nest Aware subscription, which will cost you from $7 to $30 per month. All subscription tiers offer 24/7 recording, intelligent alerts, clips and time lapses of action as well as the ability to set Activity Zones if you only want to monitor a specific area.
Here's what you get at each subscription tier:
| Nest Aware | Playback storage | Cost |
| --- | --- | --- |
| 5-day monthly | 5 days | $7 |
| 5-day annual | 5 days | $70 |
| 10-day monthly | 10 days | $14 |
| 10-day annual | 10 days | $140 |
| 30-day monthly | 30 days | $30 |
| 30-day annual | 30 days | $300 |
Back to top
Nest Cam IQ: Should you buy it?
If you're looking at setting up a smart home camera system, the Nest Cam IQ has a lot of positive features. Image quality is excellent, and the facial identification features help it stand out from the crowd. It's smart enough to let you know when it's offline, and the addition of light Google Assistant/Home capabilities also makes it stand out.
That makes the Nest Cam IQ one of the best in its class, and an easy recommendation as long as you're using a fixed-line broadband service with enough speed and an unlimited data feature. If your broadband is slower, and especially if you've got some kind of data cap, its always-recording nature will quickly consume all your precious broadband, and on mobile data, could also send you broke.
Back to top
Nest Cam IQ: Pricing and availability
The Nest Cam IQ retails in Australia for $479 outright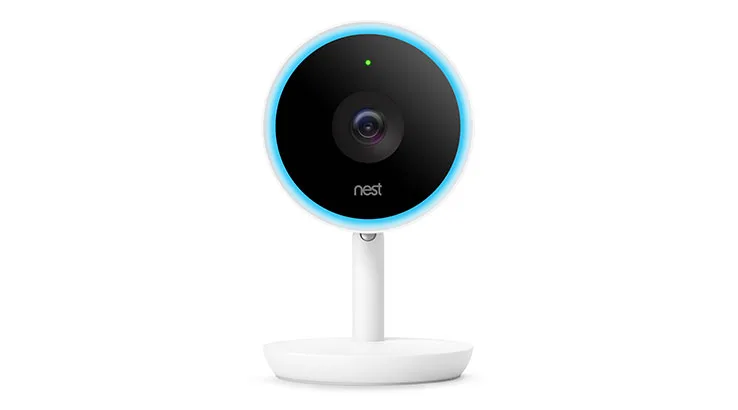 Buy Nest Cam IQ
from The Good Guys
Monitor your home with smart features including facial recognition and Google Assistant compatibility with the very smart Nest Cam IQ.
View details
Nest Cam IQ: Alternatives
If you wanted to save a few bucks and didn't need the Nest Cam IQ's facial recognition features, you could opt for the basic Nest Cam, which will run you $319.95 outright.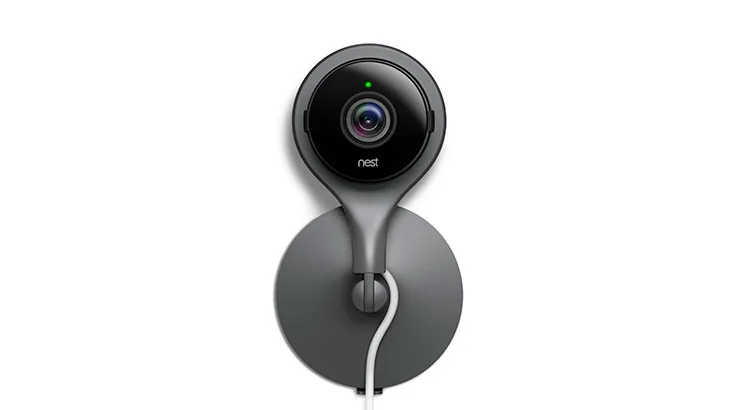 Buy Nest Cam
from The Good Guys
Keep your home secure with simple and smart 1080p recording sent straight to the cloud with the Nest Cam Indoor Security Camera
View details
If you need outdoor coverage, you'll also pay a suggested $319.95 for the Nest Cam Outdoor. Nest does produce an "IQ" version of the Nest Cam Outdoor, but it has yet to reach Australian shores: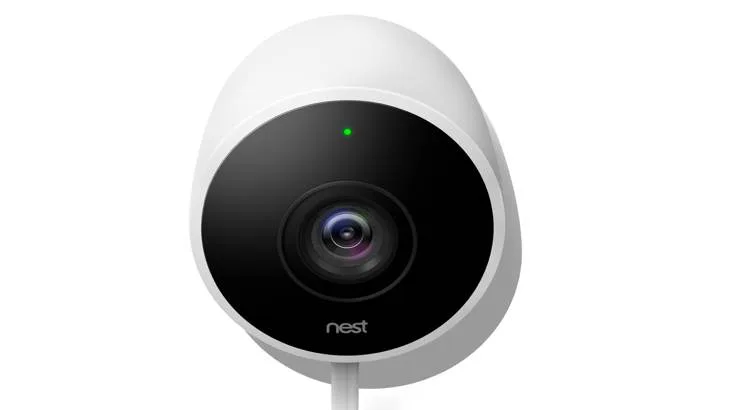 Buy Nest Cam Outdoor
from The Good Guys
Take home security outdoors with Nest's easy to use high quality smart outdoor camera.
View details
Outside the Nest ecosystem, the most obvious "smart" alternative to the Nest Cam IQ would be the extensive range of Netgear Arlo cameras. While they're not "smart" in the same embedded way that the Nest Cam IQ is, they are capable across Google Assistant and Amazon Alexa platforms, and Netgear appears to be readying HomeKit integration as well for users of Apple's smart home platform.
Nest Cam IQ: What the other reviewers say
| Site | Comment | Score |
| --- | --- | --- |
| Trusted Reviews | "A very slick camera, with exceptional image quality and some smart features." | 4.5/5 |
| TechRadar | "Great design, but not cheap if you want full functionality" | 4.5/5 |
| AFR | "The needy security camera may eat you out of house and home" | N/A |
Back to top
Specifications
Product Name

Nest Cam IQ
Resolution

8MP 4K
Storage

Cloud
Connectivity

Wi-Fi 802.11a/b/g/n/ac, 2.4GHz or 5GHz
Battery

Mains power only
Size

74mm x 124mm x 74mm
Weight

357g
RRP

$479 plus subscription costs
Back to top
---
Latest technology headlines
Follow us for all the latest technology news and deals
---