Baby nappy Finder: Compare disposable and cloth nappies
How to choose the right type of nappy to keep your baby comfortable.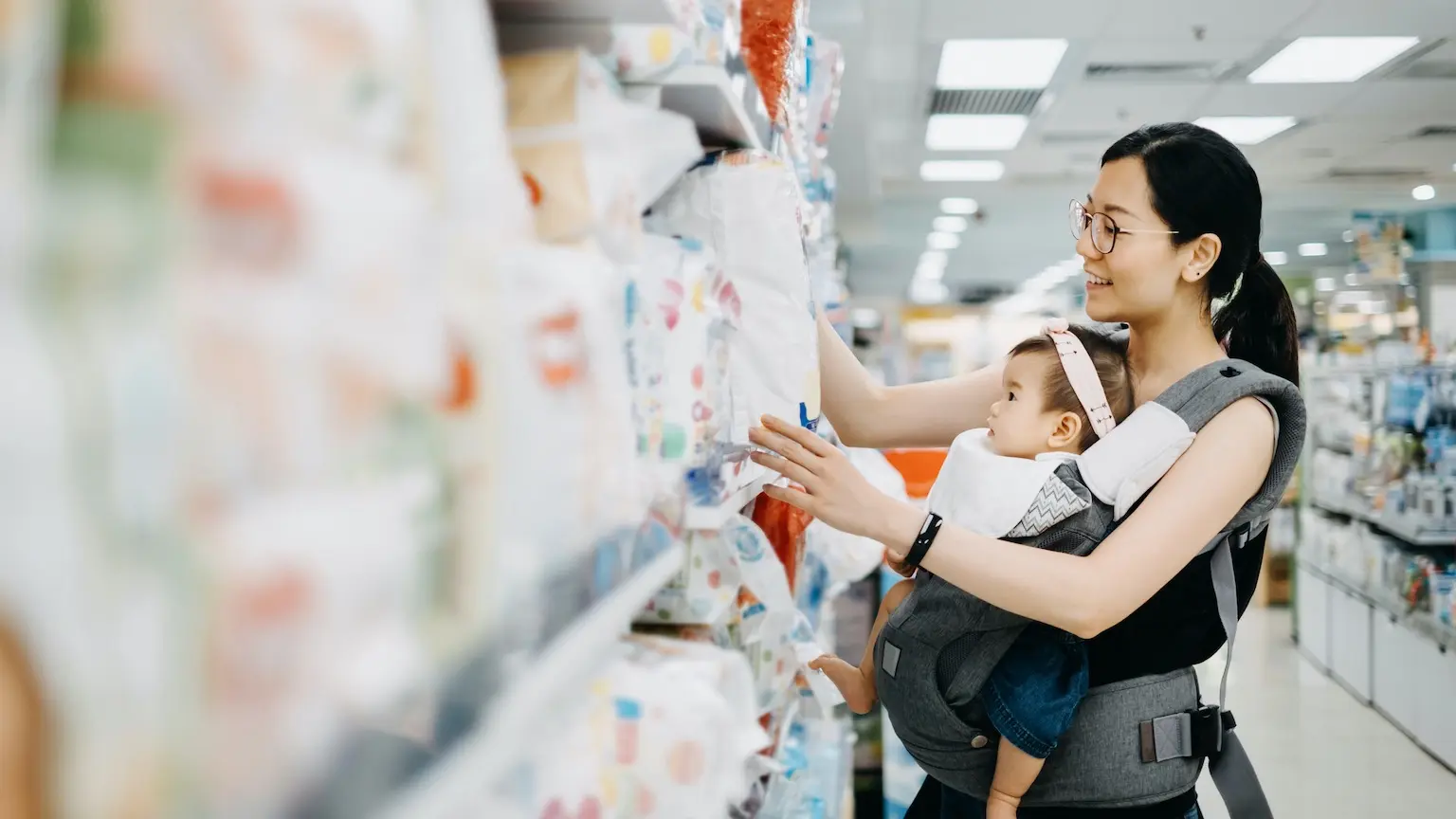 We're reader-supported and may be paid when you visit links to partner sites. We don't compare all products in the market, but we're working on it!
Best Rated Baby Nappies Brand: Mamia
An ALDI brand, it's no wonder Mamia ranked best for value for money. It also received the best nappy score for anti-leak protection and got good scores for comfort and absorbency too.
Quick facts about baby nappies
Newborns typically go through around 10 nappies a day while older babies and toddlers go through 6 or more.
They can cost as little as 15c for disposable nappies or as much as $35 for reusable nappies.
Paper liners can help with disposing of solids from reusable nappies.
Disposable vs cloth nappies
Nappies are one item that you need to purchase before your baby is born and you'll use them for at least a couple of years until your little one is toilet trained. There are two main types to choose from, each with their pros and cons, so it's up to personal preference which is the right option for you and your baby.
Disposable
Disposable nappies are the most commonly used and the most convenient type of nappy. They come in a range of sizes from newborn through to toddler, and are easy to use and dispose of. Most disposable nappies have elastic leg holes and waistbands so that they fit snugly on your baby, and a moisture-absorbing pad soaks up liquid. This helps to keep your baby dry and reduce the risk of nappy rash. While disposable nappies were seen as a lifesaver for mums around the world after their invention, they do create a lot of waste with millions of nappies going into landfills each day.
Pros
Convenient and easy to use when in a hurry or away from home
Can throw in the bin after use
Come in different sizes and shapes to suit all babies
Absorb moisture quickly
Lock in moisture so your baby stays reasonably dry between changes
Cons
More expensive
Not reusable
Bad for the environment
Cloth (reusable)
Cloth nappies are usually made from natural materials like bamboo, hemp or cotton, so they are breathable and kinder on your baby's skin. As they are made from cloth, they can be washed and reused for a long period of time.
While they were once just a square or rectangle piece of material that you had to fold up and safety pin together, there are now different styles to choose from that include moisture-resistant and absorbent layers, pockets to add absorbent inserts or press studs that combine waterproof and absorbent layers that can be taken apart for washing. You can still buy the original flat cloth nappies if you are on a tight budget, and these often come with a fastener so you won't need to use pins.
Pros
Lighter environmental footprint
Cheaper than disposable nappies over time
Usually made from natural materials
Cons
More effort required when putting on baby if using flat nappies
Can take some time to work out how to put them on correctly
More washing to do
How to compare baby nappies
If you are preparing for a new baby and trying to decide on the right nappies to meet your baby's needs and your lifestyle, consider the following points before purchasing.
Convenience
It's true that disposable nappies are much more convenient than reusable nappies thanks to how easy they are to put on whether at home or out and about, and the fact that you can throw them straight in the bin after changes. However, even though a little more time consuming, modern cloth nappies can also be easy to use once you get the hang of them, and if you do find that they take a bit longer you can distract your baby with some toys. The main inconvenience of cloth nappies is the washing process.
Size
All nappy brands have a size guide that indicates which is the right size based on your baby's age and development stage. You can choose from newborn, crawler and toddler sizes, and then opt for pull-up nappies when your child is toilet training. It's important not to buy nappies that are too big or too small, so that your baby stays comfortable and you can avoid messy spills.
Price
Budgeting for a baby can be difficult with so many things to buy upfront and then ongoing costs. Nappies are one thing that you'll need a lot of, and the cost depends on whether they are disposable or reusable, the brand and what materials they are made from. For reusable nappies, you can expect to pay around $2-$5 for plain flat cloths and as much as $25-$35 for some of the styles that have pockets or layers. Disposable nappies are much cheaper individually, with prices ranging from 15c through to over $1.50.
The cost of nappies certainly adds up over time, as you may use 8 or more a day for newborns and at least 6 a day for crawlers and toddlers. If you prefer to use disposable nappies over cloth nappies, consider buying in bulk and take advantage of discounted packs when you see them.
With cloth nappies you'll need to have around 20-30 to cover the number of changes for newborns and time for washing and drying. As your baby gets older and has fewer changes then you won't need as many.
Impact on the environment
Disposable nappies can take a very long time to break down and can not be recycled. There are eco-disposable or biodegradable nappies that break down more quickly due to their lack of chemical products, but these are generally more expensive.
Cloth nappies are kinder on the environment but they still need to be washed and dried, and if you don't have many nappies you will need to do this as frequently as every day or every other day. You can opt for certified organic cloth nappies so you know they are 100% natural and have a more simple manufacturing process.
You can also use a combination of cloth and disposable nappies, or switch to cloth as your baby grows and doesn't use as many nappies each day.
Skin sensitivity
If your baby has sensitive skin, some disposable nappies may irritate them and cause rashes. Some brands carry nappies that are designed for sensitive skin that are unscented and have fewer chemicals.
Washing and drying
If you opt for reusable cloth nappies, the type of material that you choose will impact the washing and drying time. While cotton, hemp and bamboo are great for sensitive skin either as the core material for the nappy or liner, they do take longer to dry, so make sure that you are able to wash and dry these efficiently before you run out.
To keep your cloth nappies a little less dirty, you can use paper liners that can be thrown straight into the bin with any solids.
Fit
You'll know you've chosen the right nappy when you notice the following things:
Your baby is able to move around freely. While this will not be as noticeable for newborns, it will be easy to tell if your child is crawling or walking.
There's no leaking around your baby's legs and you can't see any liquid coming through any part of the nappy.
You don't have to change the nappy too often, which means that it holds a good amount of liquid.
Your baby doesn't react to the material.
How to wash cloth nappies
Washing cloth nappies is a relatively simple process, but it can be overwhelming thinking of all that extra washing to do as well as the risk of smell getting around the house in between washes.
So you can get rid of solids straight after changing, use paper liners that can be put straight into the bin. Then you can rinse the cloth in cold water and throw them into a bucket filled with water that has a lid. You can keep adding dirty nappies into this bucket until you are ready to do a load, then simply pour out as much water as you can into the laundry sink, tip the nappies into the washing machine, add detergent or washing powder and then start the cycle.
3 things to consider
Be prepared to try a few different options. The first pack of nappies you buy might not be quite right for your baby so try a few different brands until you find something you are happy with.
Don't immediately discard the idea of cloth nappies. Even though they take more work, you may find that the modern versions are easier than you think.
Leaving your baby in a dirty nappy for too long can lead to rashes and irritations, no matter what type of nappy you have used. Make sure to change regularly and always have nappy rash cream on hand just in case.
Best rated baby nappy brand award breakdown
| | Total Score | Overall rating | Value for Money | Absorbency | Anti leak protection | Comfort |
| --- | --- | --- | --- | --- | --- | --- |
| Mamia (Aldi) | 7.86 | 4.32 | 4.6 | 4.28 | 4.19 | 4 |
| Huggies | 7.83 | 4.35 | 3.73 | 4.4 | 4.19 | 4.26 |
| Other | 7.77 | 4.38 | 4.13 | 4.25 | 4 | 4.25 |
| Babylove | 7.68 | 4.24 | 4.06 | 4.16 | 4.1 | 4.24 |
| Pampers | 7.4 | 4.16 | 3.81 | 4.06 | 4 | 4 |
| Coles | 7.34 | 3.98 | 4.22 | 3.98 | 4.08 | 4.06 |
| Tooshies by TOM | 7.27 | 4.1 | 3.6 | 3.9 | 3.7 | 3.8 |
| Thankyou | 7.2 | 3.96 | 4 | 3.81 | 3.96 | 4.04 |
| Bambo Nature | 7.11 | 3.75 | 4 | 3.5 | 4.08 | 4.42 |
| Rascal + Friends | 7.05 | 3.88 | 3.88 | 3.84 | 3.86 | 3.84 |
| Ecoriginals | 7 | 3.9 | 3.6 | 4 | 3.4 | 4.1 |
| Little One's | 6.93 | 3.79 | 4.17 | 3.69 | 3.67 | 3.73 |
| CUB | 6.77 | 3.66 | 3.98 | 3.5 | 3.68 | 3.88 |
| Naty | 6.61 | 3.67 | 3 | 4.33 | 3.67 | 3.33 |
Data: Finder Retail Brand Survey, 2020, Kantar. Metric out of 5 stars unless indicated. Methodology and more info.
More guides on Finder