Nacon Compact Wired for PlayStation 4 review: Gun for wire
PlayStation 4's latest licensed DualShock 4 alternative is a budget replacement with a solid build.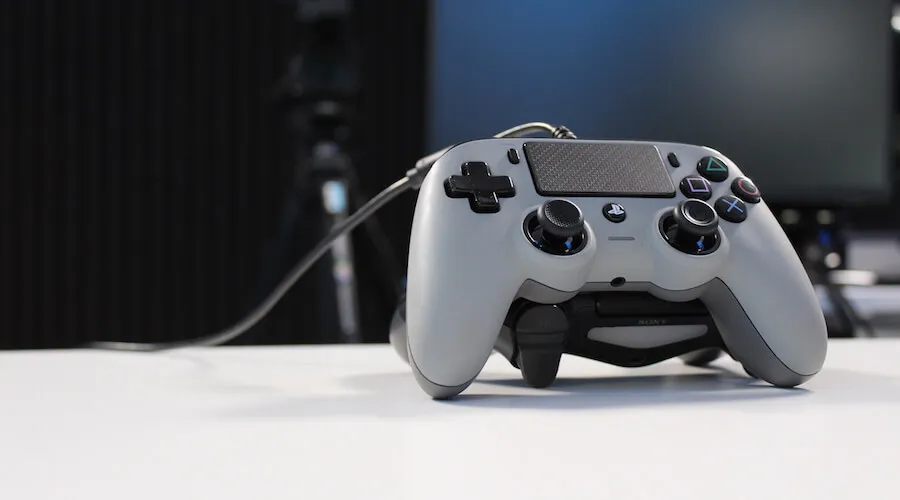 We're reader-supported and may be paid when you visit links to partner sites. We don't compare all products in the market, but we're working on it!
Quick Facts
2x Vibration motors
LED player status indicator
Textured touchpad
3.5mm stereo headset jack
"Soft touch" matte surface
PC compatible (XInput)
Cable length: ~3m
Dimensions: W: 153 x L: 50 x H: 96mm
---
In the early days of the Xbox One vs PlayStation 4 debate, the biggest argument for the Microsoft army was the superior Xbox One Wireless Controller. These days, PlayStation's significant lead in exclusive titles reduces the importance of Xbox One's quality hardware, and the Xbox One Elite controller, while an engineering marvel, gets little use when you've got nothing else to use it for.
While Sony hasn't come out with a competitor to the Xbox One Elite's gamepad, there have been some officially licensed third-party controllers from the likes of Hori, Nacon and @PLAY that have tinkered with the feel and size of the DualShock 4 without changing the layout and look dramatically. The latest of these is the Nacon Compact Wired, a wired solution with minimal changes to the original DualShock 4 design (as opposed the Nacon Revolution Pro which was fatter with added macros) and the controller we got to wrap our digits around for this review.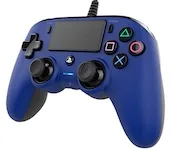 Buy Nacon Compact Wired Controller
from ozgameshop.com
NACON's Wired Compact Controller packs in an impressive range of features, including a touchpad, stereo headset jack, and vibration motors.
View details
Design: How does it look and feel in the hand?
The Nacon Compact Wired comes in a huge variety of colours and styles. The matte selection comes in black, grey, blue, red and orange.
However, there's also a translucent range that comes in clear casing with red, blue and green with extra LEDs. They've got a bit of a retro feel that brings back fond memories of my translucent purple Game Boy Color.
For the sake of this review, I went with the matte grey controller. I couldn't resist that classic PlayStation look.
From a distance, the matte Compact Wired doesn't look overly impressive but up close the smooth matte finish, patterned touchpad and glossy triggers look different enough from the DualShock 4 to stand out. You'll obviously make more of a statement with the flashy translucent controllers but if you're like me, you'll want to opt for the more subtle matte finish.
The Compact Wired has a textured touchpad that isn't as large as the standard touchpad and it doesn't wrap around the top of the controller. Not much of a change there but the Compact's chunkier build makes it a little awkward to use the touchpad. Not that you use it for much more than opening a map these days anyway.
Speaking of underused features, the Compact Wired does away with the DualShock 4's tiny tinny speaker and luminescent light bar. Whether it's the little vwoop noise when you boot up Aloy's Focus in HZD or taking a call from your lousy mates in GTAV, it's always a pleasant surprise when developers decide to take advantage of the little speaker and light bar. More importantly, some PSVR games use the light bar to track the player.
The last gimmick to get the axe here is the SIXAXIS motion controls. And while I can't for the life of me remember the last time I used SIXAXIS controls, if my memory serves me correct, there are certain games like Heavy Rain that use it quite frequently (if not, require you to use it).
So for the saving of $25 to $30 you're forfeiting those standard features. If you're not big into VR, motion controls or light and sound effects you're halfway to throwing down the money for a Nacon Compact Wired. The last hurdle is wired controls.
First, let me say I personally have no qualms with the Compact Wired's USB shackles. The cable is roughly 3 metres, which is more than enough for my cosy loungeroom and it's always a relief to know the controller is ready to go at any time (the Micro USB gnomes frequent my apartment regularly).
Thankfully, the Compact Wired's "soft touch" finish is a pleasure to hold in your hands. The DualShock 4's longer arms mean I'm constantly reaching for the L and R shoulder buttons, whereas the Compact Wired's shorter, stockier design encourages a claw-like grip where your index and middle fingers are constantly at the ready.
Performance: How does it play?
Before this, I've only gone naked and wireless but playing with the Nacon Compact Wired has made me see the light. Reaction times in twitch-based games like Furi feels a lot faster and I can no longer use my input lag excuse during a tense round of Overwatch.
The Compact Wired's incredibly tactile buttons also help here. I've always found the DualShock 4's buttons (particularly L2/R2) a little spongy which can get a little annoying in the heat of battle (when you swear you activated your ult at the last second). When you press in the shoulder buttons on the Compact Wired, there's a solid "click", so you know for sure you pressed that button.
The thumbsticks sit a little higher than the sticks on DualShock 4. This offers more precision in first-person shooter games for the simple fact that it offers a wider radius and more space to move. The sticks are also 100% plastic, which is a godsend. At the time of writing, I've replaced three DualShock 4 controllers thanks to a worn out silicon thumbstick (and one a busted L2 trigger) so knowing I'll never have to worry about that is a relief. The sticks are also nicely textured and concave so you really don't miss the silicone.
However, for purely aesthetic reasons, the wired setup is a bit of a mess. I like to keep a tidy entertainment unit with no wires hanging out the front and the Compact's cord has become my worst enemy. I've almost stopped using my DualShock 4 entirely (almost, more on that in a second) so every morning I wake up to a nasty rubber serpent slithering from my console, all the way to my lounge. Look, wrapping it up and packing it away is not a difficult task, I know. But I've been mollycoddled by the joys of wireless and now anything else is just an inconvenience.
The Revolution Pro Controller 2 comes with a detachable USB-C which is probably more likely to get swiped from my lounge room to charge someone's smartphone, but admittedly a much smarter choice in almost every way.
This leads me to my last gripe. The power/home functionality. The comfort of wired is always having a controller ready when you respond to the call of duty. However, that comfort is reduced when you realise the PlayStation home button on the Nacon Compact Wired does not power the PlayStation 4 on.
This isn't just my last gripe, it's my biggest. It means I a) have to manually power the PlayStation 4 on or b) have a traditional DualShock 4 handy. Nacon has some pretty swell support on its website and offers regular updates for its products, so I'm hoping this is something that can be fixed in a future patch.
How much is the Nacon Compact Wired?
The Nacon Compact Wired controller will set you back $59.99 through ozgameshop and $49 through JB Hi-Fi. For comparison, a standard DualShock 4 will cost you $75 to $80 through ozgameshop and $75 to $89 through JB Hi-Fi.
Verdict
While it took me a while to get used to the Nacon Compact Wired's fatter design and larger buttons, it has quickly become my go-to controller option. If not for its smooth matte grip and weightier design, then definitely for the sheer convenience a hardwired controller option offers.
While nobody needs an extra three-metre cable in their life and the power/home issue button means I always need an official DualShock 4 on hand, these are small shortcomings for an otherwise stellar alternative. An alternative that comes in at up to $40 cheaper than the standard DualShock 4, too.
More guides on Finder