Mutant Football League Review: Bringing the biff back
Mutant Football League is a glorious return to arcade football with just a few rough edges.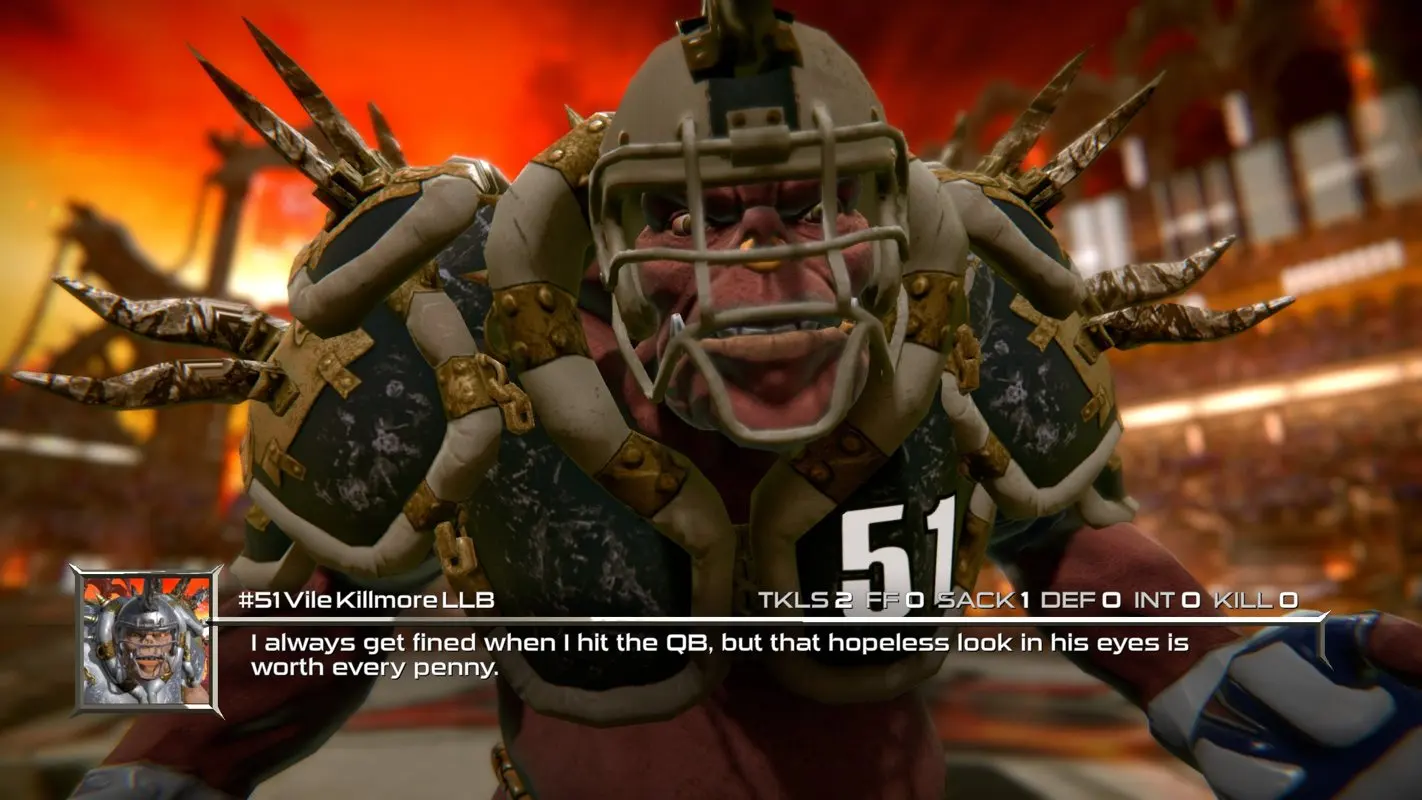 Years before they locked up the NFL license, EA wasn't afraid to play around with its Madden football engine, creating the offshoot Mutant League Football all the way back in 1993. If you remember it fondly, then congratulations. You're just as old as I am.
Mutant League Football was notable in that it took the Madden engine (or John Madden Football as it was in those days) and applied it to a fantasy/sci-fi setting with violence set to maximum and most of the extraneous rules around football thrown to the ground and stomped on with a big spiky boot. A spinoff Ice Hockey title and truly odd cartoon pilot were produced, and then EA went very quiet indeed on the Mutant League front, aside from a direct release of the first game on, of all things, the PSP as part of a retro compilation.
Mutant Football League is Mutant League Football's spiritual successor, headed up by the designer of the original game, although with none of EA's trademarked character names or insignias. It was a successful kickstarter earlier in the year and is now available on early access via Steam, with console versions planned for 2018.
Like it successor, Mutant Football League is a mostly-arcade style take on American football with a slant towards very over-the-top violence, whether it's players taking to the field with chainsaws, entire teams being drugged into LSD-style trips or fields littered with landmines, fire pits and player eating space worms.
Naturally, this takes the somewhat staid world of the NFL and tips it upside down for parodic effect, but that's a tactic that's only going to go so far if the gameplay can't actually back it up.
Based on playing through the Kickstarter Betas and the Steam Early Access code, it's a trick it mostly pulls off, once you've got over the temptation to turn every violence slider to maximum. Sure, it's fun to hit opposing players so hard they collapse into a pile of intestines and fractured bones every time, but this quickly reduces Mutant Football League into a war of attrition rather than a fully playable sports title.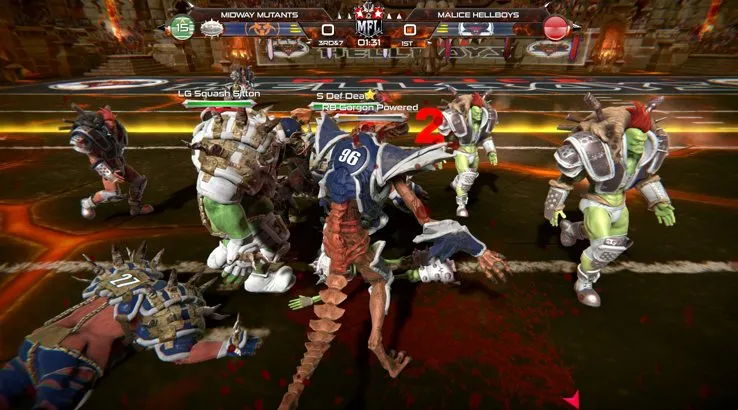 This is an issue the original game had as well, where the best overall tactic if you had the violence selector set at high was often to punt on first down. That way, you had more opportunities to deplete the opposition's quarterback corps to the point where they had to forfeit. Mutant Football League is a little more balanced here, because you can forfeit due to lack of defensive players, and they do die at a pleasingly frequent rate. Still, outside one-off games with your friends, you're actually better off sliding down the violence just a tad.
That's where the game's signature Dirty Tricks come into their own. Refreshing each half, each team has its own array of unique and fantastically violent cheating methods, from roid-crazed running backs to quarterbacks toting pistols to sudden defender gigantism. Most of them are good for at least 10 yards or a turnover, and often a touchdown if you're clever with your play calling and movement.
Because the opposing team can also call its own dirty plays, you've got to measure out their usage and utility, because it's undeniably fun to illegally rush and kill the opposing quarterback, doing so will incur a yardage penalty that could put the opposing team within field goal distance at a critical juncture, for example.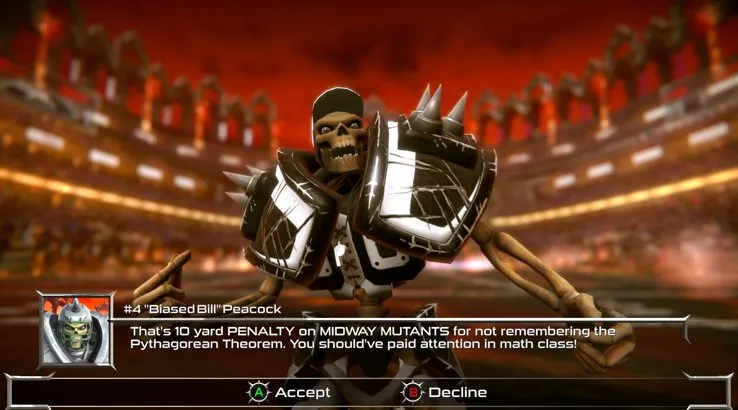 Mutant Football League also features corrupt referees, because of course it does, although the way ref bribes work is subtly different to the original game. In its Megadrive format, ref bribes took effect immediately, giving you yardage whenever you failed a play. That meant their effect was mostly immediate and ref lifespans critically short as the opposing team tore them to pieces immediately afterwards.
In Mutant Football League, refs will often take a bribe and then sit quietly until a critical play, often a opposing team touchdown happens. It's very satisfying when a ref bribe works, and equally satisfying killing them off if they've taken an envelope full of cash from the opposing team, although it can sometimes leave you in the dark as to whether your own bribe is still current.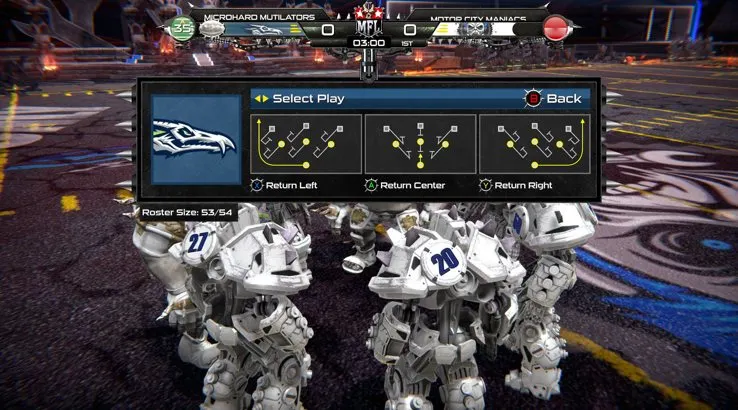 The original game's halftime show allowed you to lob dynamite at cheer squads, but in its modern reimagining you're instead cast as a shotgun wielding player escaping a horde of zombie referees. It's a light distraction that could perhaps use some honing, although you can always feed the player quickly to the refs if it's not to your taste.
Mutant League Football always had a dark sense of humour, relayed through text captions of players, refs and coaches, but for its reimagining it also has nearly full commentary, provided by Tim Kitzrow, the voice of NBA Jam, NFL Blitz and numerous pinball games.
Kitzrow is a pro voiceover artist who gets the most out of his material for laughs. Inevitably there's some repetition if you play for long enough, and there's also a sprinkling of strong language that comes off rather more as forced than directly funny. Sometimes less is more, and I can't help but think it'd be even funnier with the swearing deliberately bleeped out.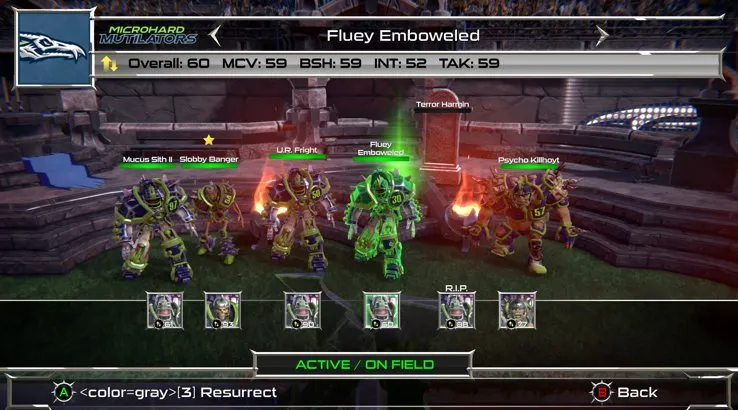 Mutant Football League isn't as deep as a current Madden title, but then it never tried for that kind of goal, operating off a budget that's no doubt a fraction of that used simply to update EA's signature sports franchise every year. There are still some rough edges in the current early access code, from a few font code fragments in certain menus to intermittent aberrant AI behaviour. Onside kicks, for example, nearly always bounce out of bounds in a comical fashion when attempted by the computer. Out of about 50 of them, I think I've seen one land in bounds, and even then too far to be a reasonably intercepted kick.
If you're a hardcore NFL fan who craves realism, Mutant Football League won't be for you. It's limited in team numbers, customisation and team management features, and while it features some of the strategy of the "real" game, it's undeniably an arcade-style take on the sport rather than a dedicated simulation.
But then, that's really the point of the game. If you loved the original, or even if you find the complexity of full Madden off-putting, it's a great way to relieve some sporting stress. After all, who amongst us hasn't watched a sporting event and wanted the other side's lead player to suddenly get hit with lightning? With Mutant Football League, that's actually something you can do twice per game.
We reviewed Mutant Football League on PC with a copy provided by the publisher.
Mutant Football League
8.0 EXCEPTIONAL
What we liked...
Easy to play
Dirty tricks are inventive and fun
Quality voiceover work enhances the atmosphere
What we didn't like...
Limited number of teams to pick from
Some weird computer AI behaviour
Strong language in commentary comes off as forced, not funny.
VERDICT
Mutant Football League is an example of a game Kickstarter done right, as it's delivered on everything it promised, and then some.
If you're pondering the Steam version and you remember the original or similar games such as NFL Blitz fondly, it's well worth the asking price, even if it does have a little work to smooth out those rough gameplay edges.
Available for
For more information on how finder scores games, check our review guidelines.
Related Posts
Latest gaming deals on Finder